Published date
25 Jul 2018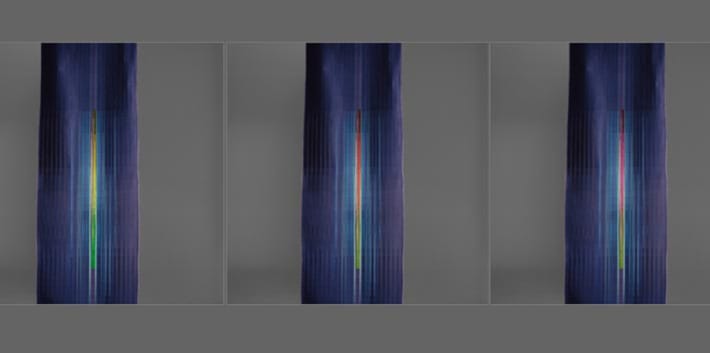 Light Cloth was a practice-based research project by Jenny Shellard, which explored the inherent mechanisms of visual perception through a combination of hand woven textiles, colour, light and time.
Principal Investigator: Jennifer Shellard
College: London College of Fashion
Funded by the AHRC between 2007 and 2008, the research developed from an earlier AHRB project, which involved practical investigations into a range of light responsive, fluorescing, iridescent and reflective materials, as well as the exploration of a single, non-repeat hand woven image. The resulting installations used concealed U.V light to activate fluorescing elements of the textile compositions which were tensioned over shallow frames. In their final presentations these pieces challenged traditional notions of hand crafted textiles by integrating and harmonizing with technology to create a distinctive contemporary image.
In this more recent work, the light was externally directed using projection upon a minimal section of the hand woven textile. The shard of light was selectively and strategically positioned to accurately register onto the hand-dyed textile colour. Using specialist animation software, the digitally projected colour evolved as a looped, slow transition movie in which the colour gradated, barely perceptible through the spectrum; both affecting and enhancing the lit portion and - by simultaneous contrast - the surrounding unlit composition of the precisely engineered textile.
Whilst colour perception and the self conscious experience of the viewer were key concerns of this time-based installation, the hand woven textile continued to play an essential role in determining the quality of the textile-light interaction. The deliberate and effective blending of technology resulted in reciprocal components contributing to a unified outcome, so the means of achieving the colour change needed to remain unobtrusive, with the projector mounted discreetly above eye level. By subjugating and concealing the evidence of technology, the outcome succeeded in its aim to appear subtle and enigmatic. The viewing experience was at once intriguing - involving the adjustment of eye and brain to subjective colour change - and meditative since the gradation was by necessity gradual. These qualities were included in the original stated aims of the research and future proposals include further development of the slow, time based element together with aspects of visual perception.
Outputs
Outputs realised from the research project