About me
Tell us about yourself
I'm currently in my first year of the Graphic and Media Design course. I would describe myself as being a very creative and articulate person who from a very young age has always loved art and design – it's always been a passion and interest.
I would say that my work style is quite diverse, it depends on what I'm doing and the brief. So, if I feel like painting is what it needs to take it forward I'll choose painting. If it's digital I experiment with that. It's about trying new materials and concepts to see how I can create something fresh and unique.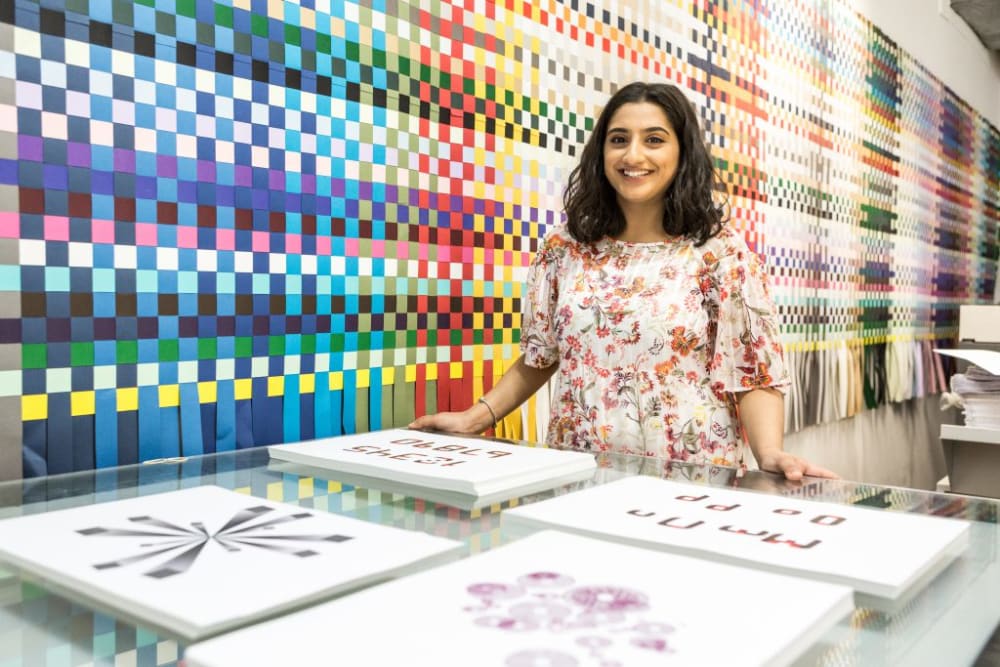 Did you know what type of designer you wanted to become?
No. From a young age I knew I always liked art. Even at school my teachers would tell me to enter into this competition, they'd always sign me up and say we've entered you, you have to do it now! So, I did Christmas cards; I did a competition for the local borough where I had to design a poster – a recycling one – and I won it, I came first! My teachers were always focused on me going that way. Also, my mum's quite creative so I think I get it from her. It's not common for a girl to do art. It's either become a doctor or engineer and I just wanted to show people that I did it!
I was the only one in my family that took art seriously and coming from a Pakistani background that's quite strange.
—
What's the biggest truth or myth about studying graphic design?
That it's easy. It's one of the biggest misconceptions about design that it's easy stress-free because you just sit and draw. That it's going to make you no money. Or you just click some buttons on your laptop and some magic comes out. Being a designer you have to literally live and breathe art to look for inspiration. If I see something that I like, I'll take a photo and come back to it later for inspiration. I'm constantly on Instagram; taking photos to like inspire me.
My work
What's the best thing you've done so far?
My visual summary for my unit one. It was the first major project that I did at uni. I learnt so much from it – things like the grid system, visual grammar, even how to print that was quite challenging here. I wasn't just designing it, you had to plan ahead how to design it, setting up your document; it was the first time that I'd used InDesign properly. And learning how to use Illustrator; there was a lot going on, so I had a lot of fun.
What do you think makes you a good designer?
As a graphic designer being able to communicate with your client is very important; to identify the brief, design requirements and timescales. Having passion and drive for design is what helps you develop as a creative designer. Trying new techniques and processes and being free with your work is honestly the best part of being a designer.
Any top tips for surviving university?
Don't be afraid to ask for help from your lecturers or tutors. Ask questions, there's nothing to be ashamed of. At the beginning I was scared, I didn't want people to see, 'She's asking for help.' But now, I just ask.
If there's a lecturer and I mention a topic they'll know every book that has ever been written on it, every artist to look at, they're like Google, they know everything!
—
I think even for me just talking to them is important, lecturers are really experienced in their creative fields.
A lot of people on my course have come from different places; some have come from school, some have actually worked, some have come from foundation so everyone's skills are different. It's important to meet people, learn different styles and how people interpret a project differently.