Erin talks us through evolving from a fine art background to product design, her thoughts on what makes a good designer and using her projects to overcome adversity.
About me
Tell us about yourself.
My name is Erin Corrian-Alexis, Corrian is part of my surname not my middle name, so it's Corrian-Alexis – just to clarify for the people that love to leave it out! Born and raised in the humble suburbs of NW London.
I would describe myself as family oriented, airy, insatiable, a lover. Misunderstood at times.
I am not great with words and sometimes I think that has an effect on people's understanding of my art. I want people to take from my work without me having to talk too much, but I'm realising more and more the importance of words. I just want to create art and objects that represents me and people like me.
When did you decide that you wanted to do something related to design?
Truthfully, I can't remember wanting to do anything else. My older brother was always talking to me about art and telling me I could follow that path. He would have me copy images from comic books and realised I that I was quite good; so he started to buy me oil paints and a canvas. Now, I am working as a footwear and accessories designer, and still paint whenever I can.
My work
Did you know right away what type of designer you wanted to become?
No! Even now, I'm finding myself. I've wanted to do this for so long that I've been through so many stages. I did a foundation because I was mostly sure I wanted to be a fine artist, but I also wanted to learn a new craft while studying. I ended up finishing my foundation with a different frame of mind.
I always strongly recommend the foundation course to creative people looking for a direction.
—
My family were always supportive of me and it was obvious that I was going to go to arts school. My foundation at CSM meant I had loads of room for exploration and I left with a passion for product design. I also noticed that I couldn't relate to the kids doing fine art. Product design let me think about the future and providing a service.
What do you think makes you a good designer?
I think I'm naturally good at solving problems. I always think about things from as many perspectives as I can and I'm critical of my thinking. I ask loads of questions and want to hear opinions but I'm also very sure of my decisions. I know when I'm onto something and I'm fine with other people disagreeing.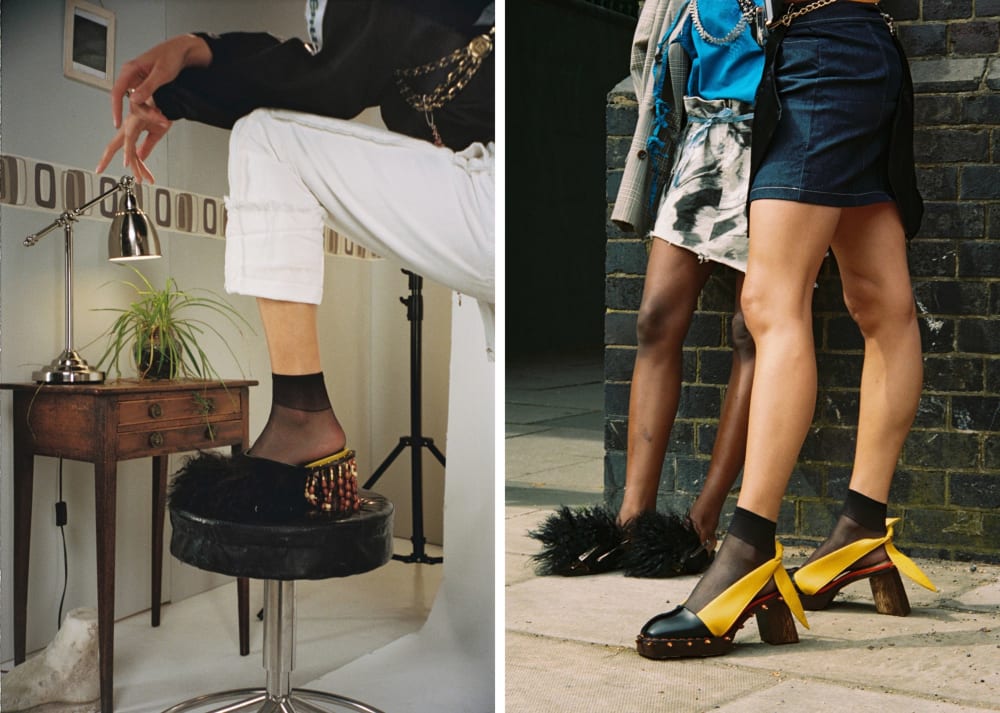 What have you achieved from studying footwear design?
I have firstly gained a craft. I can design and make footwear, which is kind of huge.
Also, my course helped me to understand that being able to confidently talk about your brand ethos, concept, inspiration or whatever else is half of the battle. It's really hard to make other people believe you if you don't believe yourself.
What's the best thing you've done so far?
I'm working on something really cool with a brand called The Hemp Co. – They have commissioned me to design a bag that will be made sustainably in Nepal. I'm really excited to do it. Literally the first thing the founder showed me were pictures of the manufacturing staff, telling me their names and stories about them, I found that really cool because I'm working in an industry where there's usually little focus on anything but profit.
What work are you most proud of?
My final degree project ['Pulling and Parting'] meant so much to me, it's definitely been one of the bravest things I've ever done. I could have done a lot more with my project but that's something I always say. It's hard to talk about my feelings as a women of mixed origins in general, therefore, doing so in front of tutors and students was uncomfortable. So, I'm proud that I allowed myself to be uncomfortable and expose parts of myself that I wouldn't otherwise. I'm very early into my journey; I look forward to challenging myself further and sharing more of myself through my work.
What inspires you?
Mmmmm, I guess competition. Social media means that I see so many creative women who are doing and saying amazing things and I just want to be at a level where I can confidently stand beside them.
What's next?
My future is full of hard work for the next few years. Starting a business is and always has been on the cards. Learning the industry is priority at present, so I am designing for a footwear wholesale company and taking as much in as I can. I've found a really cool footwear studio in Hackney that I am working from part-time and will be announcing the launch of my own conceptual brand in early 2018.