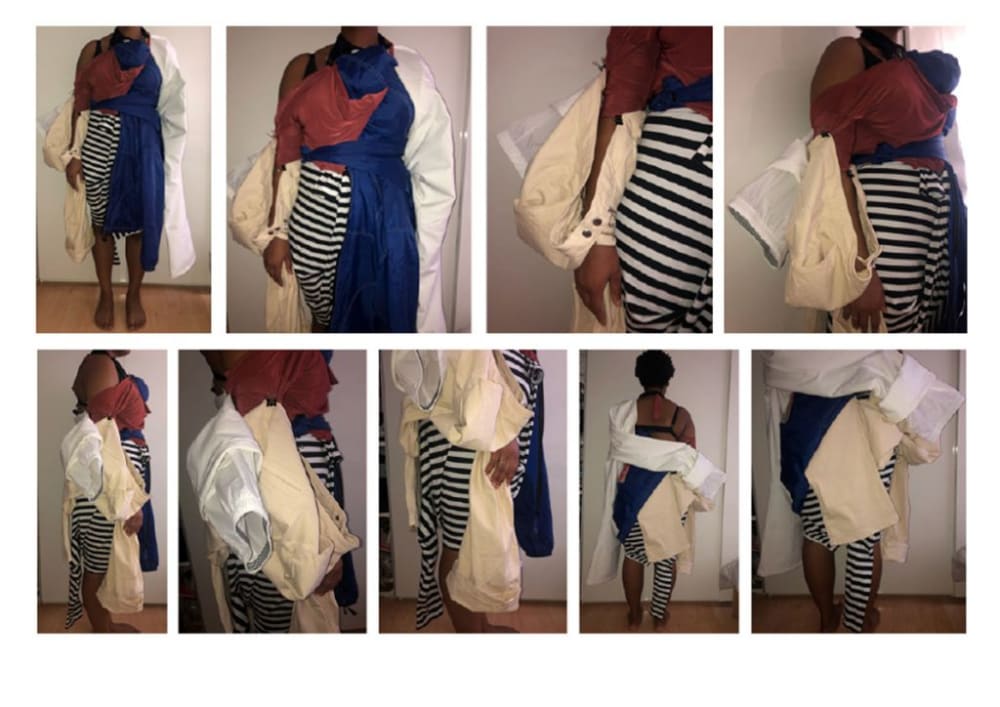 The challenge
Designers often work quickly by draping materials and shapes to get new ideas. Sometimes it is important to challenge what we consider 'normal' to create something new and exciting.
What materials do I need?
You don't need any specialist materials, just items you have around the house, including:
Clothes or other textiles
Pins, clothes pegs
Paper and something to draw with
Phone or camera to take photos
How long will I need to complete the challenge?
Part 1: Around 15 minutes
Part 2: Around 1 hour
Part 1: Experiment and document
Try out this series of quick exercises to generate ideas:
Take 3 similar garments. Wear 1 normally, and turn two inside out.
Join the 3 garments together with pins or clothes pegs to create new ideas.
Wear a garment in the wrong way legs as arms, inside out etc..
Wear as many garments as possible – keep layering, try rolling and twisting to expose the layers.
Pad out 1 garment to distort its shape with others.
Wear your all your bed sheets/ pillows / duvet.
Borrow garments from other family members and play with the idea of things 'not fitting'.
Top tip: After completing each exercise, photograph the results as you'll use them in Part 2.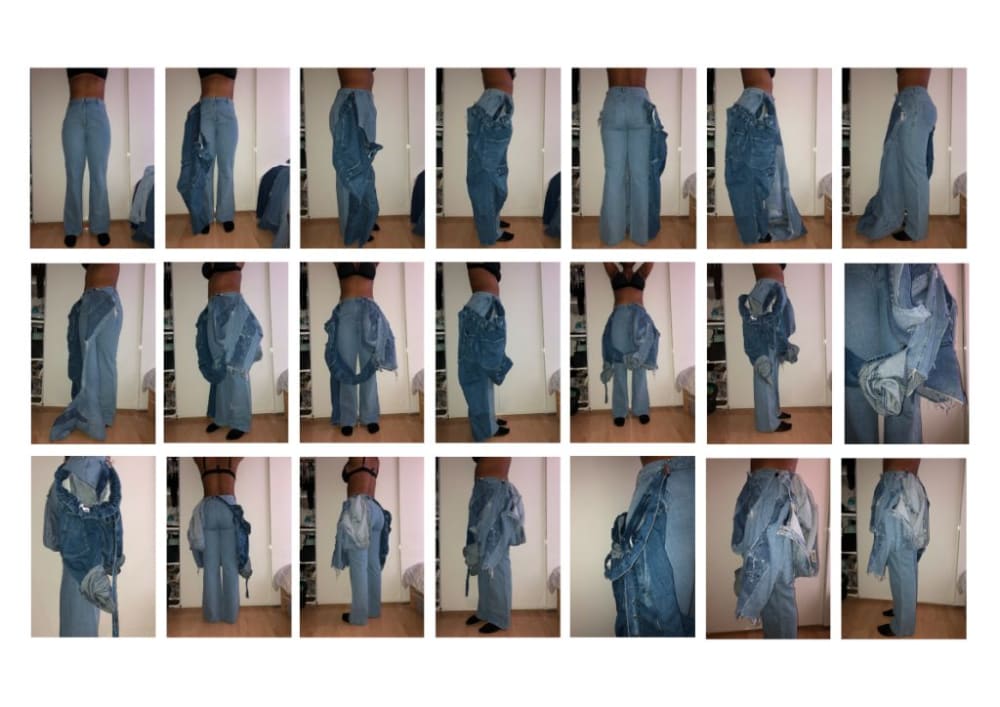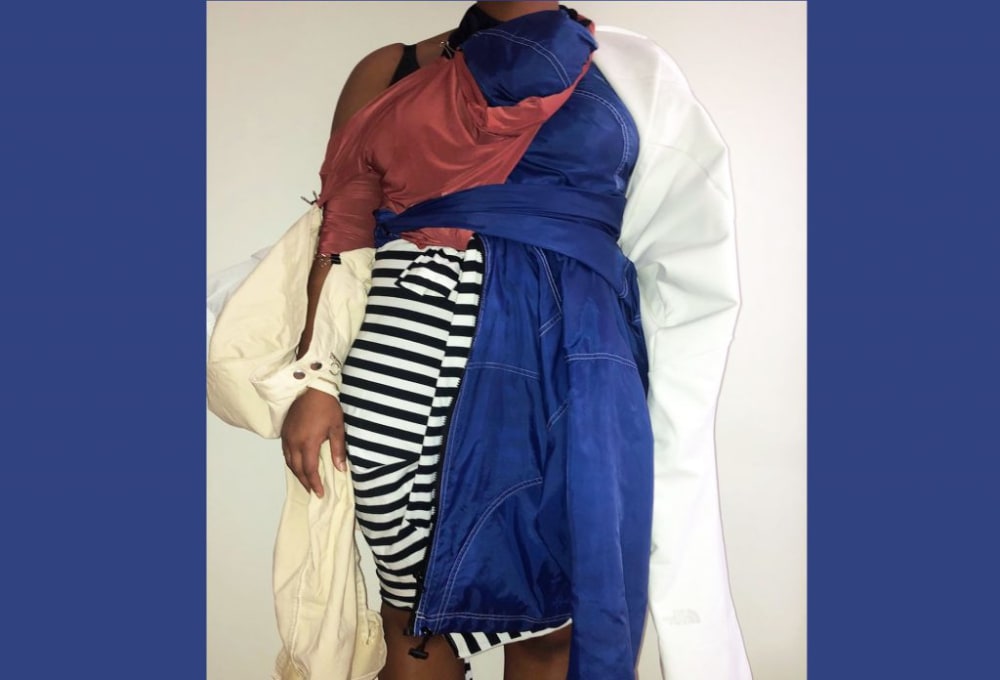 Cleo has presented her documentation of exercises 1,2,3 differently to show: (top to bottom)
Working at speed to create multiple looks for exercise 1
A close-up look for exercise 2
How she's developing her process for exercise 3
Part 2: Draw and develop your ideas
Photographs are a great way to document and reflect your creative process especially when you're working quickly and intuitively with materials. Now you can use them to develop your design ideas.
Try out these exercises for developing fashion forms or design features. Step and repeat with as many of your photographs as you like.
Pick a photograph from Part 1 and trace over the outlines to create a silhouette.
Take the silhouette you've created and place onto a fashion template, use the shape but adapt it to fit the fashion body, perhaps by elongating or exaggerating parts. Think about key parts of the body where fabric hangs – shoulders waist and hips.
Draw up your design perhaps adding more detail of shapes and folds to make it look convincing.
Top tip: Don't have a printer? Use your phone and lay a sheet of paper over the screen to trace. Alternatively work 'free form' just sketching directly on to fashion templates.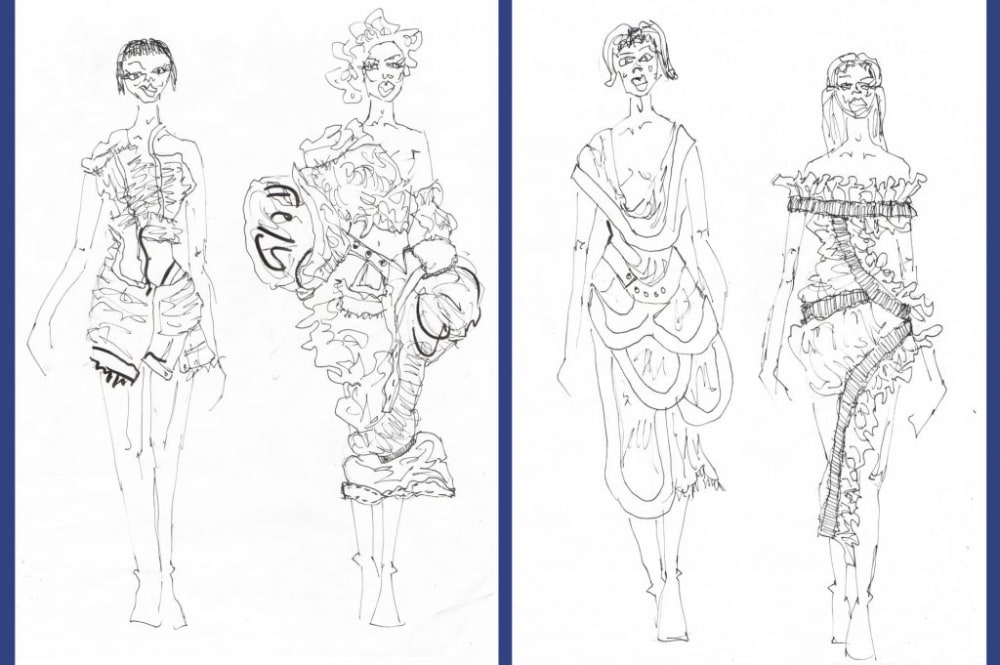 Cleo's drawings developed from the draping exercises.
Think about:
Repeating shapes to create more complex designs
Including details from your original garments – the inside pockets and the fastenings.
Perhaps elongating to fit your fashion template.