Facilities
Wimbledon College of Arts has a range of specialist facilities and workshops.
Theatre
Wimbledon's theatre is equipped to industry standard and includes a flexible ground floor and mezzanine seating that allows for multiple uses of the space. Other features include fixed projector, projector screen, lighting rig and sound board.
Film and Video Production
Wimbledon's film and video production department has a range of photography, film and video facilities.
Animation room with 2D and 3D stop motion facilities and specialised picture capturing software
Sound room with digital audio workstation (DAW), midi controllers, microphones and synth
Photographic studio with lighting rig and backdrops
Green screen studio with infinity curve
Wimbledon students can borrow equipment such as laptops, data projectors, TVs, DSLR cameras, video cameras, lighting, sound recording equipment and more from our central loan store.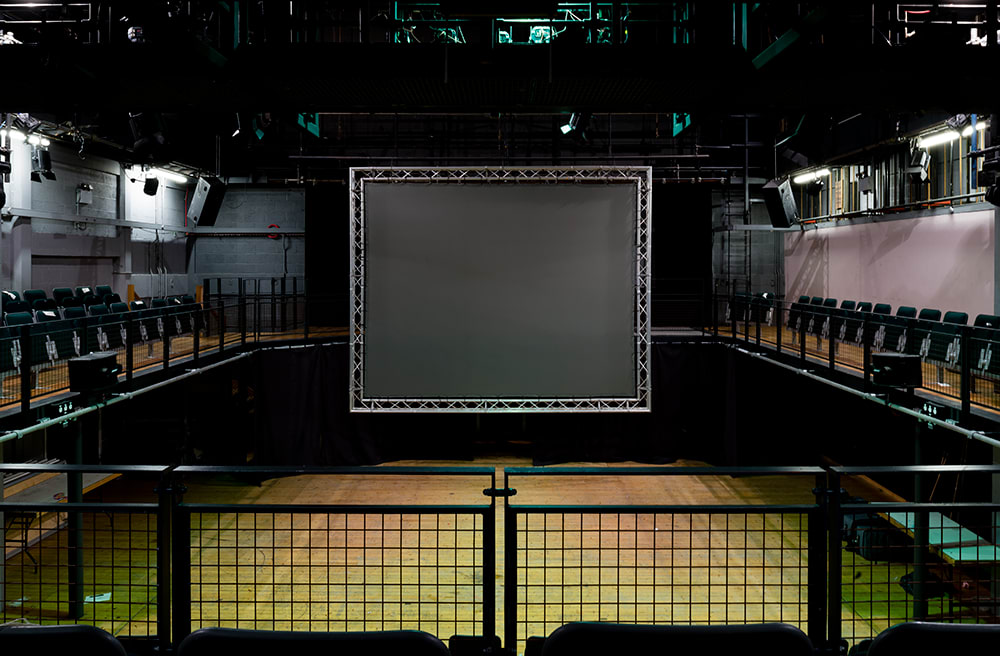 Costume
Wimbledon's costume workshop combines studio space with industry standard equipment to help students produce professional costumes. The studio and workshop contains dress stands, hat blocks, industrial irons, material store providing low cost materials for students, over lockers, pattern cutting tables, sewing machines and steamers.
Digital
Wimbledon has iMacs equipped with the latest software for students to digitally create their design, audio and video work. Software available includes Adobe After Effects, Audition, Illustrator, InDesign, Photoshop and Premiere. There are also large format digital printers. More Mac and PC computers are located in the library.
Print
Wimbledon has a range of printmaking facilities.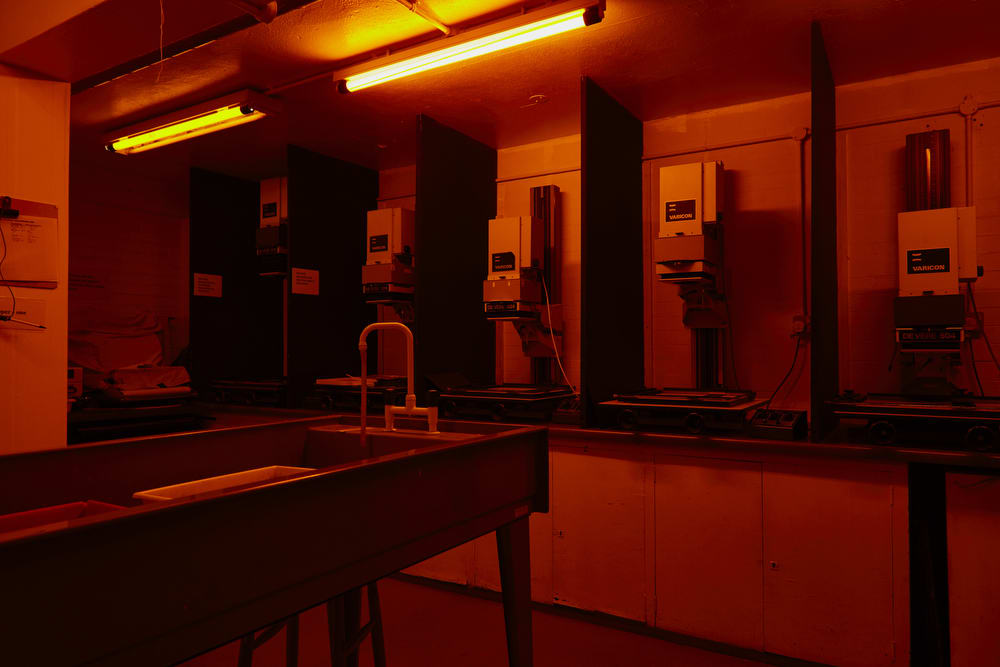 3D Workshops
Casting and moulding
The casting and moulding workshop has work benches, sinks and mixing areas. It is equipped with a variety of hand tools. It is set up to allow students to use traditional casting and mould making methods, but it also allows students to be more experimental in their making.
3D Fabrication Lab
The 3D fabrication lab is where students are taught how to make models and other wooden structures. It is equipped with a band saw, belt sander, bobbin sander, fret saw, morso guillotine, pillar drill, radial arm saw, spindle moulder, table saw, thickness planer, under pinner-frame making tool and other general tools. The lab also has small laser cutters and a variety of 3D printers.
Metal
In the metal workshop students can work with steel using techniques such as welding, bending, braising, cutting, rolling and lathe work. There are facilities that allow students to engage with casting methods.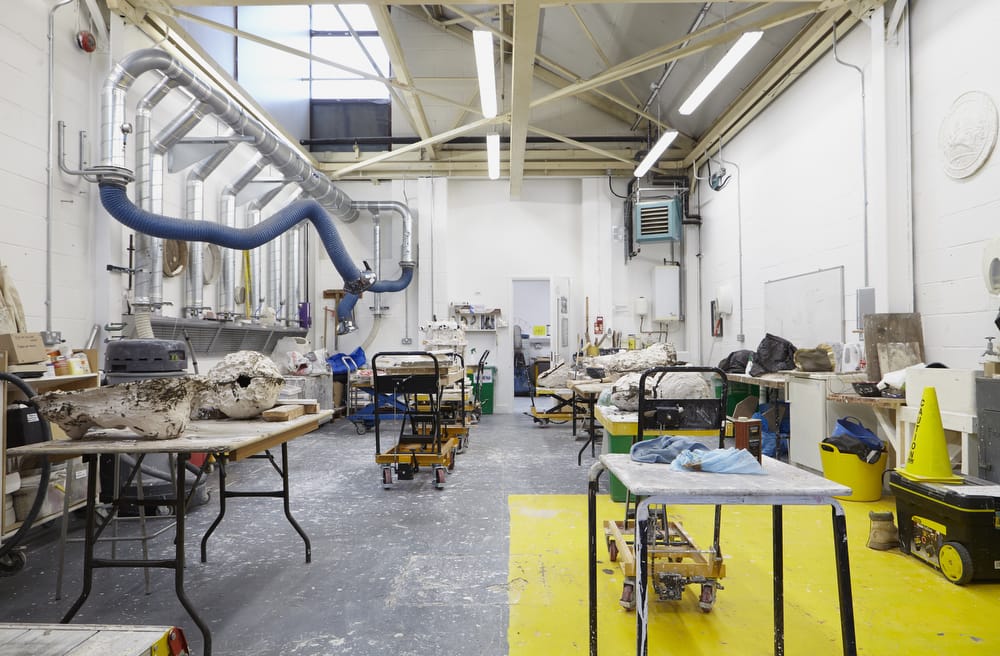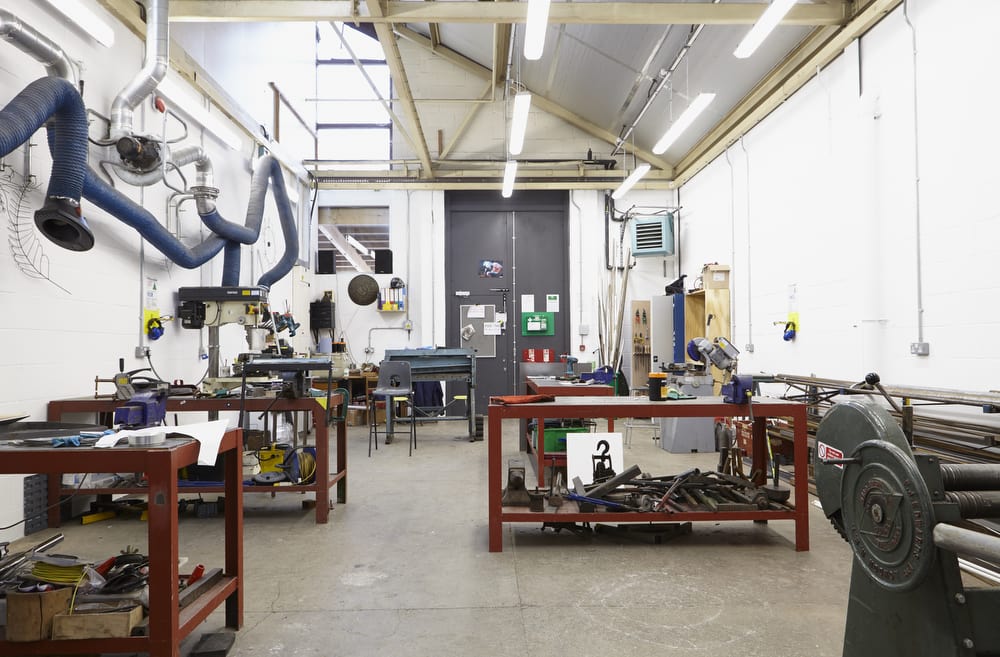 Wimbledon Site Development
Starting summer 2020, Wimbledon will undergo site development work as part of a multimillion pound investment programme, due for completion in summer 2022.
Some of the money will go towards facilities and workshops that will support digital theatre, immersive and mixed reality technology.
This work will enable us to create an integrated performance environment. The aim is to foster further collaboration between our design, acting, technical arts and performance courses.
Find out more about the planned improvements.