This summer, 2 BA Interior and Spatial Design graduates won prestigious awards from Interior Educators (IE), the organisation which represents interior and architecture design courses from across the UK.
The competition, title Velocity 2020, was open to final year graduates of interiors and spatial programmes at all 60 colleges which are members of Interior Educators. Each category had three award winners, each receiving £100.
We spoke to Natsuno Katashima, winner of the IE Velocity 2020 National Studio Project Award and Evgeniya Beruchashvili, winner of the IE Velocity 2020 National Writing Award about their final year project submissions and how it has helped to develop their design practice.
We also caught up with BA Interior and Spatial Design Course Leader Shibboleth Shechter, to find out more about Interior Educators and how students on the course can benefit from entering industry competitions.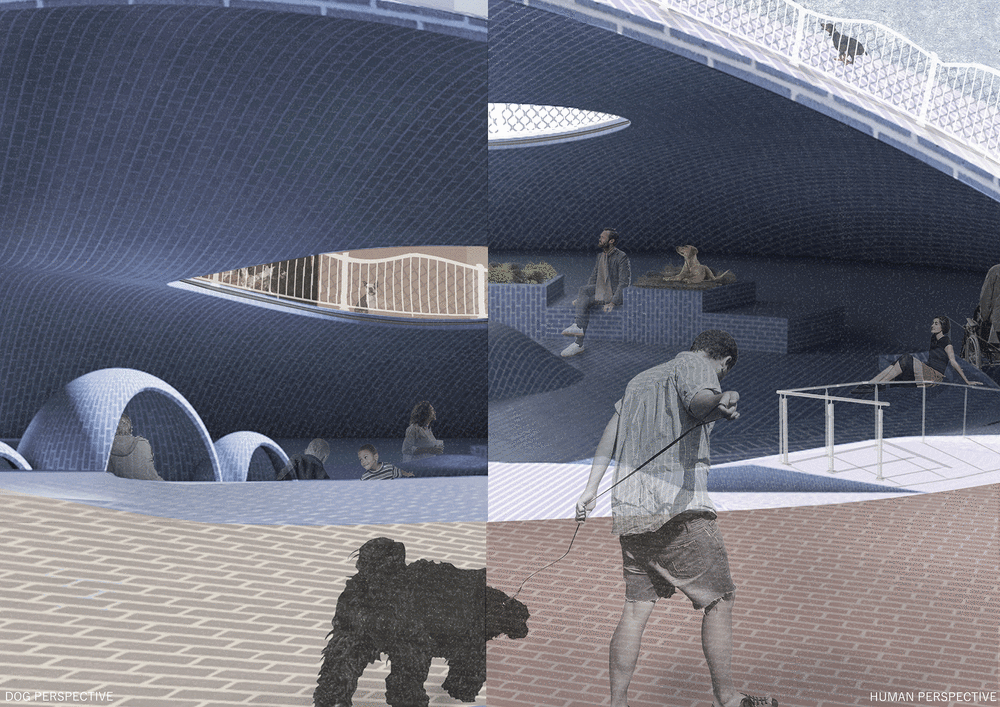 Congratulations! Can you tell us about the work you submitted for the IE Velocity awards this year?
Natsuno: My final project, which was submitted to the Studio Project Award, responds to the brief of reengineering happiness within the Brunel Museum in Rotherhithe. In summary, my proposal titled BMD (Be More Dog/Brunel Museum Development), delivers an inter-species public space which invites a new type of audience to the museum.
The concept emerged from my own source of happiness – dogs. For decades, dogs have been offering friendship and obedience to their human counterparts. I have always been interested in human-canine relationships and the positive qualities transferred to each other. This triggered me to investigate ways in which this positive relationship can exist spatially, in order to bring happiness to the site.
Evgeniya: My dissertation deals with the topic of terrorism, memory and how space is related to the memorialisation of terror attacks. The aim of it was to open a conversation about public memory towards acts of terrorism in relation to space. It was important to achieve an understanding of what happens to the space and architecture after a terror attack and how that, in combination with public memory, could potentially influence the memorialisation of the victims and the events.
The interest in this topic came from when I lived in Moscow, Russia and I would see places where terror happened almost daily. I write in my dissertation:
"From personal experience, in Russia the public attitude towards terrorism varies as some consider the topic sensitive, something that should not be talked about, thus making it not discussed enough from the point of architecture and space. Atrocities change the space around us, whether physically or mentally, and it is ultimately the public that decides whether we should remember it or not."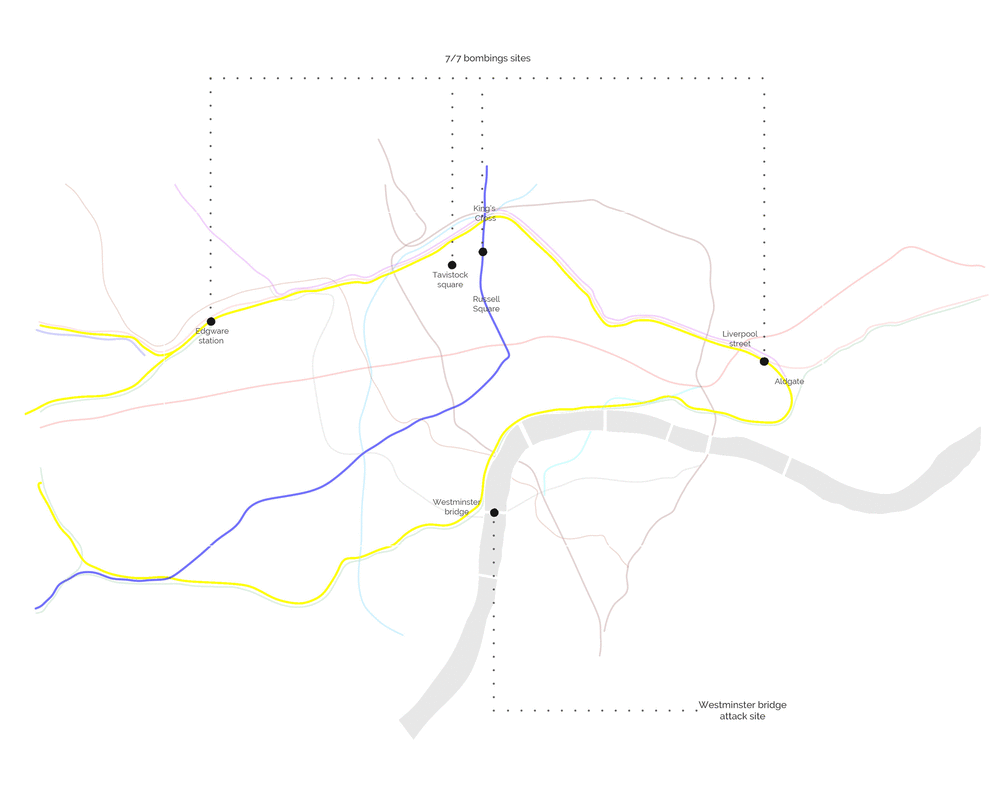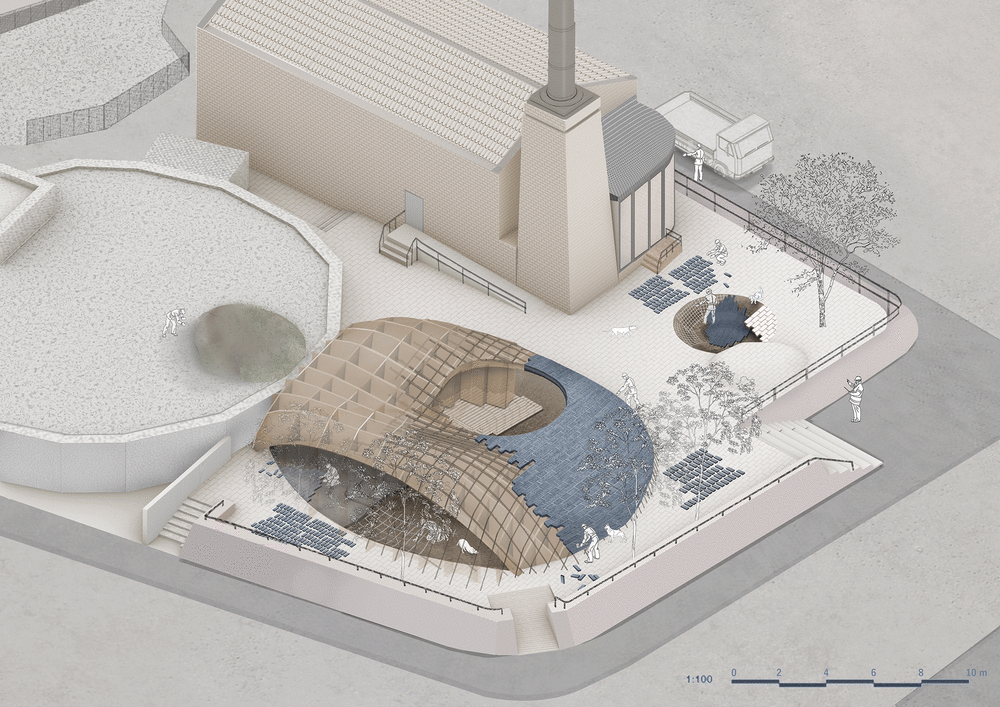 What was the application process like?
Evgeniya: At first, I found it challenging to convey the whole journey of my project in just 5 pages, as my original portfolio consists of nearly 100 pages. However, overall, I enjoyed the process of restructuring the portfolio in an alternative format and exploring other ways in which the project can be presented.
Can you tell us more about your design practice and the research/creative process involved?
Natsuno: My approach to this investigation was to conduct research and experiments through the perspective of a dog, which was uncommon yet insightful. We know that dogs have higher sensory abilities and are able to notice small details more than us, hence, perhaps encountering more happy moments. "Can we be more dog?" was a question that arose from this point.
Further evolving to the question "Can a museum be more dog?" the project led me to explore ways in which the Brunel Museum could be developed towards offering human visitors an experience to act "more dog". My intention was to design a space which allows the two species to encounter each other's perspectives and forms of happiness.
As a result, the final proposal features elements to trigger human visitors to challenge their levels of sensitivity and curiosity while simultaneously, embracing spatial features to encourage interaction and a play of hierarchy between the two species. It is a playground for dogs to play through the perspective of their human counterparts. The proposed design aspires to strengthen human-canine bonds while enlivening the community.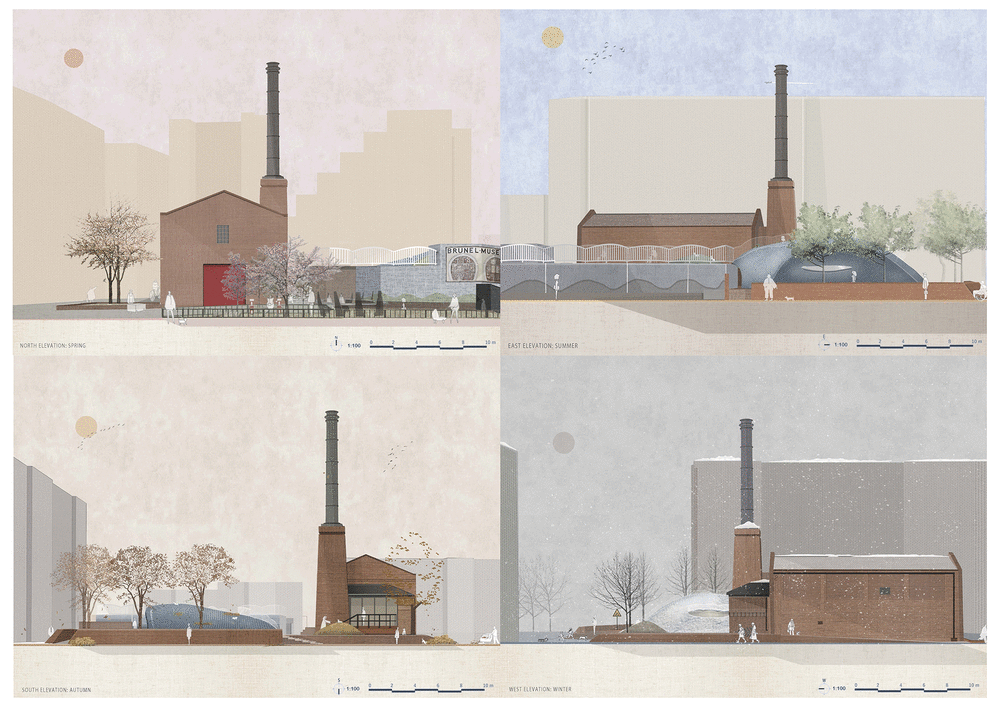 Describe the feeling of winning and what it means to you?
Natsuno: Winning the award was definitely a very rewarding experience. Not only did it make my final project for the course more memorable, it also boosted my confidence as a designer.
It was also the moment where I was able to significantly notice my development throughout 3 years of learning on BA ISD. The support from my tutors were crucial to this achievement, so I would also like to thank them for their guidance.
Evgeniya: Of course, I felt very happy to win. But I was even happier about the fact that the content of my dissertation was recognised and the fact that the judges agreed that the topic is worth talking about. That was the ultimate goal of my dissertation – to open a conversation.
Has the competition opened any further doors to other opportunities?
Natsuno: The honour of winning the competition alongside graduating from UAL has kept my creative mind active. It has certainly motivated me to find and enter more competitions, or work on self-driven projects, which continue to enhance my design skills throughout my post-UAL life so far.
Evgeniya: It gave me more confidence in my work. I would like to think that the competition opened my own doors to seek and create my own opportunities. If you want other people to know about your work - get out there and create that opportunity for them.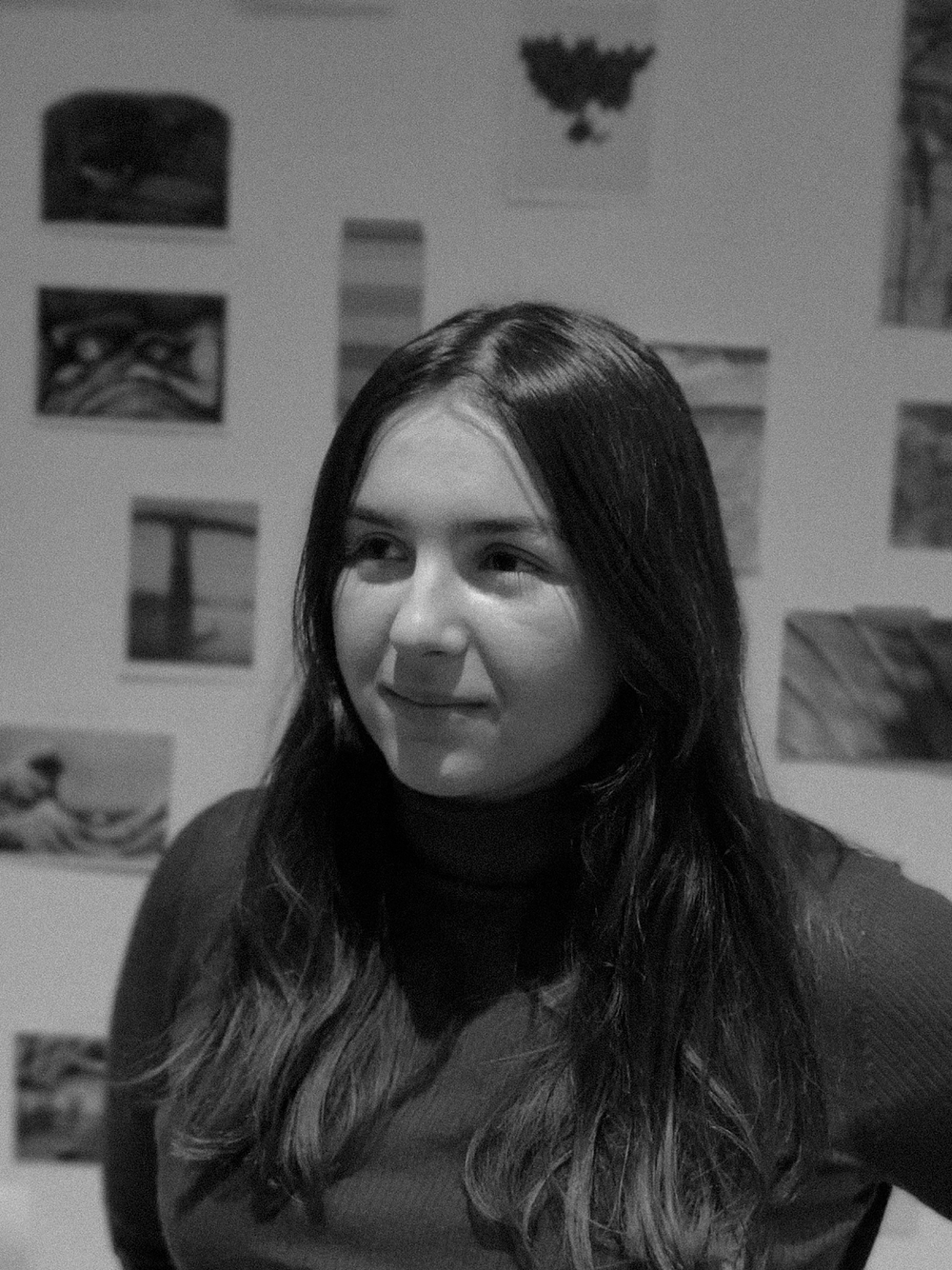 Shibboleth, how does the course open up opportunities for students to engage in competitions like these?
On BA Interior and Spatial Design we really value live projects and embrace opportunities to engage with institutions and charities associated with the public sphere and where graduates might work once they have left our course.
Live projects are integrated into our curriculum across all 3 years. This academic year we are collaborating with, amongst others, the South London Gallery, Tate Exchange and Living Streets and our third year students are taking part in the the RSA student design awards competition.
We are also exploring the new opportunities afforded by the move to blended learning and developing collaborative projects with universities in Bilbao and in Melbourne.
Can you tell us a bit about the history and relationship established with Interior Educators on the Interior and Spatial Design course?
Shibboleth: Established by academics in 2006, Interior Educators is an organisation representing well-established Interior programmes from across the UK.
BA Interior and Spatial Design are long-time active members: we hosted all member institutions at Chelsea College of Arts in 2017 for a memorable Interior Educators Spring Event which was organised by senior lecturer on the course, Colin Priest.
Their annual project prizes and awards are an invaluable way to celebrate the multi-faceted nature of interior and spatial education. One of our 2018 graduates, Megan Martin, was nominated for the Interior Educators Writing Award that year. Spirited by this success, we continued to nominate students for consideration in these highly competitive awards.
This year's contestants were selected by the course team, who provided feedback and support for the selected students in compiling their final submissions.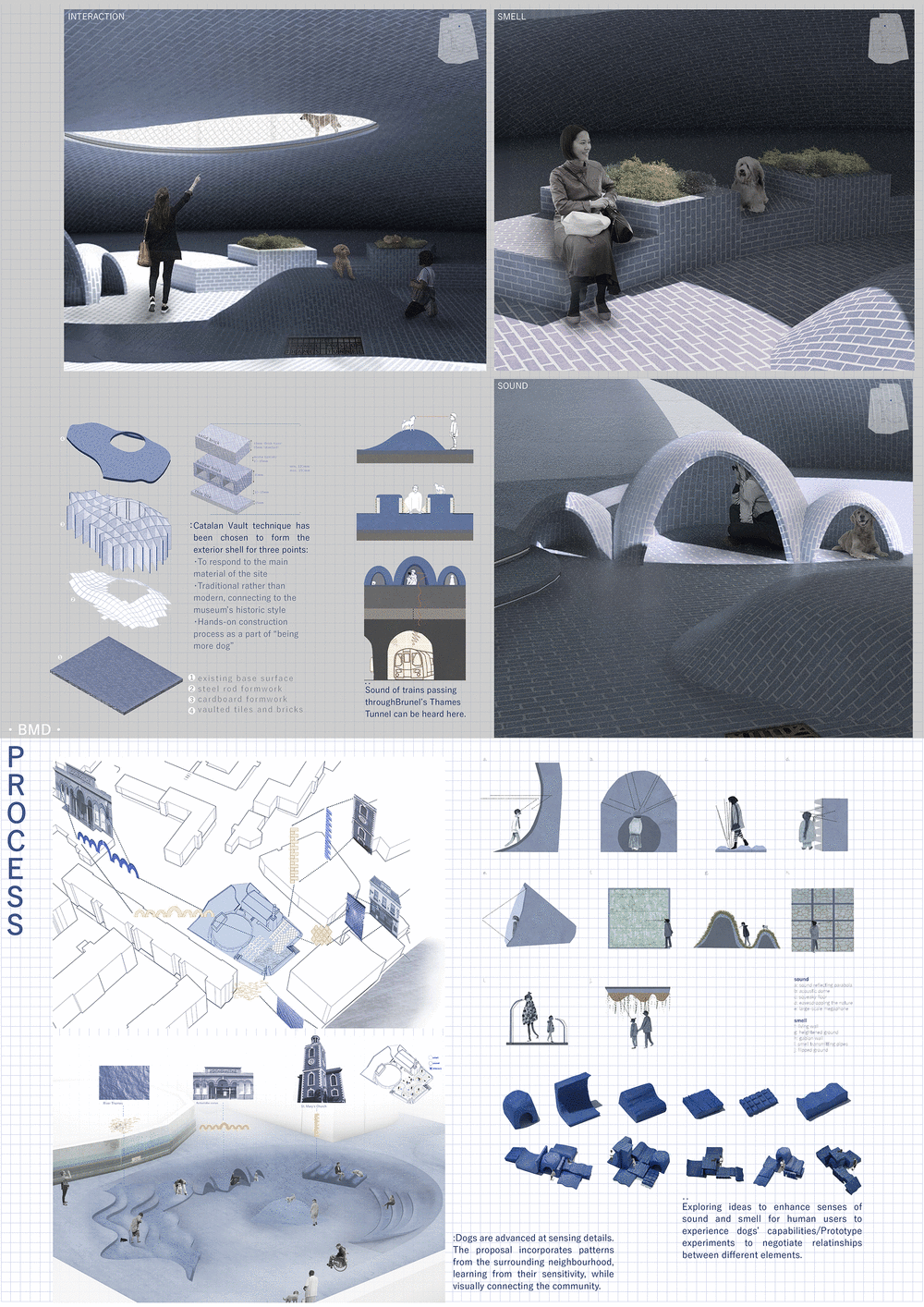 What do you think you have learned from the experience?
Natsuno: Due to my past projects being human-centric, the submitted project was challenging at times. Taking an unfamiliar approach was something I have been a little reluctant about, but I am happy that it resulted in a rewarding way. I have learned that divergent thinking can lead to memorable outcomes and I have also gained confidence to challenge my creativity more in the future.
Evgeniya: I have learnt to always be proud of the work that you have done and have faith in it. If you truly believe in your idea, you have to think hard about how to get it to other audiences. Will they even understand it? In my case, written work was the right medium to discover the topic and present it to others.
Do you have any advice for students about to start their degree in Interior and Spatial Design?
Evgeniya: When I was studying, I witnessed a lot of students disliking and bashing their work. This happens all the time. Creative people sometimes have to do 100 bad projects to create 1 great one. Whilst you can dislike your work, try to be proud of the process, energy and resources that you have invested in it.
Natsuno: Throughout any project, it can be daunting when you get stuck and struggle to develop your ideas, especially during the current pandemic. I strongly advise keeping your creativity alive by putting your pen to paper and start scribbling, playing with forms of nearby objects or watching a design related programme. Simple activities can evolve a project towards unexpected directions, which is why I think "being stuck" is an important phase of the design process.
When the situation allows, I would also encourage exhibition visits to widen your creative perspectives. London is a beneficial place to be in to gather a lot of inspiration, which for me was one of the best parts about studying at UAL.