Sustainable Futures for Southwark
LCC's Service Futures Lab x Southwark Council
Academics from the Service Futures Lab, MA Service Design students, representatives from Southwark Council and residents in the borough take us through the journey of this collaborative project.
London College of Communication's MA Service Design students and academics co-designed 8 fictional services to help Southwark become a net-zero borough by 2030.
In March 2019, Southwark Council became one of the first boroughs in London to declare a climate emergency, undertaking commitments to make Southwark carbon neutral by 2030. Coinciding with UAL's bold plan of action to reach comprehensive net-zero by 2040, the borough reached out to the Service Futures Lab, led by Dr Lara Salinas and based at London College of Communication (LCC), to assist them in designing a more sustainable and climate-conscious future for their local communities.
As Southwark Council representatives explain, the borough is likely to be impacted by the climate crisis in various ways — from risk of flooding due to the continuing sea levels rising, to residents being severely affected by the heat stored in the concrete of buildings. Keeping these potential climate-derived threats in mind, the postgraduate students involved in the project used speculative service design strategies to propose greener solutions relating to Transport, Energy and Construction, Consumption and Circularity, and Biodiversity.
"We used diegetic prototypes to physically represent the many different touchpoints of the services created by the students. This approach takes away a lot of the hard work of having to imagine those futures," explains Marion Lagedamont, Associate Lecturer and Design Researcher at LCC.
We made a commitment to Southwark that we're going to be carbon neutral by 2030, which is an absolutely massive task. It's really exciting for us to be collaborating with LCC and to get their expertise and their ideas to find ways forward on some of this work.
— Chris Page, Climate Change Director at Southwark Council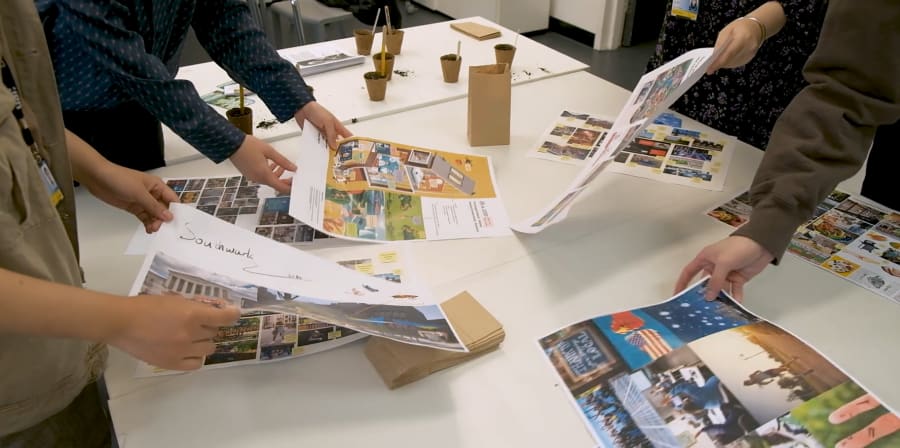 Paving the way for a future net-zero borough
Aligned with Southwark's objective to promote a circular economy and shift businesses away from carbon heavy practices, one of the groups designed a project called Incubation Garden. Their prototype is based on a Sandbox Model popularised by MIT Labs, where the space is made available for cultivating new ideas and experimenting with solutions in real environments. MA Service Design student Moosa Khan explains the rationale behind this proposal:
We want people to be able to learn new skills, to start inculcating new habits within their lives, or even new business practices to ensure that circularity and climate positive action becomes part of Southwark itself.
The Incubation Garden aims to strengthen collaborations between the council and the community, encouraging education institutions and civil society groups to include circularity literacy into their agendas – teaching good consumption habits across different platforms and audiences in a way that can be upscaled later.
Responding to the theme of greener transport infrastructure, another group conceptualised an idea called Southwark Coin, inspired by local currencies such as the Brixton Pound to stimulate the high street. By taking a more holistic approach to create a sustainable ecosystem, the group wants to promote the use of active means of transport while encouraging more sustainable and healthy shopping habits on the high street.
Other concepts include green licenses to up-skill professionals in construction to sustainable practices, permit programmes to encourage sustainable and carbon efficient means of transportation, decentralised renewable energy supply models, urban gardening, an energy consumption standard evaluation system, and a welcome package for new Southwark residents to learn how to stimulate biodiversity in the borough.
Reflecting on the outcomes of the project, student Sayali Wandhekar adds:
It's important to look at the fact that these are really big, complex problems, and they can't be solved in silos. We need to get public and private organisations working together for the benefit of the community and their future.
For us, this is just the beginning of a longer-term collaboration. London College of Communication is based in Southwark, and it just makes sense that we both work together. The plan is to also include local communities and local businesses to join forces to tackle the climate emergency.
— Dr Lara Salinas, Senior Lecturer in Service Design at LCC and project lead