In November 2019, academics and students from London College of Communication (LCC) joined Co-design Your Place, an Erasmus+ project in collaboration with The Stable Foundation in Poland and Station: Student and Innovation House in Denmark. The aim? To inspire young creatives to become changemakers and future leaders in urban regeneration.
Now entering the final stretch of the project, we hear from some of the leads involved in this European collaboration. Javiera Godoy, Associate Lecturer and Knowledge Exchange Facilitator at LCC, Anna Bielak-Dworska, Founder of the Stable Foundation, and researcher Agata Nowak reflect on the project's journey and what they've learned from working with each other.
Hi Javiera! What can you tell us about Co-design Your Place?
Knowledge exchange is at the core of Co-design Your Place. The project contributes to the development of young people's skills who share different perspectives and backgrounds, working together to revitalise local areas and build strong communities in the UK, Denmark and Poland. During 12 months of intensive workshops, participants have engaged with existing regeneration projects in Europe, working hand in hand with local communities. Students also had the opportunity to learn about service, strategic and participatory design, social innovation, placemaking and regeneration methodologies.
We're empowering students to become changemakers, contributing to the creation of a strong community of young, socially responsible designers in Europe and around the world.
— Javiera Godoy, Knowledge Exchange Facilitator at LCC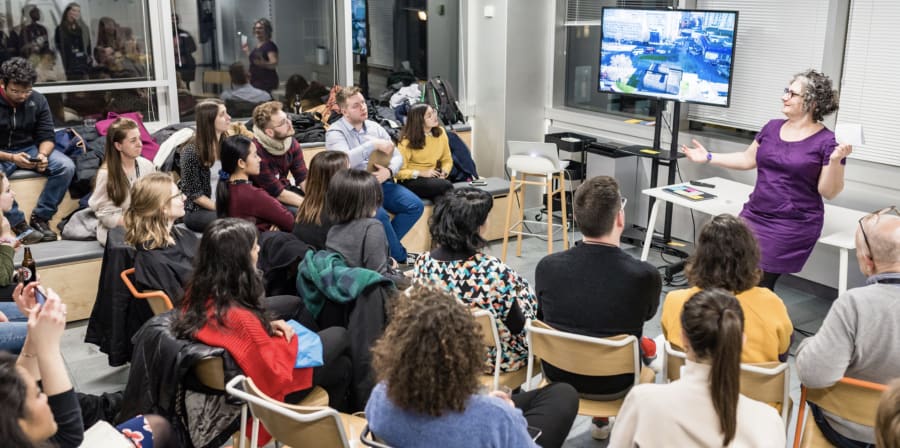 Anna, what has the experience been like working alongside LCC and Station?
It has been a fantastic journey! It really has been an excellent opportunity for everyone involved to dive into international and cross-cultural exchange, aligned with a strong purpose towards urban regeneration. Since the initial group met for the first time in London in 2017, we knew we wanted to work together and focus our energy on placemaking impact.
We were driven by our motivation to make a change in the world but also by our willingness to learn, and it was great to officially establish our cooperation thanks to the Erasmus+ Strategic Partnership funding.
What changes did you make to carry on with project during the COVID-19 outbreak?
Javiera: The pandemic had a huge impact in our project, but it also challenged us to come up with new ways to carry on with our activities. I think it even added new value to Co-design Your Place. We had initially planned to host 6 workshops in Poland, Denmark and the UK, working with communities involved in regeneration projects. Once we went into the first lockdown in England we had to move everything online.
Anna: I truly admire the partner's leaders – especially Silvia Grimaldi, our mentor from the very beginning – and how together we've adapted during every stage of the project, especially since the pandemic started changing most of our plans.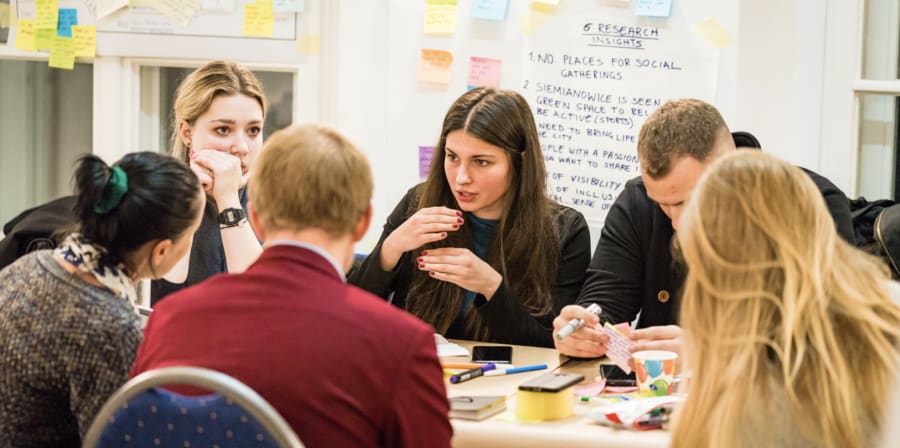 Agata, as one the leading researchers in Co-desing Your Place, what did you and your team work on?
We focused on 3 main areas of research:
Regeneration processes in different contexts. We have been planning, conducting and evaluating co-design sprints in 3 different locations and online. Thanks to our findings, we've developed the 'To Multiply' model, a proposition for future designers, activists and entrepreneurs who believe in design with a purpose and wish to undertake their own regeneration initiatives.
Youth inclusion. How can we attract young people to join regeneration programmes? By researching the needs and values of young people, we learned how to create a proposition that would bring them value, concentrated in 3 main areas: developing skills, becoming a part of the community and finding meaning and purpose in your actions.
Knowledge diffusion. We hope to continue promoting sustainability ideas, design methods and community building through the actions of the young creatives involved in the project.
What feedback have you received form the students involved in the project?
Javiera: Their response and engagement have been great, they've brought so much positive energy! The MA Service Design students have been a key part of this project, bringing their expertise of applied service design strategies to the cohort. As part of the UAL team, we also had participants from the MA Design for Social Innovation and Sustainable Futures and the BA (Hons) Illustration and Visual Media. They all have been great facilitators and educators in their own groups of work, sharing their knowledge with others, staying open and keen to learn from the other disciplines.
Agata: We have established a warm and constructive relationship with the young people involved from the beginning. It's been a fantastic surprise to find out that our newest participants, recruited for the last session, were so inspired by the work we've been doing that they've decided to implement many of our ideas in their own student's projects. I think this comment, shared by one of our students, perfectly describes the spirit of the project:
The greatest value of the programme is the possibility of sharing knowledge. The ability to cooperate is an important element in pursuing a common goal. The environment we live in affects our point of view and experience, so we should always try to listen carefully to others.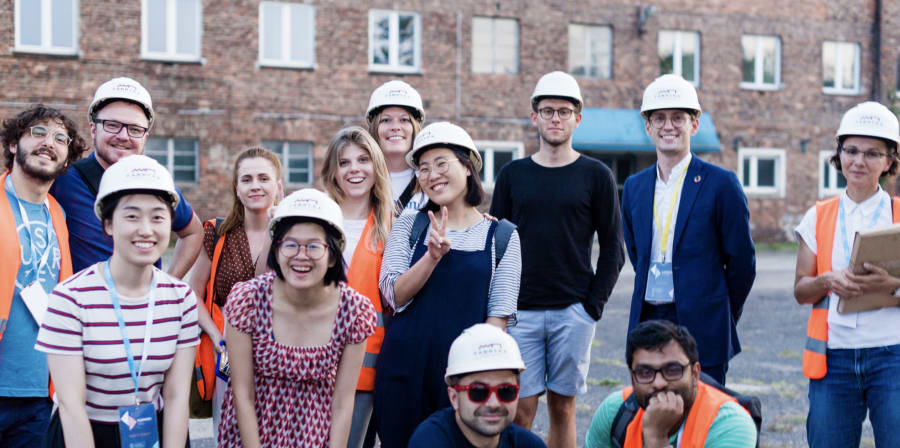 Javiera, you mentioned knowledge exchange is at the core of Co-design Your Place. What do you think you've learned from working with each other?
Javiera: Everyone has brought a different approach towards co-design based on their expertise. For example, from the Polish team we have learned Lean Design methodologies; from the Danish partners, we have gained an understanding of community building. These are some examples of all the benefits that knowledge exchange has brought to our project.
Anna: We've learned a lot about international and cross-sectoral collaboration. We had to transform our big, initial idea into a shared, international project adapted to Erasmus+ regulations. UAL design and management skills helped us adjust the value proposition of Co-design Your Place to meet the needs of international students, keeping fun as an essential educational value. As a young and responsible organisation, Station have given us a powerful, sustainable perspective about the work that we do. And of course, we've taken really valuable lessons from the students and the local communities we've worked with on how to use future-oriented design to solve shared, local problems.
Now that the project is coming to an end, how do you envision this collaboration going ahead?
Javiera: We want to continue with the work we've done so far, involving more countries, organisations and participants from all over the world. We are hoping to expand and strengthen our network of co-designers beyond Europe.
Anna: We would love to continue our collaboration with UAL! We still don't know how our future partnerships could work in terms of Brexit rules, but if we found another idea which could join us once again, it would be a great pleasure to continue our cooperation.
Anna, as the founder of The Stable Foundation, what benefits do you think charities can have from collaborating with higher education institutions?
Like with Co-design Your Place, the most interesting part about this type of partnerships is having the opportunity to do practical work, addressing real issues and contributing to real communities.
I believe that collaboration across sectors is one of the best ways to build useful knowledge and practices that are worth spreading.
—  Anna Bielak-Dworska, Founder of the Stable Foundation