Work has started on 3 Decolonising Arts Institute residency programmes that will introduce new decolonial interventions into the archives and collections of University of the Arts London (UAL), iniva (Institute for International Visual Arts) and 3 major UK art collections: Arts Council Collection, British Council Collection and Manchester Art Gallery Collections.
Five artists/researchers in residence are working with the Institute and partners during 2021, with a sixth researcher expected to join in June. Across the 3 residencies, they will each examine and interrogate specific objects, materials, documents or aspects of these archives and collections. Their outputs will be presented and published at the end of the year.
The Institute is excited to introduce the 2021 programmes and researchers, and a first look at the work they will be doing this year.
The residency programmes
Decolonising Archives: Research Residency Programme 2021
A collaborative initiative at UAL developed by the Decolonising Arts Institute in partnership with UAL Archives and Special Collections Centre (ASCC). Now in its second year, it explores institutional histories, memories and experimental approaches to decolonising UAL from within. The outcomes from the 2020 programme are published online and 4 new researchers will be in residence in 2021.
Decolonising Archives: Digital Artist in Residence 2021
Developed by UAL Decolonising Arts Institute in partnership with iniva, this initiative is aligned to the Decolonising Archives research residency programme. An artist in residence will focus critically and creatively on a specific aspect of iniva's digital materials and online archive.
Decolonising Collections: Curatorial Research Network 2021
Decolonising Collections is an emerging curatorial research network led by UAL's Decolonising Arts Institute in partnership with the Arts Council Collection, British Council Collection and Manchester Art Gallery Collections, generously supported by the Art Fund Professional Network Grant scheme. Three virtual, connected research residencies are being hosted remotely and digitally by the 3 collections this year.
Introducing the researchers
The 2021 Decolonising Archives Research Residency programme welcomes Dr Alice Correia, Hannah Jones, Dr Nina Trivedi and Dr Michelle Williams Gamaker who will work across UAL's archives and collections at Chelsea College of Arts and London College of Communication.
Dr Alice Correia
Dr Alice Correia is an independent art historian. Her research examines late twentieth-century British art, with a specific focus on artists of African, Caribbean, and South Asian heritage. She received her doctorate in Art History from the University of Sussex and has worked at Tate Britain and the Government Art Collection. In 2017 Alice was a mid-career Fellow at the Paul Mellon Centre for the Study of British Art and initiated her research project, Articulating British Asian Art Histories. She is Chair of Trustees of Third Text and co-Chair of the British Art Network's Black British Art Research Group. Her articles and reviews have appeared in Art History; British Art Studies; and Nka: Journal of Contemporary African Art.
For her research project "South Asian Women Artists and the Boundaries of Blackness" Alice will draw on materials held in the African-Caribbean, Asian and African Art in Britain Archive held at Chelsea College of Arts, UAL:
"My aim is to research and critically analyse the archival presence – or absence – of women artists of South Asian heritage, and their position within narratives of 'Black British Art'. The residency has provided an opportunity to build on my previous work on South Asian women artists in Britain. I'm thinking about 'known unknowns' and if, and how, it might be possible to narrate the histories of artists about whom little is known, or who are in fact, missing from the archive entirely."
Hannah Catherine Jones
Hannah Catherine Jones is a London based artist, multi-instrumentalist, researcher, radio presenter, composer, conductor, and founder of Peckham Chamber Orchestra. She is currently a DPhil scholar (AHRC) at Oxford University (The Ruskin/Christ Church) producing an ongoing body of audio-visual work, The Oweds, which explores ancestry, (cultural) reparations and concepts of totality (both in relation to 'art' and 'blackness') through an Afrofuturistic lens.
Hannah's research project is titled Deep Listening in the Archive: Unearthing O(Au)ral Resonances and will mainly draw on the Tell Us About It archive held at the UAL Archives and Special Collections Centre – containing records from a collaborative project starting in 2007 that explored the positive learning experiences of students with diverse backgrounds.
"My initial instinctual impression is to dwell on the Tell Us About It archive, which seems to be an essential record of diasporic students' work and experiences, but that seems the least well-presented and user-friendly. I would like to question what it means that this archive is already decaying. I propose to produce an audio, and/or audio-visual delivery of the residency research oscillating between the following questions: How can we foster a culture of care in how we archive diasporic students' work? How could this radiate out to the treatment of diasporic subjects in institutions? How can we unearth, excavate and truly listen to the materials available to us in the archive?"
Dr Nina Nayan Trivedi
Nina Trivedi completed a PhD in Critical and Historical Studies at the Royal College of Art where she is also a Visiting Lecturer in School of Art and Humanities. Nina's research and writing explores the intersections of Critical Race Studies, Feminist New Materialisms and Visual Culture. She also lectures in MA Design at Goldsmiths and in the Department of Culture, Media & Creative Industries with Kings College London at Tate Modern. Recent lectures include the Ruskin School of Art's Anti-Racist practice series.
Nina will examine the Her Noise Archive housed at London College of Communication, UAL; a resource of collected materials bringing together a wide network of women artists who use sound as a medium. Her project is a direct response to a suggestion card Nina photographed at South London Gallery in February 2020, made in response to the original iteration of the Her Noise exhibition. Presented as archival material, the card from musician Bishi Bhattacharya has the note: 'Anything Ethnic? Please reflect the world of women outside the western hemisphere [ie. New York, London and Berlin] It's everywhere you go! Thank you, Bishi'.
"I am considering the time period in which the suggestion card was originally written as a starting point, to trace the representation of women of colour, non-binary women and the role of whiteness in the Her Noise archive. I will explore how the archive is rooted in the institution and formed of a project based at institutions. I am interested in who is not included in the archive and what audiences are and are not reached. I am also interested in the idea of the Her Noise archive as a living archive that is active and ongoing."
Dr Michelle Williams Gamaker
Michelle Williams Gamaker is an artist, filmmaker and Lecturer in Fine Art at Goldsmiths. Her practice is often in dialogue with film history, restaging scenes to reveal their politically problematic, imperialist roots. Her work is a form of fictional activism to recast characters originally played by white actors with people of colour. Michelle is joint-winner of the Film London Jarman Award 2020 and is also recipient of the Stuart Croft Moving Image Award 2020 for The Bang Straws (2021).
Michelle's project will investigate 'the role of art education and its impact on students of colour in shaping self-worth, belonging and identity'. With exclusion in mind, Michelle will explore 2 collections in particular: the Henry Moore Archive and the Chelsea College of Arts Archive, both stored at Chelsea Collections and Archives.
"My work centres on the politics of identity through what I term 'fictional activism', a space where brown protagonists vocalise to tackle historical injustices. I plan to build an alternative art-history, which is denied to many PoC during our education. By exploring the gaps in both archives, I will speculatively place myself, as a living archive, analogously mirroring gaps in my own diasporic history (as the daughter of a Sri-Lankan migrant, born in London, 1979) to make sense of these absences and seek a framework to engage with my preliminary research question."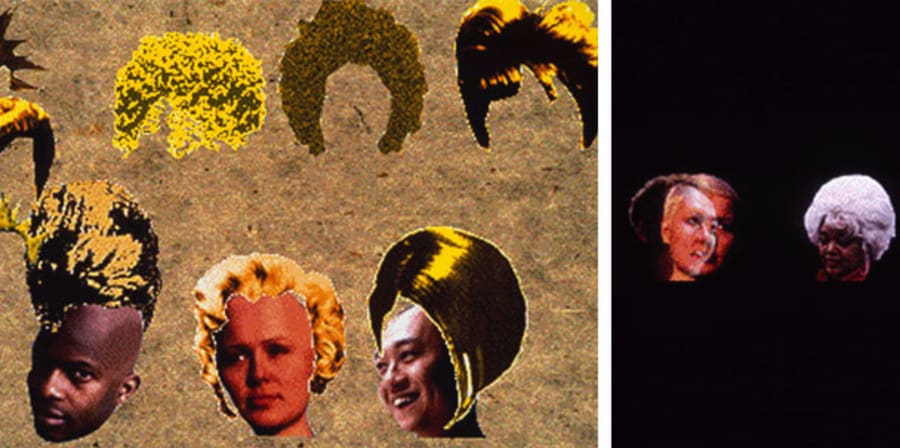 The Decolonising Archives: Digital Artist in Residence programme in collaboration with iniva welcomes Maybelle Peters in her role as Digital Artist in Residence working across iniva's archive.
Maybelle Peters
Maybelle Peters is an artist and filmmaker working in film and CGI. Her practice focuses on storytelling using documentary, historical events, literature and oral narratives. She gained her BA in Animation at Farnham where she made her first commissioned film for BBC2. Her Channel 4 commissioned film, Mama Lou, has been shown extensively at animation festivals including Annecy, Ottawa and the Edinburgh Film Festival as well as broadcast television. She is the recipient of the inaugural Womxn of Colour art award and her work was shown as part of the exhibition, The Place is Here (Nottingham Contemporary and South London Gallery, 2017). Maybelle is a practice-based PhD candidate at UCA Farnham.
"Uncannily Familiar examines the digital spaces operating between the familiar and unfamiliar black body in an archive. The metadata existing within the digitised information held in the archive is (re)visited foregrounding acts of mapping processes. I aim to look at how bodies move and are moved by blackness. My project draws on extensive readings of the uncanny including texts by Ernst Jentsch (1906) and Sigmund Freud (1919), together with Masahiro Mori's contested findings revealed in his 'Uncanny Valley' study. The unfamiliar as otherness and alterity are, as Edouard Glissant (2010) seeks to (un)map, an act against a determining logic of recognition."
Tavian Hunter, Library and Archive Manager, iniva says:

"We are excited to welcome artist Maybelle Peters to undertake a practice-based research residency into iniva's digital archives. Maybelle's research and animation practice more broadly is informed by the historical, metaphysical and theoretical movement of black bodies. In response to the open call, Maybelle's proposal for the residency uniquely seeks to examine iniva's seminal digital platform project, X-Space with an interest to make a close reading of the digital technologies employed by artists such as Joy Gregory and Keith Piper who contributed to the platform. Maybelle also expressed an interest in exploring search functionality and research methodologies employed to identify creative practices of black people especially women through the use of keywords and coding in semantic text."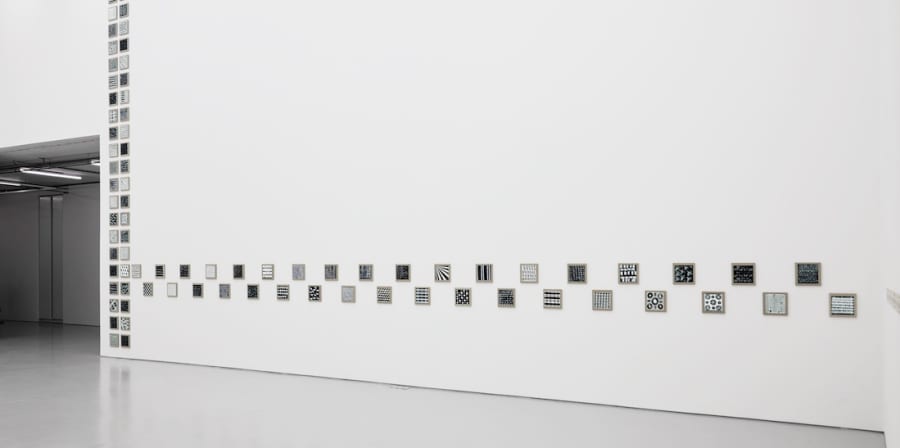 The Decolonising Collections: Curatorial Research Network in collaboration with Arts Council Collection, British Council Collection and Manchester Art Gallery Collections welcomes Harvey Dimond, Marenka Thompson-Odlum and a third incoming researcher, who will interrogate specific aspects of the three collections' practices, policies, histories, holdings and objects.
Harvey Dimond
Harvey Dimond is a British-Barbadian writer, artist and researcher based between Glasgow, Scotland and Athens, Greece. They work with queer(ed) histories in the pre- and post-colonial Caribbean and Africa. They are interested in the intersections between the climate crisis, anti-Blackness and homophobia/transphobia, and the role the UK has played in both creating and refusing to address these issues. Harvey was awarded an Emerging Curator's Bursary by the British Art Network in 2020/21, and selected as a runner up for the Michael O'Pray Prize for their review of RESET, a 2020 video work by the artist Alberta Whittle.
The title of their research is 'Transatlantic solidarity: class, race and industry in the Manchester Art Gallery collections'.
"Through an intersectional approach, I want to understand how the labour of marginalised communities historically has contributed to the collections in Manchester Art Gallery. My initial stimuli is the term 'labour', referring at once to, but is not limited to, slave labour during the era of chattel slavery, working class labour and solidarity with enslaved people during the 19th century, and the womens suffragette societies that contributed to the abolition of slavery in the British colonies."
Marenka Thompson-Odlum
Marenka Thompson-Odlum is a Research Associate at the Pitt Rivers Museum and a doctoral candidate at the University of Glasgow. Her doctoral research explores Glasgow's role in the trans-Atlantic slave trade through the material culture housed at Glasgow Museums. At the Pitt Rivers Museum, Marenka is the researcher on the Labelling Matters project, which investigates the problematic use of language within the Pitt Rivers Museum's displays and thinking through ways of decolonisation through re-imagining the definition of a label.
Working with the collections of the Manchester Art Gallery, British Council and Arts Council, Marenka's project 'Coloniality of Museum Language' will build on her research on the Labelling Matters project.
"Language/ labelling is an interesting and helpful point to begin the decolonial process as it permeates every part of cultural/heritage institutions. As our main form of documentation and interpretation it is imbued and encumbered with coloniality, but also is malleable enough to change presentation throughout time without necessarily changing meaning. This malleability and adaptability make it difficult to see our own institutional culpability. This project aims to provide the museum sector with a tool to continuously challenge coloniality within our linguistic practice, and in doing so develop the means to subvert these narratives."
Background
The UAL Decolonising Arts Institute has been in development since late 2018. Conceived as a decentred, porous and evolving space, the Institute seeks to challenge colonial histories and imperial legacies, to drive and support cultural, social and institutional change through arts practice and research, recognising past and ongoing work.
The Institute's projects have grown out of internal and external partnerships, including with UAL's own Archives and Special Collections, the three collections, and the Contemporary Arts Society. The Institute has been in collaborative dialogue with iniva through numerous individual and institutional research connections and partnerships, including those established through the major Arts and Humanities Research Council (AHRC) project, Black Artists and Modernism (BAM, 2015-2018), and the Institute's 2020 British Art Network Seminar Series, Decolonising British Art.
Open calls for proposals for the 3 residencies were circulated in late 2020/ early 2021. The projects encourage approaches that challenge dominant narratives of identity, nation, culture, language, heritage, Britishness, Eurocentrism, Westernisation, modernism, feminism, radicalism, activism, whiteness, blackness, race, class, gender, sexuality, dis/ability, age, belief, and/or the politics of institutional memory and archival silences.