Before starting my course I wanted to learn more about ethical and sustainable fashion because they are two issues that I wish to address in my work. I was born and grew up in Italy and I originate from Bangladesh. I believe that Bangladesh is now perceived as the home of fast fashion, sweatshops and factory collapses. This is all very true, however Bangladesh has a very rich textile heritage that not many people know of.
When you google 'Bangladesh Fashion', a long list of factory disasters and factory working conditions issues come up. In one of my previous projects, I had the opportunity to explore the cultural and textile heritage of Bangladesh. During the project, I faced several challenges to get access to information regarding artisans and craftsmanship.
Committing to sustainability
Luckily, in my course working around sustainability and exploring this aspect of fashion is very well supported by my lecturers. After completing my most recent project, I have decided to stick with sustainable fashion in the future. This choice is not easy as conscious fashion is expensive, less accessible geographically and limiting in terms of materials.
Using an industry brief to explore my own culture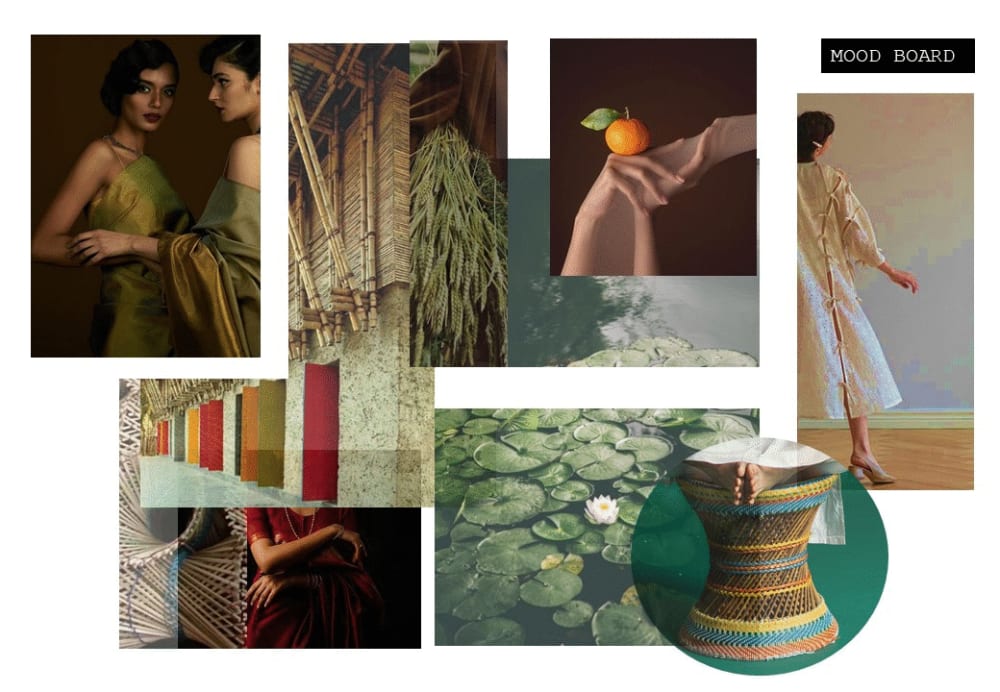 The industry project with design studio 'Tengri' has been the most enjoyable project I've done so far. Founder of Tengri Nancy Johnston is a very inspiring woman, to me she is an example to follow in terms of creating a business that helps people and the environment.

The name of the project is 'Global Changemakers' and the brief was the following: 'Tengri's ethical business model, which preserves cultural heritage and enables communities to thrive is ripe for replicating. Tengri are currently looking at different regions of the world in which to develop their social enterprise. This is your chance to create your collection taking inspiration from a country and culture of your choice.'

We were advised to choose a developing country and for the first time I had the chance to explore my culture in a way that I want people to see it.
Overall influences and inspiration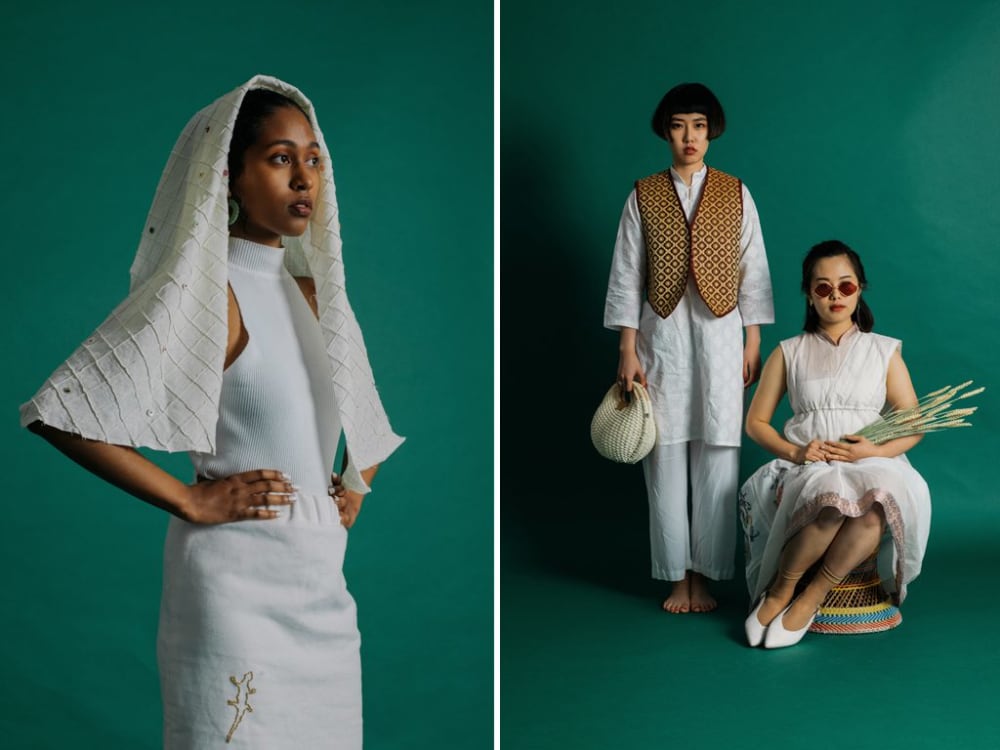 This range is inspired by various aspects of Bangladeshi culture. The silhouette of the garments is influenced by traditional Bangladeshi menswear clothing which is structured and loosely fitted. The motifs are inspired by the lungi, a traditional menswear skirt that has a unique type of hand-woven check. The British tailored look, which is integrated into Bangladeshi menswear as part of colonial occupation, is present in the inclusion of waistcoats and bespoke tailoring details such as bespoke jetted pockets. The majority of the fabrics originate from Bangladesh, and the remaining ones are from the UK, Philippines and Italy. The lining of the garments is block printed utilising hand-carved stamps.
Drawing on traditional embroidery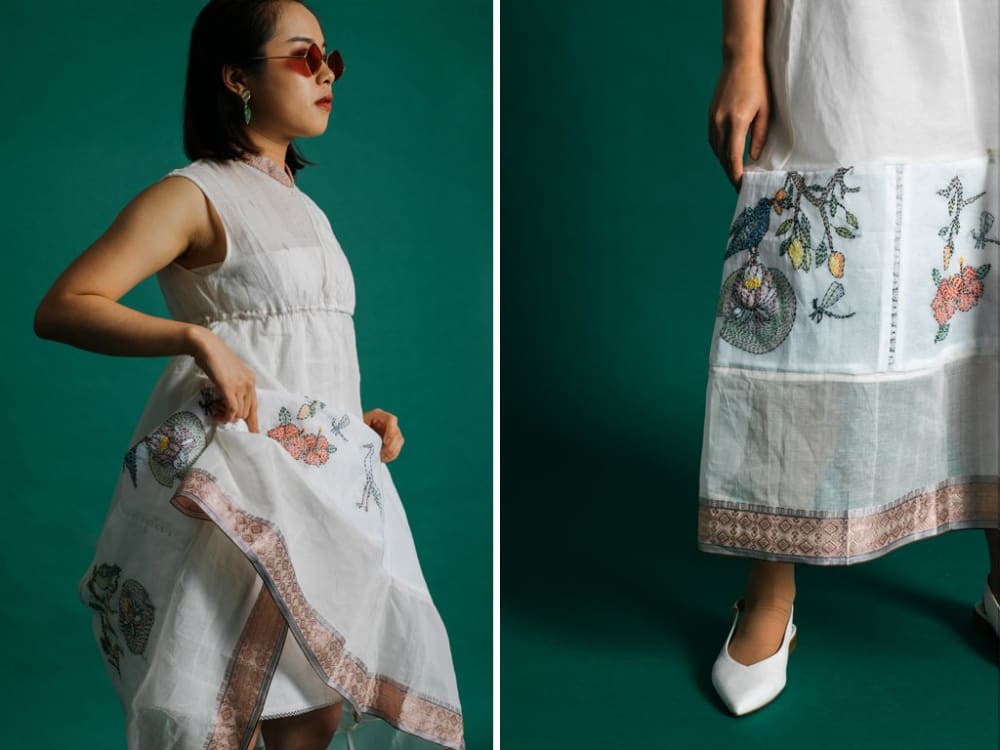 The embroidery is inspired by traditional Nakshi Kantha blankets. The Nakshi narrate a story through a very simple – yet laborious running stitch. The embroidery in the range tells a story taken from Bengali poetry and makes a statement about the flora and fauna in Bangladesh that is currently at risk due to pollution, lack of preservation and climate change.
Using Bangladeshi weaving techniques
Nakshi Bagan 20 collection - JaRafin
Video: courtesy of Rafin Jannat.
The weaving is influenced by Bangladeshi traditional weaving. The yarns are made from high quality fibres from all around the world. This includes nettle from Nepal, banana silk from Bangladesh, rose fibre from China, silk from Italy and Japan and Indigenous undyed cotton from Mexico.
Collaborating with other creatives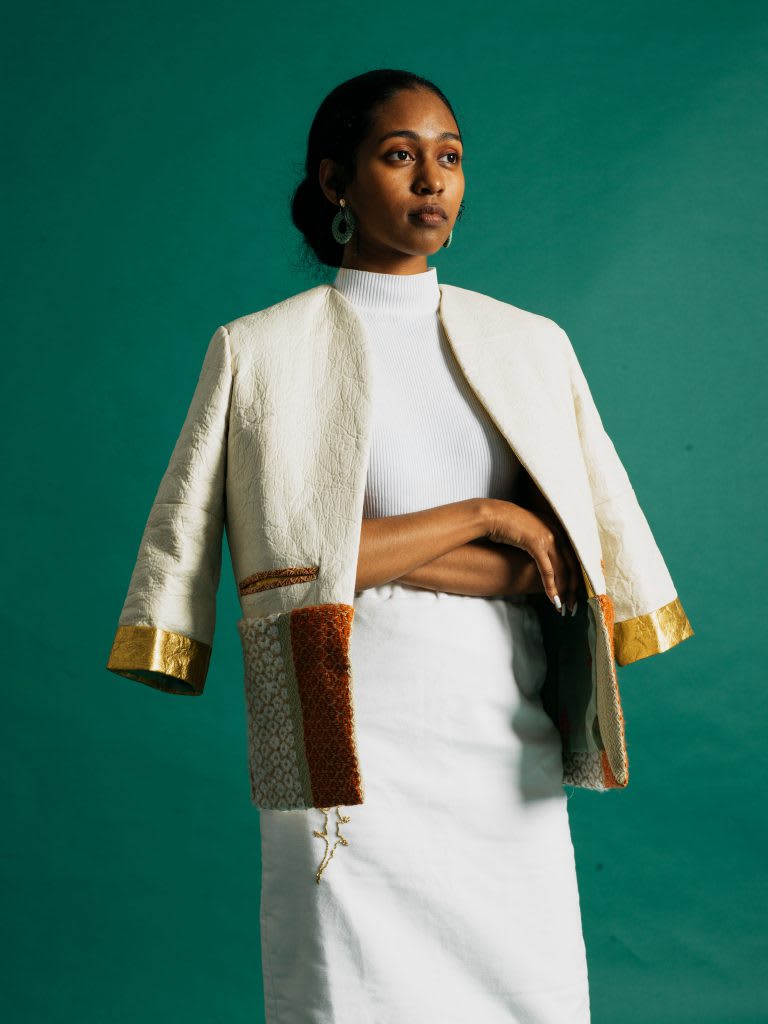 I collaborated with Joygun Nehar a very talented weaver of Bangladeshi heritage who just graduated from Central Saint Martins (CSM) last summer. It happened quite accidentally, she posted a picture of a huge loom on Instagram and I just asked her if she would be up for a collaboration. I consider myself very lucky to have found her and I look forward to continuing to work together in the future. Joygun and I have not worked with each other's speciality before.

Making this collaboration a success required a lot of commitment on both sides. We had meet ups almost every two weeks to update our work in progress and try new techniques. On Joygun's side it was not straight forward to understand the technical difficulties of pattern making. Whereas on my side, using the woven fibres as fabric and incorporating it in a garment without making it look as if it is stitched on top of the garment was tricky.
Video: courtesy of Tengri
This project was a competition and surprisingly I have been shortlisted as a finalist! On the day of the presentation, I just brought and presented what I had so far and the founder of Tengri Nancy Johnston selected me as one of the winners of this project. I believe that this achievement gave me confidence in work ethics and designs. Presenting my project to more trusted people was beneficial because I received very helpful and valuable feedback from each individual. It allowed me to see other people's perspective and elaborate further on my work.
Top tips for anyone working on a similar project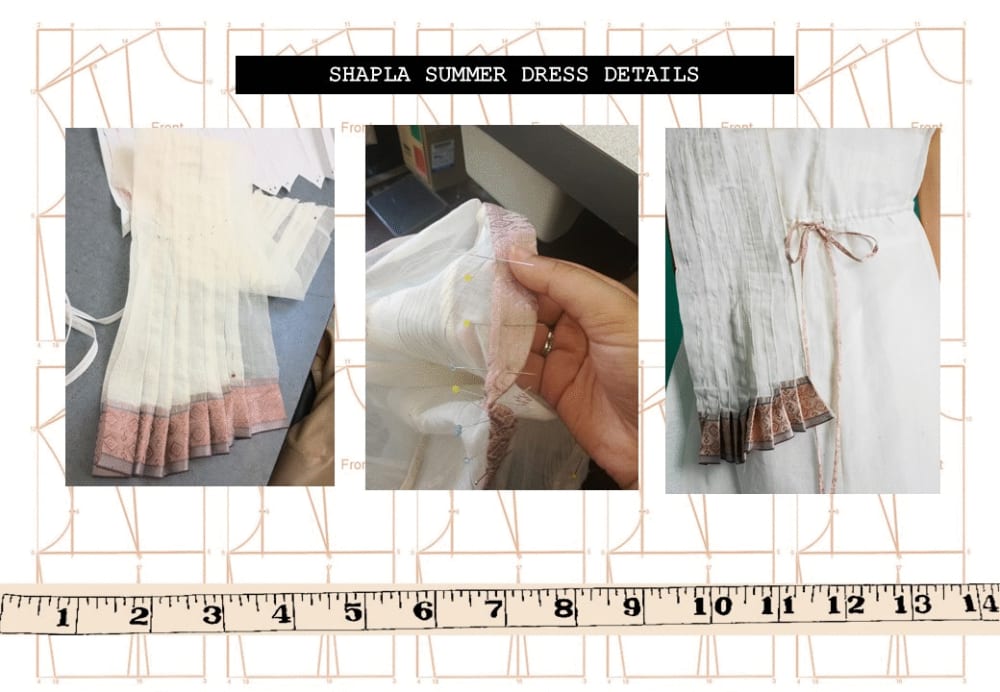 At first, I felt helpless because I was planning to visit Bangladesh for research purposes but in the end, it was not possible for various reasons. I was convinced that this would compromise the quality of my work. However, I found some gems in the most unexpected places: I was looking for very specific fabrics all over the internet and high-end fabric stores in London, but I found some gems in market stalls too.
Planning weekly schedules throughout the term was vital for me. I could not follow them perfectly, but I could monitor how long different tasks took me. I made seven pieces for this collection and without planning my time constantly, it would not have been possible to complete each piece. Throughout the month of May I was fasting during Ramadan but by planning ahead I could stay for shorter periods at university and have other commitments in the evening and night.
Keep up to date with the creatives featured in this story:
Follow Tengri on Instagram: @houseoftengri
Follow photographer Calvin Chinthaka on Instagram: @fashion_calvin