Introducing 'Boys Don't Cry UK' – a collective born from personal experience of these issues.
In the summer of 2018, both myself and Brooke Wilson felt that male mental health was very difficult to talk about within our community. We were seeing many young men around us struggling to express themselves and find a voice of their own. We wanted to do something to tackle this, and so we formed the art collective 'Boys Don't Cry UK'.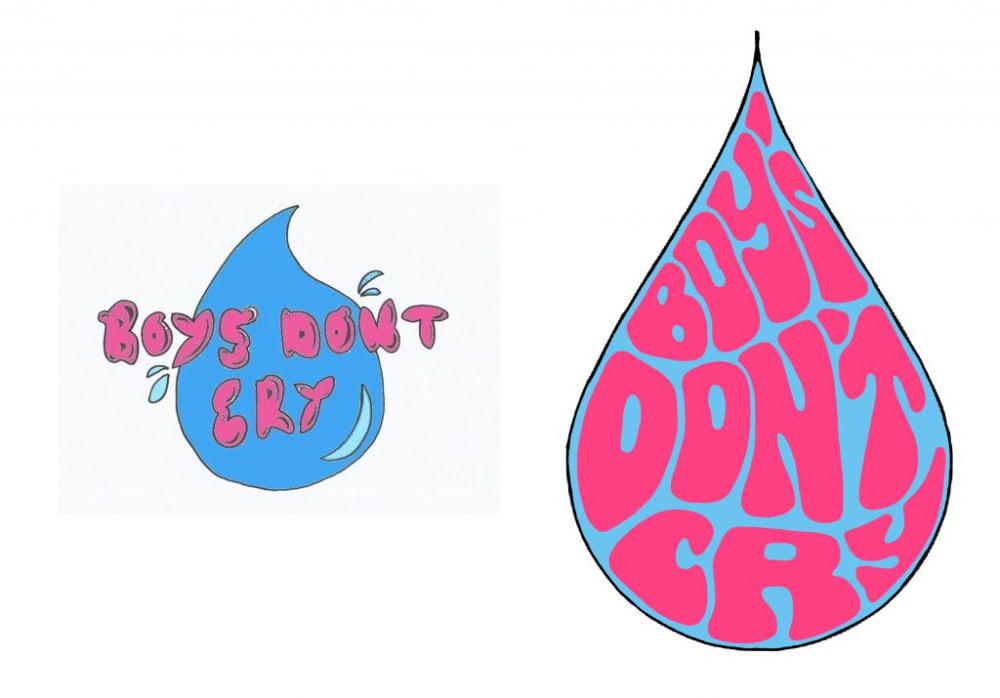 Shining a light on masculinity and mental health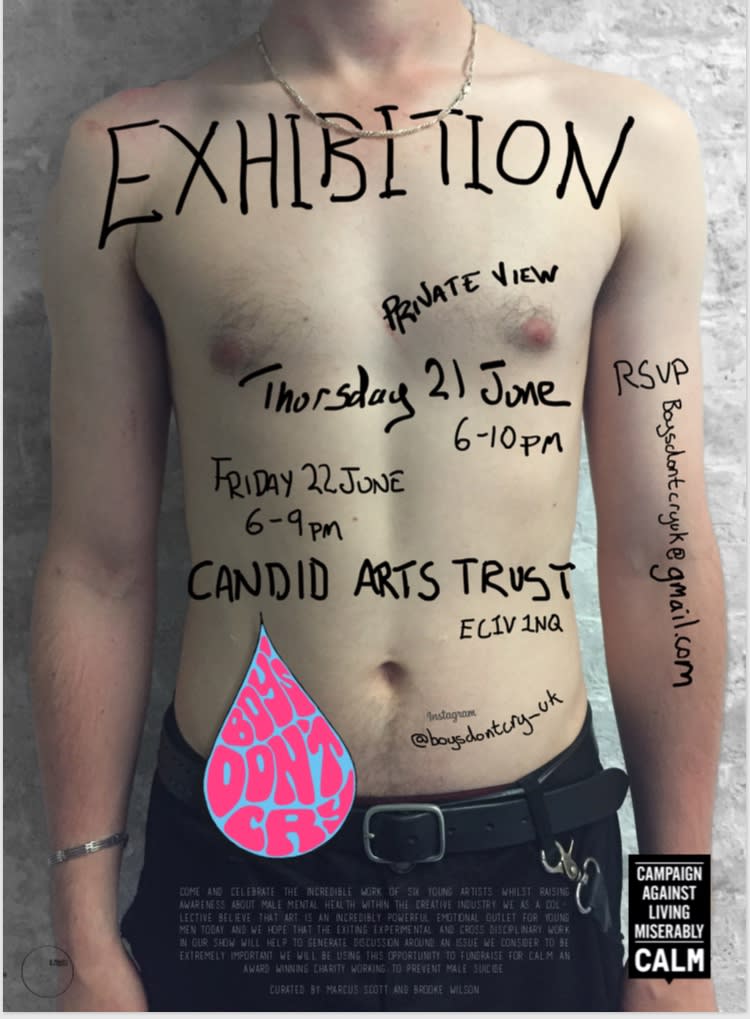 As a young man growing up, I had battled many mental health issues. For me, what had always kept me able to cope was having an artistic practice through which I could express myself. It was the power of this emotional and creative outlet that allowed me to make sense and take ownership of my past. With all this is mind, we decided that we could take this idea and apply it to an exhibition to question the idea of masculinity, and so we started to work on our first show: 'Boys Don't Cry – The Modern Man'.
Overcoming the challenges of planning and organizing an exhibition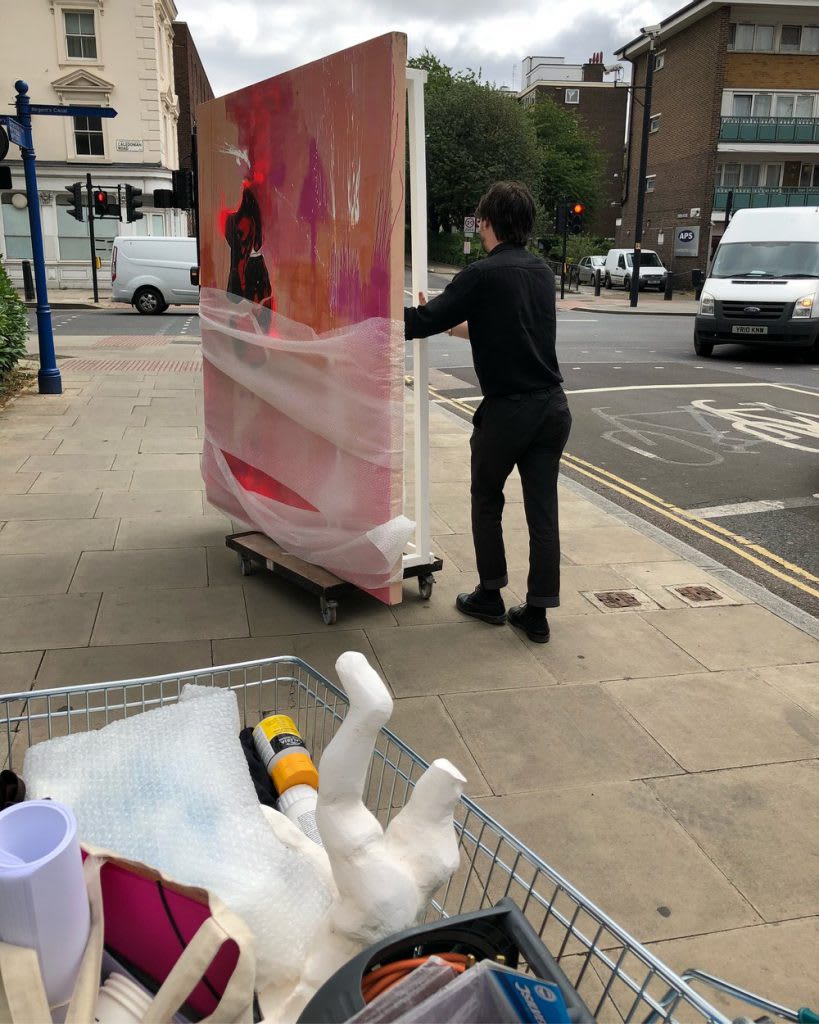 Having never publicly curated an exhibition before, there were many challenges that we had to tackle for the first time. What we quickly realised was that there were many more elements to a show than just the curation of the work, such as: the press release, drinks sponsorship, marketing, venue negotiation, organisation of the artists, as well as assemblage and take-down of the work. Though these were at times challenging tasks to juggle, organisation and forward planning meant that we could learn from each other and carry our experience forward. The show turned out to be a success and we received an overwhelming amount of support.
Reaching out to find artists online to feature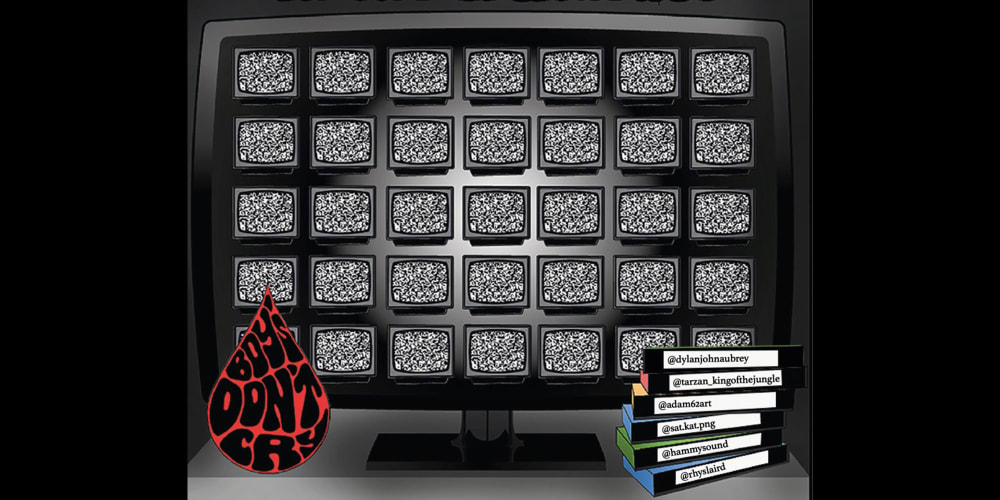 Our second exhibition – 'Boys Don't Cry in the Digital Age' – was held in February 2019, this time discussing the effect of technology and social media on young men. Each artist we included in the show was found online or through social media, while each artwork was also made using the medium of technology, either on Photoshop, an iPad or another electronic device. For the exhibition itself, we took over the Karma Sanctum Hotel in Soho, creating an immersive environment filled with screens that presented an overwhelming digital experience. We found the challenges we had overcome during the creation of our first show helped us be more prepared this time around.
Collaborating with a like-minded organisation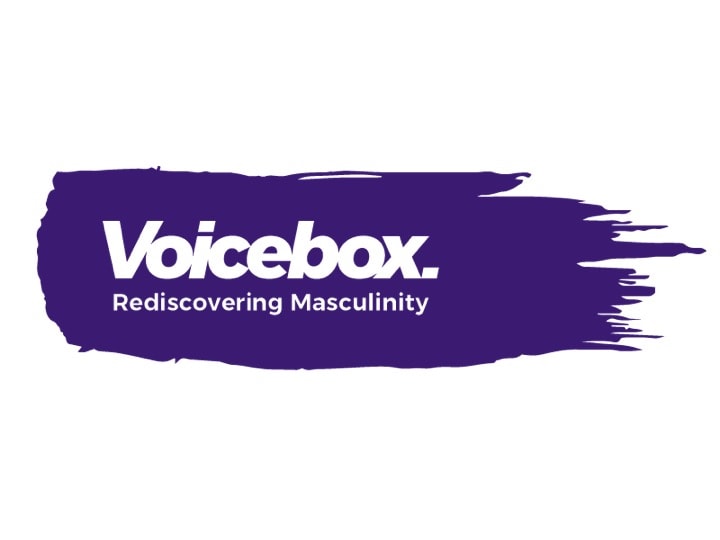 It was around this time that both Brooke and I decided that, as well as putting on exhibitions, we wanted to try and develop some more socially engaged projects and test the limits of our collective. With this in mind, we started to collaborate with a theatre company called Voicebox, which shares our aims to create an open discussion around the topic of masculinity.
Developing an exhibition that would challenge our audience
At the end of February 2019, Voicebox held their first event at the Camden People's Theatre in Euston. At the start of the evening, there was a panel discussion that took place upstairs, with five contrasting speakers brought in to discuss the topic of masculinity. The audience were then brought down to the basement to continue the discussion. When they entered the room, we had positioned five boys all facing different corners of the space, with their backs turned. We called this piece 'The Standing Men'. Our aim was to question what effect the physical presence of a man would have on this audience, and how it might affect their discussion
Recording feedback from our audience
If there is one thing you can take away from this story it's that as long as you genuinely believe in yourself and what you are doing, you too can form a group and put on events like we have. Working with others means that you can play to each individual's strengths, and in an industry that is as tough as the art world, we believe that we are always stronger together than apart. If you have enjoyed reading this, keep your eyes peeled because we have lots of new and exciting projects coming up this year!