Graduate Diploma Textile Design student Jeanne Indriani chats to us about how she is continuing to work back at her parents' home, and what to expect from her work at the UAL Graduate Showcase, opening virtually on July 28.

Jeanne is currently back in Indonesia, and her dad has lent her an industrial sewing machine as she left her portable one in London.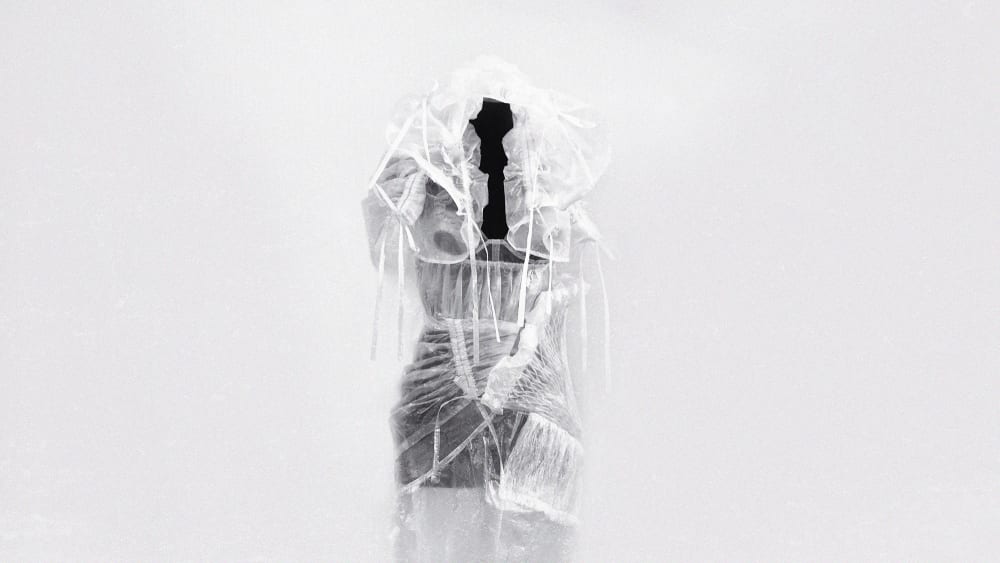 Can you please describe your design practice?
I'm very interested in traditional craft and traditional ways of making. In times like these where access to modern technology and human contact is very limited, handcrafts and traditional art will be more prominent and valued. My approach to sustainability is centred on the relationship between user and object. With my current project, I'm looking at how the durability of objects can be improved by creating an aesthetic experience.
How have you adapted your practice for working outside of the college studio?
I didn't need to adapt working outside the studio because I mostly work inside my room, wherever I am. Although, photoshoots have been hard since my room here doesn't have natural lighting or a clean background unlike in school where there are lots of great spots to take pictures.
Have these circumstances resulted in any unexpected opportunities, for example, a collaboration or a change in your usual practice and materials you use?
Yes. There are lots of different methods I was planning to try. Initially I was going to work with VHS tapes, but since shops were closed it was difficult to source the material. Other than that, we couldn't access the campus facilities such as the heat press and screen print, which has limited my options. However, it has driven me to look more into traditional craft and technique which is also great.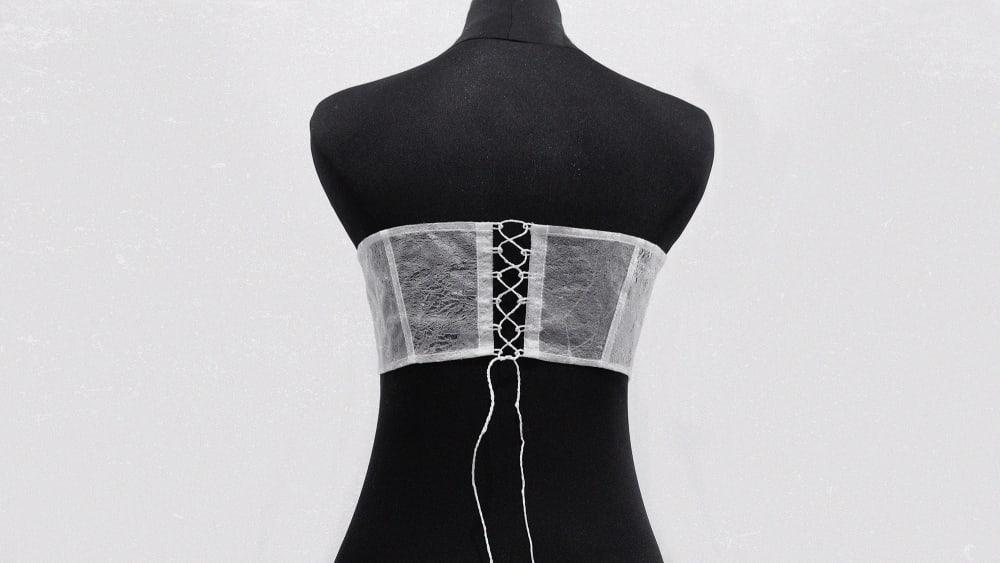 Please tell us more about your Graduate Showcase entry. What were the inspirations/idea behind it?
The idea for the wedding dress started from Kristine Harper's Aesthetic Sustainability book, where she talks about the studies of aesthetic according to various philosophers. She also talks about designing to create sublime experiences for the durability of objects. I tried to apply to this project some of the methods she proposed, such as using unusual materials and challenging tactile expectations.
What materials have you used?
The dress is made from clear plastic grocery bags. I applied smocking, shirring and gathering techniques with a simple hand-sewing needle and cotton thread. I decided not to pre-plan the shape or design of the dress and to allow the material itself to take shape. I used toile for parts of the dress to locate cuttings; aside from that I mainly draped the material onto the mannequin. I love working in an indefinite and unpredictable way because by not knowing how the outcome will look, it gives more options and room for creativity.
You're about to graduate- what career paths are you considering?
My goal is to work in the fashion industry as a designer and working with sustainable brands and projects. Ultimately, I would love to have my own brand. Sustainable fashion brands that I deeply admire and would love to work for are Raeburn and Stella McCartney. I admire how they're able to commit to promoting sustainability but don't sacrifice creativity and design as fashion brands. I also love Chopova Lowena and Fillipa K.
Do you have any projects lined up for the near future?
Currently I don't have any definite plan on a personal project, but I want to pursue and further develop my design practice on recycling and up-cycling. My plan is to get work experience before continuing to MA. I want to see how I can apply the knowledge and experience I've acquired from this grad-dip course to the brands or projects I will be working with in the future.
Do you have any tips for students – what has helped you remain positive and keep creating during this time?
It is a hard time to stay motivated since everything is so unpredictable. What's kept me motivated is by staying connected to friends and family, supporting each other, and trying new things that are possible to do indoors. I have started to exercise and clean my room regularly. I video call with my friends more, and plan things to do for when everything gets better. Be hopeful. I think the good thing from having more time on our hands is that we can slow down, reflect, and truly plan our future carefully.
Do you have any advice for students considering studying Graduate Diploma Textile Design at Chelsea?
My advice for students considering studying this course is to have fun, enjoy, and absorb as much knowledge as you can. Try to attend every class because every day is fun, and you don't want to miss a thing.