During lockdown, Graduate Diploma Fine Art student Philippa Found has been working in her makeshift studio at home in Camden. Although she found it easy to adapt to working from home, it has been challenging working on her Graduate Showcase submission and balancing childcare duties for her 3-year-old as she no longer had her usual childcare due to Covid-19.

We spoke to Philippa about her project Lockdown Love Stories which has grabbed the attention of the media and explores how lockdown has changed people's relationships and affected their love lives.
Tell us about your practice.
My practice is conceptual and tends to be performance and language-based. I'm interested in how to counter the silencing of uncomfortable truths around female experience. My practice spans long and short form writing, video, sculpture, performance and participatory art works. I am concerned with the messy reality of female experience and using storytelling (in material, performance, or text forms) as a radical act against the silencing culture of shame. I investigate subjects such as female desire, shame, and the 'hysterical', and how these narratives play out in dating and communication. I also explore intimacy, disclosure, nuances of language, and autobiography. I'm interested in documenting and arresting time, obsessive, repetitive acts, emotions as critical matter, and treating the personal as political.
How have you adapted your practice for working outside of the studio? Have these circumstances resulted in any unexpected opportunities?
Yes to all of the above! When I was doing my MA in Creative Writing a tutor once said to us that restrictions can be very useful as a structure for your work. I've always used this idea in my practice. I like working with chance but using rules as a limiting structure. When lockdown happened I wanted to use it as a conscious restricting factor in my work and incorporate it as the fourth element in my practice. Lockdown and shame are both isolating, and I think that the shift that happened in lockdown will be the defining love story of our time. I wanted to tell that story, but in doing so I wanted to create a space and platform that could de-stigmatise the emotions and experiences that people would be dealing with during this time.
I decided to ask people how lockdown had changed their relationships and affected their love lives, so I created a website www.lockdownlovestories.com where people could submit their stories anonymously to be published. So far, I've published 130 stories on the site and submissions remain open, so if you or anyone you know has a story of dating, heartbreak, breaking up, quarantining with a loved one, or hooking up in lockdown, please submit!

When it came to reaching people to gather my stories, lockdown provided the opportunity to become more physically public with my work using the public space of park to reach out to people. I wanted to gather lots of diverse stories. I thought there are two places people can be right now: at home online, or in a park, so I went to both spaces. The website is obviously online, but the way I have gathered all the submissions was by going to parks to write the website URL in chalk. The chalking became a sort of performance, an intervention in public space to signal there was someone else out there in the isolation, and that there was a space where all were welcome in. I've also had lockdownlovestories.com stickers printed, and they're being displayed on ice-cream vans around London.

The response to the project has been great: not only with receiving an amazing number of submissions, but it's been featured on BBC Radio London (on Jo Good's show June 17 2020, and The Scene with Claira Hermet on July 21 2020), Grazia, The Metro, Ham & High and Camden New Journal.
Please tell us more about your Graduate Showcase submission.
I've been developing other pieces from the lockdownlovestories website. One is called Lockdownlovestories Diaries which are my love confessions sent to subscribers by self-deleting texts. With this project I'm extending the ideas of sharing, storytelling and autobiography that are inherent in the lockdownlovestories site. I am pushing the idea of performative modes of communication and exchange, creating text-based performances which are as ephemeral as spoken word. I'm trading my anonymity for impermanence. People can subscribe for free by sending me a DM.

This week we were allowed back into the studio at Chelsea to collect any works we had left there and the most amazing thing had happened: I'd left some pink receipt wrap that I had used in a performance in the studio at the end of last term on the floor. It was half a sculptural remnant and half potential rubbish, so I left it there while I was figuring it out. Then lockdown happened. When I went back to the studio the sunlight that had been streaming in through the windows for four months had bleached parks of the pile of receipt paper. It's a total time capsule of lockdown. I did a quick performance in the studio unravelling the tangled paper and wrapping it up neatly into scrolls. I'm planning to develop this piece further by printing or hand-writing the stories from lockdownlovestories on these paper scrolls. Stay tuned!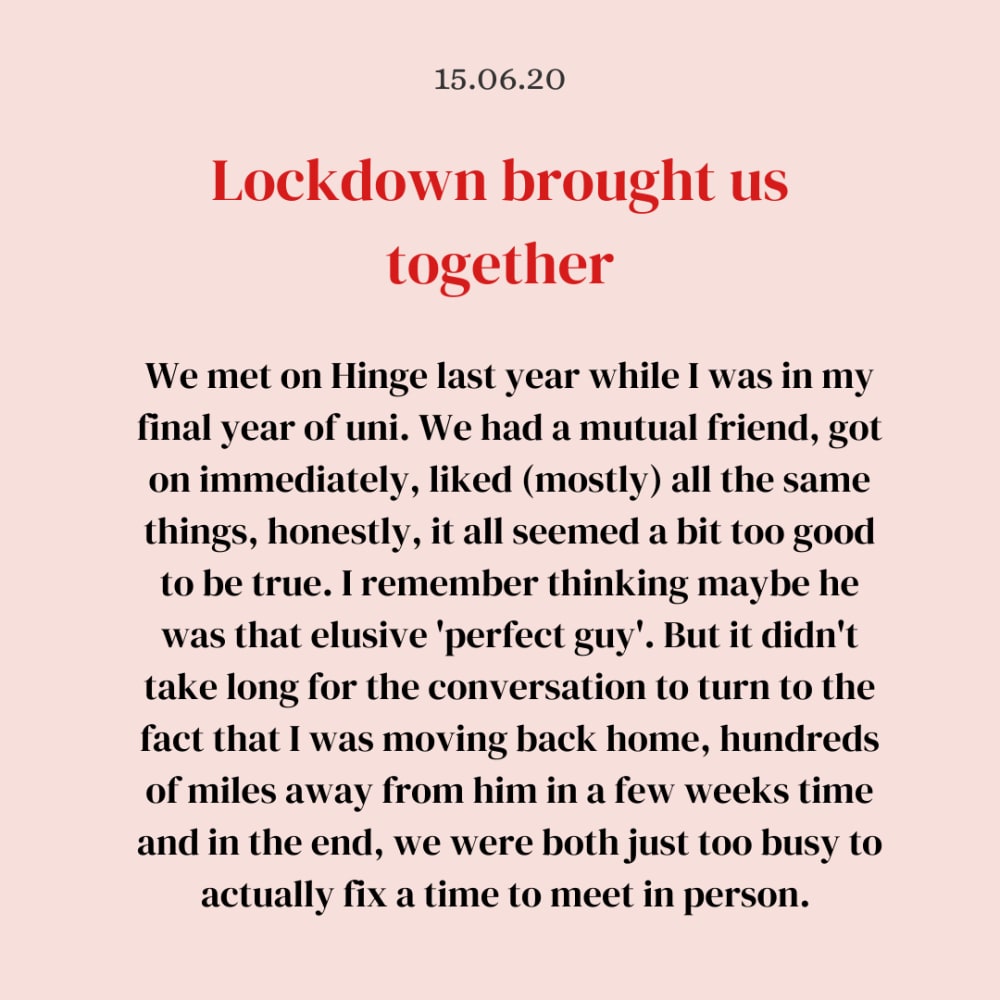 What's next?
The response to lockdownlovestories has been incredible so I plan to keep developing work from it. Pel Projects approached me and has invited me to release some of the stories as limited edition screen savers, available to download for your computer for free as a limited edition of 100.
I'm also looking at developing lockdownlovestories into a podcast, so stay tuned on the Instagram page @lockdown_lovestories for further details. Another thing I really want to do is have these stories printed as a book. There are now over 150 lockdownlovestories and it's growing all the time. I'm looking for a non-fiction or arts publisher to develop this into a book with me- so if anyone works in publishing and thinks this has legs, please get in touch!
What advice do you have for students considering studying Graduate Diploma Fine Art?
The energy of art school is like nothing else. You will never find a more creative, stimulating, inspiring environment. The amount of work I have produced this year is insane, and that's because the place is a melting pot of talent, energy and ideas and that combination is a privilege to be immersed in. Graduate Diploma Fine Art is a one-year course and the development that I have witnessed in mine and my course mates' practice is incredible. I don't think there's another course like it for the leap you take in such a short time.

I've also never been part of a more supportive environment. The tutors at Chelsea really, really care about you and your work. That's special. You're given the encouragement when you need it to pursue any idea you have. There's a real nurturing and that makes it a very special place for this point in your career and artistic exploration.