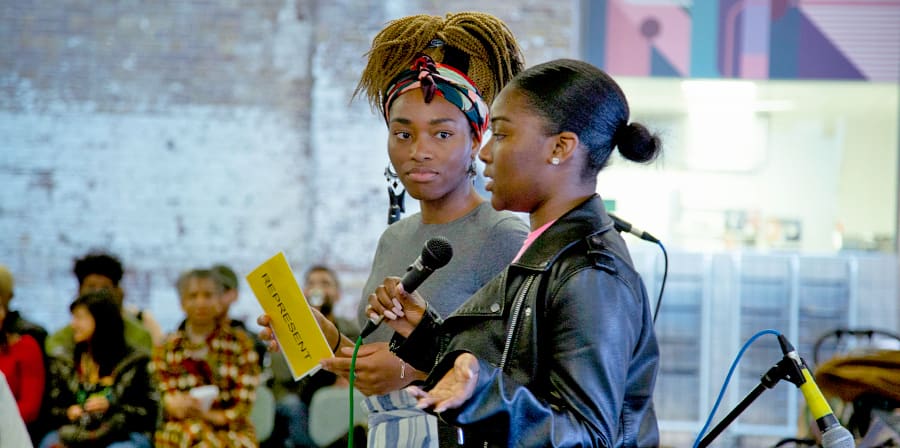 The Academic Enhancement Model (AEM) and Attainment team creates spaces for open, collaborative discussion to deliver a range of pedagogic initiatives. Working with staff and students we support the implementation of necessary change to curriculum and teaching practice.
A cross-university enhancement approach provides support to courses that fall below UAL benchmarked thresholds for student satisfaction, attainment and continuation.
An example benchmark is the awarding gap, which is the difference in the number of white students being awarded a First or 2:1 in their degree in comparison to students of other ethnicities. Research shows that the awarding gap is not attributable to individual students, their language abilities, prior qualifications or cultural backgrounds. Instead, research repeatedly cites a range of institutional factors, such as institutional cultures, curriculum and assessment practice, as the cause of disparity of outcomes for students of different ethnicities.
Our approach
Our cycle of activity involves the following stages:
Evidence - review NSS and Attainment data
Dialogue - strategic discussion with teams to identify priorities
Collaboration - plan and co-design workshops, events and training
Action - signpost staff development, joining up with UAL attainment network, completing actions
Reflection – review actions at Programme Committees and Continuous Monitoring meetings
Our story so far
The Academic Enhancement Model was established in January 2018, developing a package of approaches to support course teams' enhancement work.
Since then, the AEM and Attainment team have worked in partnership with over 420 members of staff and 74 course teams across the University. Collectively this represents 12,107 students, or 82% of the undergraduate population.
In 2020 the team were delighted to receive a Collaborative Award for Teaching Excellence (CATE) from AdvanceHE. Read more in the announcement from UAL.
Contact us:
Jheni Arboine
CCW AEM Lead j.arboine@arts.ac.uk
Liz Bunting
LCF AEM Lead l.bunting@fahion.arts.ac.uk
Catherine Caldwell
CSM AEM Lead c.caldwell@csm.arts.ac.uk
Siobhan Clay
AEM Coordinator and CCW Lead s.clay@arts.ac.uk
Vikki Hill
Educational Developer: Attainment (Identity and Cultural Experience) v.hill@arts.ac.uk
Carole Morrison
LCF AEM Lead c.morrison@fashion.arts.ac.uk
Amita Nijhawan
Academic Projects Lead a.nijhawan@arts.ac.uk
Dr Emily Salines
LCC AEM Lead e.salines@arts.ac.uk
Nicola Tagoe
Projects and Resources Lead n.tagoe@arts.ac.uk
Dr Danielle Tran
Leads and manages the AEM and Attainment team d.tran@arts.ac.uk
Please contact individual Colleges for details of their local attainment staff.