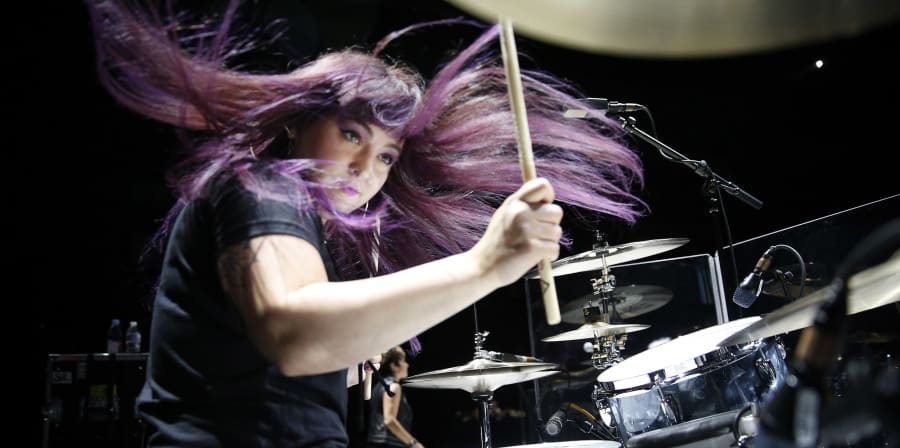 I chose the study abroad program at Central Saint Martins because I knew the school would give me the push I needed. Before my experience abroad, I naively thought that I had to just be good at design — born with talent — in order to be successful.
Tell us a little about yourself – where are you from? Could you describe what kind of work you do?
My name is Caitlin Kalafus and I live in Philadelphia, PA. I am a graphic designer with a large musical background. I work from home doing freelance design work so that I have the ability to work on my music as well as go on tour. I am currently drumming for Cyndi Lauper, though I do play with several other musicians when needed and available.
You work across several different fields, being a graphic designer and drummer, how do you balance the two? Does one feed into another?
I used to work a 9-5 in the marketing department at a financial firm in Center City. Now that I've switched to doing music more full time, I've lost some of the "luxuries" such as stability, benefits, and whatnot. On the other hand, I get to wear sweatpants quite often. It's not hard to balance my two passions, though I think not having a steady income is probably the most difficult part. The best part about being both a graphic designer and musician is that the two go hand-in-hand very well. When I'm working on my own music, I get to have full creative direction, be hands-on with my own identities such as my logo, or album artwork, and even for my live show. I just switched to working with Abelton, a DAW that allows me to record, play tracks during the lives shows AND gives me the ability to connect my music with visuals. This is something I did 3 years ago in college: https://www.caitlinkalafus.com/interrelation
What course did you study at UAL and why?
I chose the Study Abroad program at Central Saint Martins because I knew the school would give me the push I needed. Before my experience abroad, I naively thought that I had to just be good at design — born with talent — in order to be successful. I was often frustrated that I wasn't executing my projects the way that I had hoped to. CSM taught me how to use my brain and think before I begin designing. I learned that thinking conceptually is a golden key in the process. Since then, getting started with new projects has been a smoother process because I learned such a valuable skill.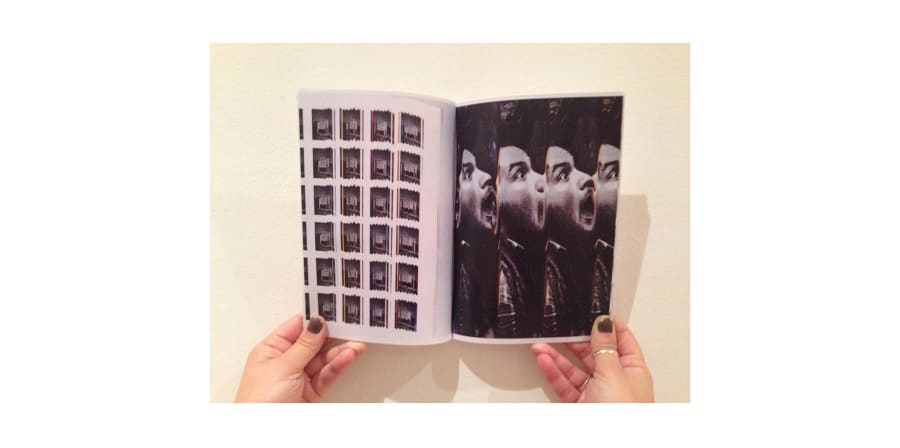 What did you discover while you were in London?
While conceptual thinking was a grand discovery while I was in London, I learned how to screenprint, bind my own books and letterpress.
What sort of work did you make whilst you were at UAL? Has your experience in London echoed in your practice?
One of my favourite projects of the semester was in an elective course that I took with Makoto Yamada. 13 of us students were to bring a thumb drive to the first day of class with 10 random images on it. We each had access to those 130 images and had to make something with them. I chose to make a book. I had recently learned how to bind my own books and discovered that the French fold would allow me to manipulate the images to flow from one page to the next without having to think about page order. That night, I printed all 130 images and cut them out into little squares. I had this amazing flat that I was staying in and I spread them out across the entire floor. I stood on a chair and looked. I immediately started to feel overwhelmed. What was I to do with these random images? One, in particular, a man with a raw egg on his face, another, a beautiful scenic hill. What at all did these have in common? I took a deep breath, exhaled and leaned into the feeling. While these images might not have much to do in common with one another, there's definitely a common theme: they each make me feel something different. I climbed down off of the chair and began picking through the pile to organize the images by feeling. What I was left with was a timeline of calmness to panic to calmness after a storm. A panic attack. Using a grid, I started multiplying the images on each page, more and more until they lacked order. I printed out my work and went to the scanner (a favourite tool of mine) and began manipulating the pages to cause panic. By flipping through the book itself, you will feel the sense of anxiety grow, until it grows out of control, and then dies back down. The first and last images are both calm, but drastically different.
Are you working on any projects at the moment?
Right now, I am focused on new music. I spend most of my days writing and recording songs for my upcoming solo project, B.Kind. I plan on performing live in 2020 and bringing visual elements into my performances. I will be spending New Years in Thailand playing a show with Cyndi Lauper and will be featured on Late Night with Seth Meyers as a guest drummer Jan 6 – 9th.