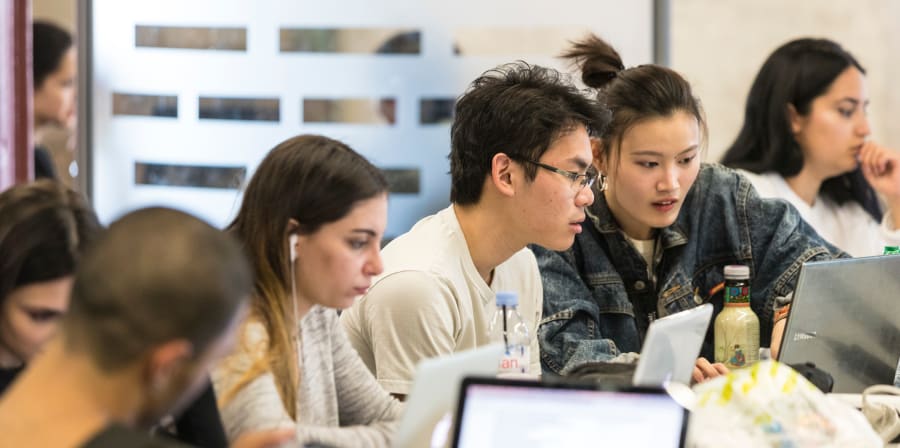 Student experience matters at UAL and your feedback helps us to improve UAL. In partnership with Arts SU and Course Committees we've listened to your feedback and are improving university life together, making several student-driven changes, small and large, happen all around UAL.
Improvements and changes made this year
More student deals at CSM
We've partnered with restaurants, salons and shops around King's Cross to bring you more exclusive deals in the local area. Find out more in our area guide or download the Kings Cross app today.
MAKE @ Story Garden at CSM
Interested in community engagement? Check out MAKE @ Story Garden, CSM's new public space for creative collaboration and innovation. Through a weekly programme, MAKE offers access to hands on making workshops, talks and collaborative projects that promote creativity, cooperation and knowledge-sharing .
The Big Refresh
As part of our ongoing commitment to improve the student experience and bring together students from across UAL colleges we launched The Big Refresh, a week filled with free activities and Creative Futures events.
MyUAL App
Based on student feedback we have made further improvements to the UAL app. You can now check your print credit balance and top-up online, or personalise your app and get news and events specific to your interests, and be the first to hear about any tech issues by setting up Alerts. Download the app today.
Wellbeing
Increased student wellbeing services
Benefit from professional, confidential and free help and advice around mental health, disability, faith observance and more all year round. Find out about all the wellbeing support available to you.
Improved digital student life hub at CSM
Find work experience opportunities, study support information, tips from other students and more, all in one place. Read more about the student life hub.
Costs and funding
25% further reduction in colour print costs
As a result of student feedback, A3 and A4 print colour costs were further reduced by 25% across all of our colleges.
Additional funding available
We've made an additional £250k available for financial support to students. Find out how to apply for the fund.
Buildings and facilities
New wayfinding system at Chelsea
Following their work at Camberwell, wayfinding agency Whybrow have worked with Martyn Simpson, Dean of Learning Environments and Chelsea students to simplify and clarify the process of navigating your way around the Millbank site with the aim of improving the staff and student experience.
New specialist facility at LCC
We can now provide industry standard moving image training for our students in a studio environment whilst also providing specialist equipment for documentary and photojournalism students.
New workshop equipment at CSM
We've invested in a range of new equipment for our student workshops, including still life tables, light boxes, steam iron boilers, digital embroidery machines, recording equipment, sound production equipment and more. Find out what's new.
Improved extraction and ventilation systems at CSM
We've installed new systems to improve the air quality in our print and dye, glaze, ceramics, sculpture and casting workshops.
More space for physical computing at CSM
The Physical Computing workshop has relocated from J205 to the ground floor in K005. This new space has increased the workshop's capacity for larger projects, and benefits from closer proximity to fabrication equipment in the 3D Make wood and metal workshops. A new Digital Media technical specialist will also support this area on Fridays, ensuring support for the facility is available to students five days a week. Learn more about our digital workshops.
New equipment in the CSM Loan Store
Our Central Loan Store has been equipped with a range of new visual, audio and lighting equipment for students to borrow, free of charge. New kit includes Canon cameras, GoPro, Hitachi projectors, Sennheiser Headphones, Oculus virtual reality headset and more. See more new equipment in the loan store.
New Grow Lab at CSM
We've launched the new Grow Lab, where students from our Biodesign, Material Futures and Art & Science courses can explore scientific principles and experimental design. Projects in the grow lab involve growing bacteria and yeast, propagating plants or running bioreactors. Find out more about the Grow Lab.
Updates to the CSM Ceramic workshop
We've swapped around the Print and Glaze rooms in Ceramics to make better use of the space, and we're also in the process of changing over to a water-based print system. Find out more about our ceramics workshop.
Library services
Improved Library Services at LCC
Following student feedback we have increased the number of PC study spaces to 30, in a better group friendly study layout. You can plug in and charge up your devices at each of these spaces. There are another 3 group study tables, each for 6 people. There is also a height adjustable desk.
Additional IT equipment at LCC
40 new MacBook Pros and one new iMac available in the Learning Zone.
Teaching and learning
Simplified Moodle
We have simplified Moodle navigation and structure ensuring Moodle works well on mobile devices. We have also improved the accessibility of Moodle.
Free access to Digimap
UAL students can get free access to Digimap, an online map and data delivery service. Digimap offers a number of data collections, including Ordnance Survey, historical, geological, LiDAR and marine maps and spatial data. You can also download the raw spatial data in a wide range of formats for use in local GIS, CAD or image processing software. Find out more about Digimap.
New assessment criteria
We've amended the UAL Assessment Criteria to make them simpler and easier to understand. Your work will now be marked against five criteria rather than eight. Use them to help guide your learning. Find out more about the assessment criteria.
Sustainability
Sustainability Interns
We've hired eight interns who will be working on sustainability projects across the university. The interns are all current UAL students, with a mixture of first years and post-graduates. Read more about the interns.
Climate Emergency
We are putting decarbonisation at the heart of our academic offer through three major new commitments. We've also been hosting assemblies, in which students and staff arrived at exciting proposals in response to the climate emergency.