University of the Arts London has today launched its first European city partnership, signing an MOU with Bilbao that will progress areas of common strategic interest in support of the development of the vibrant creative economy of the Basque Country.
Bilbao Town Hall will host UAL in the city to help develop the arts and culture of Bilbao and position it as an international hub for the creative industries. With significant potential for collaborative EU projects, the partnership will support industry and research-led initiatives with Basque education and manufacturing partners, research centres and museums. Initial industrial fields under consideration include data services, urban design, fashion technology and bio-products.
Nigel Carrington, Vice-Chancellor of University of the Arts London:
It is a privilege to announce UAL's collaborative relationship with Bilbao to put creativity at the centre of the region's development. UAL shares Bilbao's belief in design and creativity as a transformative force in social, cultural and economic development.
Simon Manley CMG, British Ambassador to Spain:
This agreement reinforces the excellent relationship that already exists between the UK and the Basque Country, and it's a huge step towards sharing experiences, knowledge and ideas for mutual benefit. Boosting entrepreneurship and innovation in the fields of fashion, design and technology is key if we want to generate prosperity and sustainability.
Plans include a physical project/seminar space on the Zorozaurre Island from which UAL will coordinate research initiatives and deliver short courses in art and design. Initially this will be situated in the building of fellow UAL partner institution, KUNSTAHL Design Centre, who will locate to Zorozaurre Island later this year.
Hosted by University of Navarra, London College of Fashion UAL is presenting to local stakeholders 'Conversations on Fashion and Technology', sharing the work of two EU funded research projects that connect fashion, technology and entrepreneurialism: DeFINe and Education for Fashion Tech.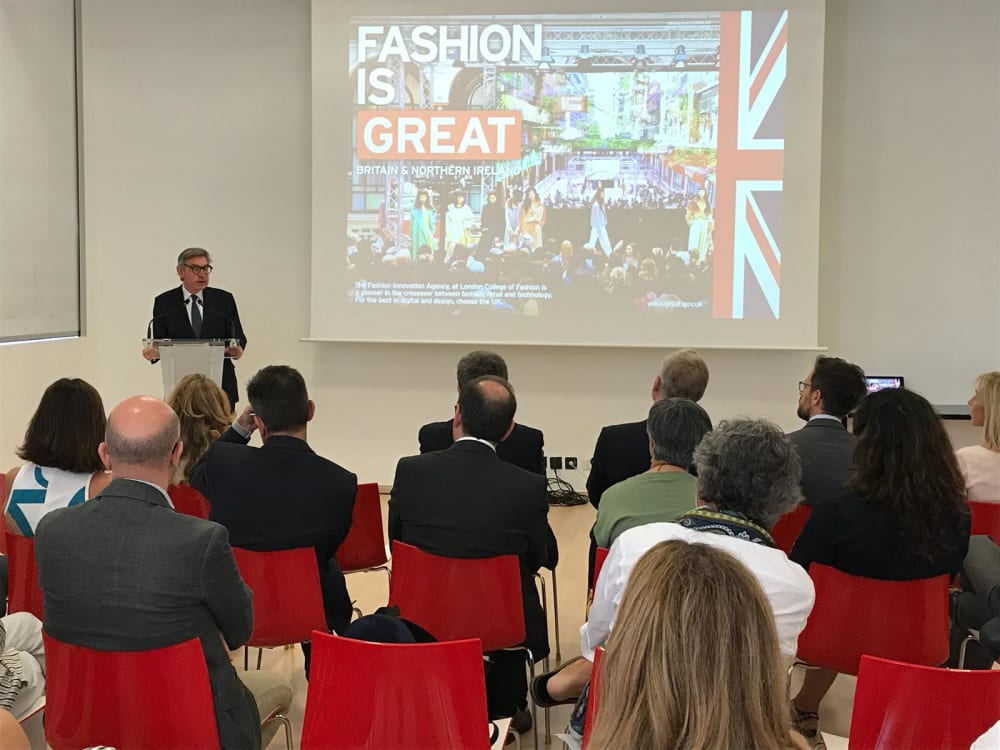 DeFINE (Developing a Fashion-tech Innovation Network for Europe) is a collaborative project co-funded by the European Commission's COSME programme which aims to support the fusion of cutting-edge technologies and innovation with the European fashion and design industries.
UAL is developing a network of incubators & accelerators, start-ups & SMEs, and financiers to form a European fashion-technology community where cross-sectoral knowledge is shared, ideas grow and transnational collaboration is nurtured. Throughout the three years of the project, we will deliver a Europe-wide programme of inter-related networking events, training, mentoring support and knowledge-sharing, for the benefit of the European fashion-technology community.
Interdisciplinary Curriculum for Fashion in the Digital Era (Edu4Fashion-Tech) (co-funded by the European Commission's Erasmus+ programme) started in 2017 as a 36-month project led by University of Boras (Sweden) with Politecnico di Milano (Italy) and London College of Fashion, University of the Arts London (UK) as partners.
The project is developing interdisciplinary curricula within the fields of Smart Textiles, Wearable Technologies and Digital Manufacturing to improve higher education, strengthen the collaboration between apparel and fashion universities in the European Union, and contribute to the prosperity of the European apparel and fashion sector. UAL will share the results on the Benchmark Report – a mapping of all research institutes and education providers involved in wearable tech, plus a proposal for a Fashion-Tech Curriculum Framework, and a Toolkit for Teachers. This will be followed by an interactive workshop.
Future collaborative and research projects with higher education and industry partners in Bilbao will generate new knowledge exchange and address global challenges.
A world leader in art and design education, UAL has strategic international partnerships and links with institutions around the world, engaging with higher education institutions, cultural organisations, business and governments, to create new networks to sustain the global creative economy.
---
Main photo courtesy of the British Embassy shows partners from Bilbao Town Hall, UAL and the British Embassy.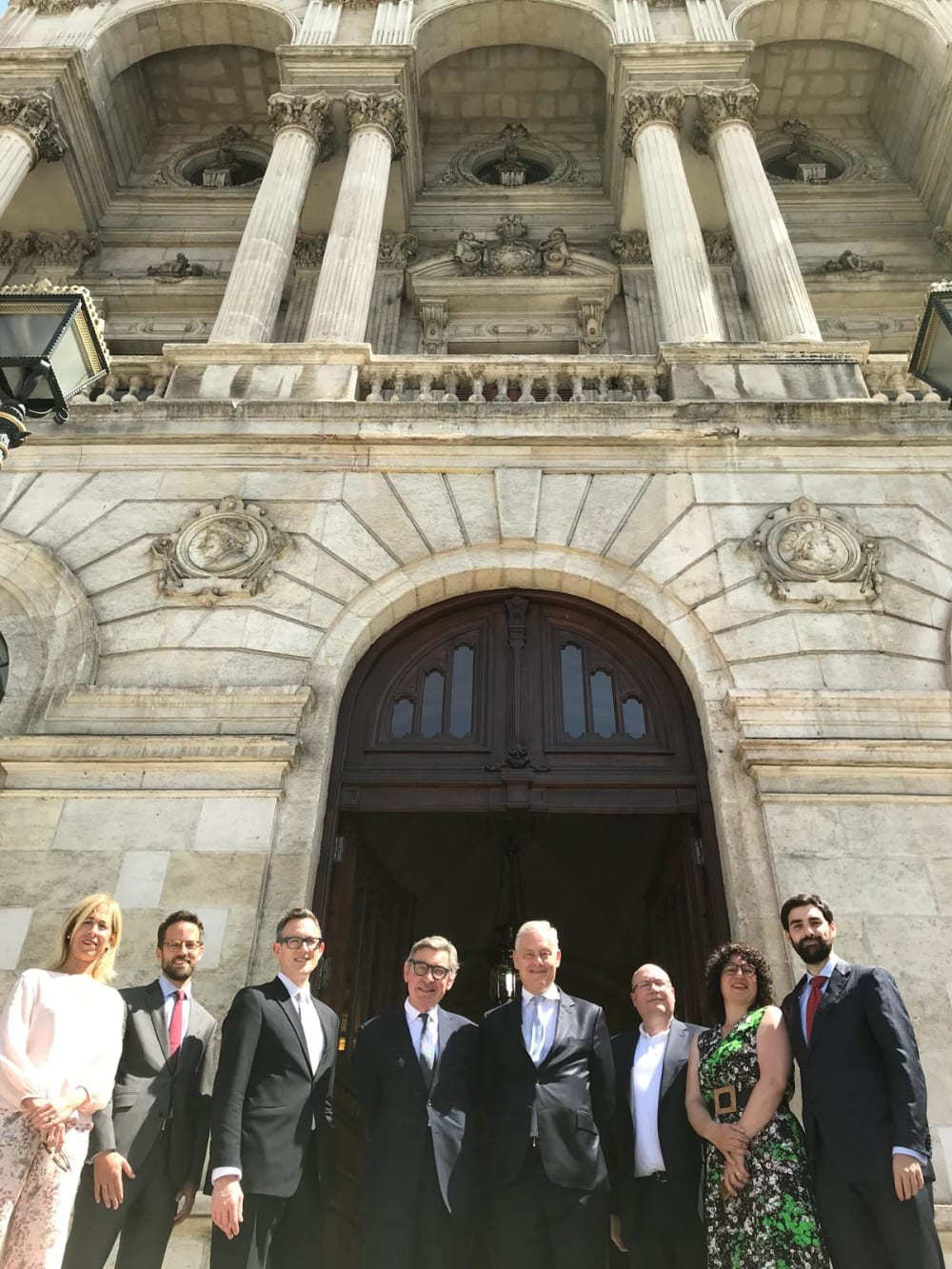 Related content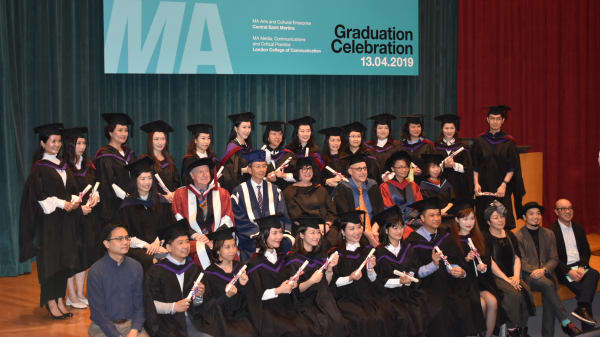 UAL continues to expand its diverse international alumni community, with over thirty students graduating from MA programmes delivered in Hong Kong, with HKU SPACE.
The Republic of Korea's first female ambassador to the UK H.E. Ms Enna Park made an official visit to UAL's London College of Fashion (LCF) this month; meeting staff, students and alumni to share discussion and ideas around fashion, collaboration and education.
Global Pavilion will be hosted in Hong Kong by University of the Arts London from 18-20 January 2019.