Open Design and Manufacturing: OD&M
Published date
31 Oct 2019
A Knowledge Alliance between higher education institutions, makers and manufacturers to boost Open Design and Manufacturing in Europe.
Principal Investigator: Dr Matt Malpass
Key staff: Professor Adam Thorpe, Chris Follows, Paul Haywood, Tessa Read
College: Central Saint Martins cross collaboration with Chelsea, Camberwell and Wimbledon, University of the Arts London
Primary Funder: Erasmus+ - Key Action 2 - Knowledge Alliances
Funding Period: 1 January 2017 – 31 December 2019
Project summary
OD&M's challenge is to embed key approaches, values and principles underpinning the Open Manufacturing paradigm within an Alliance that actively involves higher education institutions (HEIs), manufacturers and makers in the co-creation of knowledge and skills leading to a competitive, sustainable and innovation-led European manufacturing sector.
OD&M aims to empower HEIs to act as pivotal hubs and bridge between 'traditional manufacturers' and the knowledge and skills associated to the maker movement.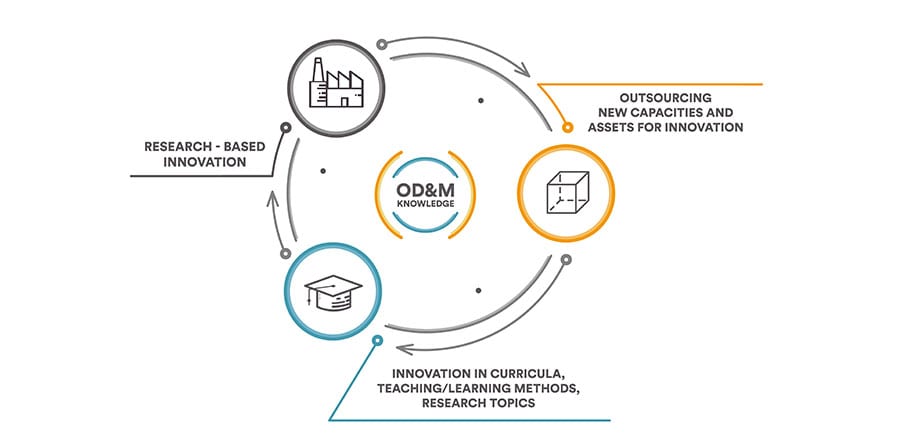 Process
Research to identify knowledge and competences of 'makers' as well as teaching and learning methods within maker spaces and fab-labs;
Codify the research outcomes into an European Qualification Framework-based profile and design a training course;
Design, pilot and assess a structured enabling programme of events and transnational mobilities for staff and students, and empower HEIs' staff to act as pivotal community builders;
Model the OD&M value proposition into a structured and long-term Alliance that offers dedicated trainings, events and mobilities for all the actors involved.
Partners