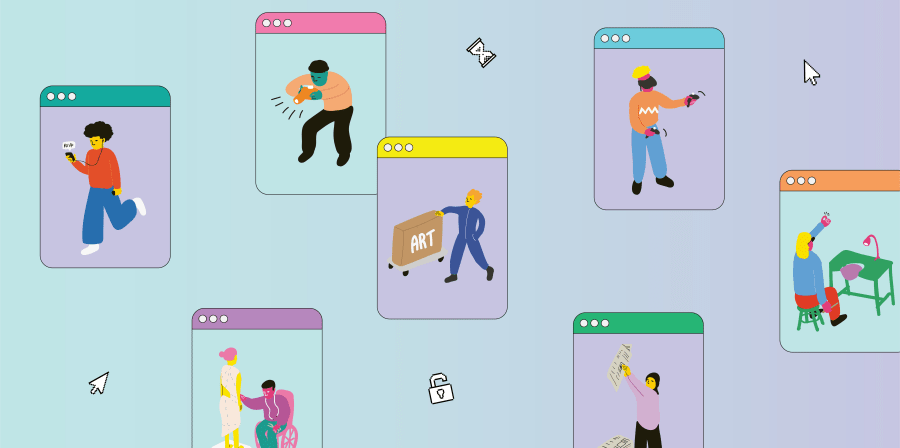 Wednesday 26 October 2022, Central Saint Martins
Applications for employers, recruiters and employment supporter services to take part in our 2022 fair are now open.
UAL has over 20,000 creative students on the cutting edge of cultural life in London. They are studying art, design, fashion, communications, media and performance subjects and are seeking a variety of flexible work whilst they study or alongside their creative practice. Our job fairs are open to students and graduates from UAL's 6 renowned Colleges.
Explore our partner pack and apply to be part of the Creative Opportunities Job Fair today.
Why get involved?
Are you an employer, recruitment agency or platform that supports routes to employment? Creative Opportunities Job Fair offers you the opportunity to get your brand and services in front of UAL's talented pool of students and graduates as they look for work.
Benefits include:
talking directly to a captive and relevant audience (1,000+ attendees expected)
feature in Creative Opportunities Job Fair social media campaign to promote your company and roles
wider social media campaign (25,000+ combined social media followers)
newsletter/email campaign (10,000+ recipients)
complimentary enhanced Job Posting on Creative Opportunities jobs board worth £216 (stand holders only)
exclusive opportunity to access and review our students and graduates' CV's and portfolios.
How to get involved
You can get involved with Creative Opportunities Job Fair live through the main event or if you can't get to us, you can take part online.
You can get involved in the following ways:
Book an employer stand.
Host an employer talk.
Offer one-to-one CV or portfolio advice.
Feature on our Instagram takeover.
Explore our partner pack for further information and to apply.
Are you a student wanting to attend?
Are you a student looking to attend the Creative Opportunities Job Fair?
Find out more information and book to attend.
Creative Opportunities Job Fair 2019
Partner with us

We work with students and graduates from all 6 UAL Colleges to support them in developing their careers and businesses. Read about the different ways your company can partner with us.

Advertise your jobs

Post your jobs and paid internships on UAL's jobs board - Creative Opportunities -  and start recruiting our creative students and graduates today.