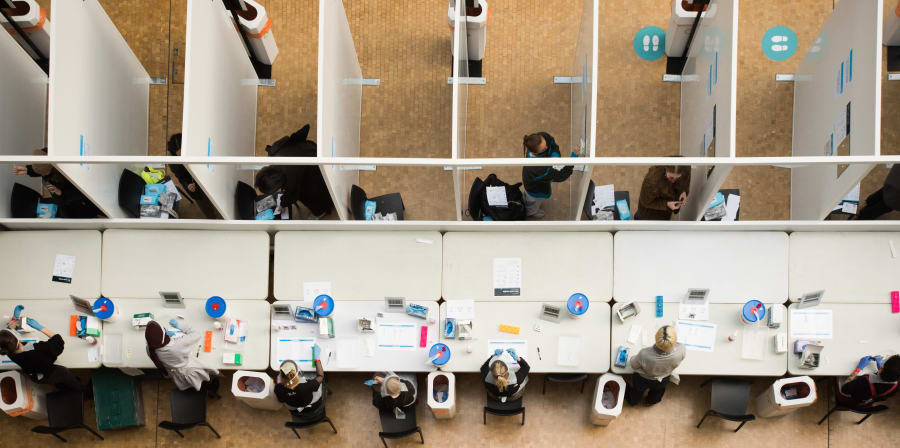 In line with a request from the UK government, UAL has set up a COVID-19 asymptomatic testing centre, offering free Lateral Flow Device (LFD) tests to our students and staff from:
7-9 January 2021
11-12 January 2021
The testing centre will be based at London College of Communication
As we return to campus, testing is crucial to protect our community and prevent the spread of the virus.
Book your tests online
Booking is now open. Use the link below to book your test.
You should not book and travel to the testing centre if:
It's important to let us know if you need to change or cancel your appointment, you can do this by clicking the 'change your appointment' link at the bottom of your confirmation email.
Test to release
The tests administered at the UAL COVID-19 asymptomatic testing centre are Lateral Flow Device (LFD) tests and not the PCR tests required by the UK government.
You can find out more about the scheme, including a list of private suppliers on the government's website.
Tests booked for the 'test to release' scheme are administered by private companies and you will be charged. UAL is not able to endorse or recommend any particular private test provider.
Location and opening hours
The UAL COVID-19 asymptomatic testing centre is at:
London College of Communication
Elephant and Castle
SE1 6SB

Map

The testing centre will be open on the following days:
Thursday 7 January - 11.20am - 2pm
Friday 8 January - 10am - 2pm
Saturday 9 January - 10am - 2pm
Monday 11 January- 10am - 2pm
Tuesday 12 January- 10am - 2pm
Please book a test before travelling and arrive 10 mins before your appointment time to complete the registration process. When you attend your test appointment, you will need to register with a mobile number on the UK government testing website. The whole testing process should take no more than 30 minutes.
You are required to wear a face covering when travelling to London College of Communication and inside the building, unless exempt.
Please note you may be required to queue outside when you arrive at the testing centre.
How the test work
The test, which are known as Lateral Flow Device (LFD) tests, are simple, fast and self-administered.
When you register at the testing centre you will be given a test kit. You will go to an individual booth and take a swab from your throat and nostril. Watch this short video below which explains the process.
You will receive your result via text or email the same day you take your test.
Your test result will be processed by NHS Test and Trace and not stored by UAL. NHS Test and Trace will contact you directly with your test result. The NHS will not advise UAL of the outcome of your test.
Please leave the test centre as soon as you have completed your test.
Your test results
If you receive a negative test result, you do not need to self-isolate but should continue to follow any UK government restrictions in place.
If you receive a positive result, you will need to self-isolate and arrange a confirmatory PCR test. This is a different test which must be booked directly through the NHS. You and your household must all isolate for 10 days or until you receive a negative PCR test result from the NHS. If you experience subsequent onset of symptoms, you should self-isolate for 10 days from the start of your symptoms. Seek medical care as required.
Report a positive test result
If you receive a positive test result or you are self-isolating, you will need to complete the Report COVID form to let the university know which UAL sites you have visited.
Access Information
See our LCC Access Guide for detailed access information about our Elephant and Castle site.
Step free access to the testing site is available.
There is no parking available for the testing. If you are a disabled student who has taxi support please contact k.atkinson@arts.ac.uk to discuss your travel requirements for the tests.
If you have any access requirements please tell a member of staff when you arrive outside the College.
A range of access arrangements are available, including:
Priority queuing
Wheelchair accessible booths
Hearing loops
You can be accompanied by a friend whilst you take the test
You can specify if you want the staff member who observes your test to be female or male
Access to a Quiet Room
Access to a WC
If you have a query that is not answered here, you can: