Your creative future starts here:
Story
A tribute to David Crow
Written by

Sarah McLean

Published date

20 June 2022
Share story

It is with great sadness that we share the news of the sudden death on Friday 10 June 2022 of Professor David Crow. He died peacefully after a short illness, supported by his closest loved ones. Our thoughts are with all who knew and loved him, especially his partner and family.
David studied BA Design for Communication Media at Manchester Polytechnic, which became Manchester Metropolitan University. He recalled: "I moved from Scotland to join the Foundation Course and loved the city and the school so much that I decided to stay and do my degree... Even then, Manchester was a cultural centre, I was [t]here when the now legendary Hacienda opened, enjoying the interface between music, art and design that the city offered."
The intersection of music and design informed much of his subsequent career. He worked as a designer for Assorted iMaGes and as Art Director for Island Records before running his own consultancy. As a freelance designer, his clients in the cultural sector included Rolling Stones Records, Virgin Records, Phonogram and the Royal Shakespeare Company. He was often asked by colleagues and fans about his work with the Rolling Stones, responding in a typically understated but insightful way.
David made the move into academia in 1993, joining University College Salford as a Senior Lecturer in Graphic Design. There, he helped to create an ambitious course in design practice at a key time for Salford. In 1995, he became Head of the Department of Graphic Arts at Liverpool Art School, part of Liverpool John Moores University, completing his MA Communication in the same year, again at Manchester Metropolitan University.
In 2004, he returned to Manchester Metropolitan University as Head of Design, rising in 2009 to become Pro-Vice-Chancellor & Dean of Manchester School of Art. There, he reclaimed the heritage of the School – one of the UK's oldest providers of creative education – after its identity had been subsumed for a generation as the university's Faculty of Art and Design. This statement of confidence in the North West's design heritage was consolidated by the new building he commissioned for the School, tthe RIBA award-winning Benzie building by Feilden Clegg Bradley Studios.
He spoke of this time as a "watershed moment in the history of the school". He was determined that the institution should play a key role in what he saw as the second industrial revolution. He foresaw the impact of digital tools on art and design and the need to equip students for a cross-disciplinary, collaborative future.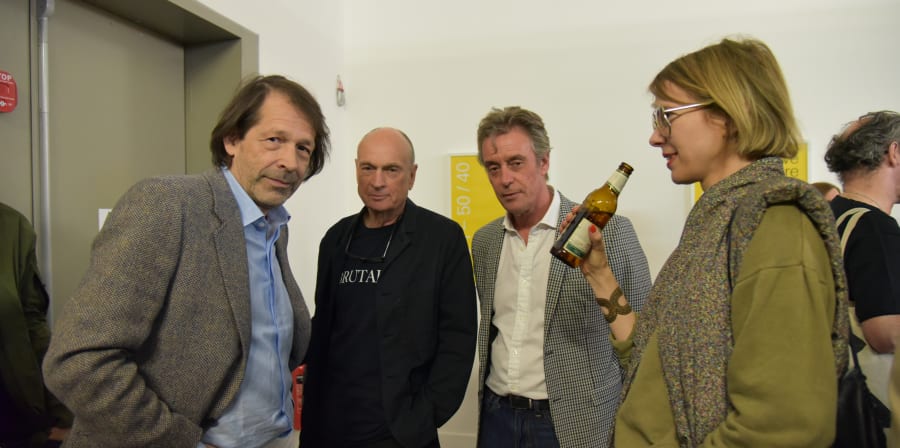 In 2016, David joined UAL as Pro Vice-Chancellor & Head of Camberwell, Chelsea and Wimbledon Colleges of Arts. He established an innovative new vision and structure for the three colleges, putting in place Schools of Art, Design and Performance as part of his 'Creating New Histories' strategy. The strategy embedded live project work within the curriculum and enable broader interdisciplinary collaboration between students. He went on to relaunch Wimbledon College of Arts as a centre for performance in 2019, with actors, performers and theatre-makers working alongside theatre, set, costume and technical arts designers.
A natural facilitator, David skilfully made connections across UAL's colleges and with external partners. In 2021, he was responsible for UAL's strategic partnership with Nanyang Academy of Fine Arts (NAFA), Singapore. New industry-led art and design degrees reflect Singapore's progressive arts education sector, and give exchange opportunities for students, staff and faculty from both institutions.
His interest in the intersection between digital technology and design was a constant in his career. He took particular pleasure in the ingenuity of digital teaching methods during the pandemic. This led to his appointment, in 2022, as UAL's first-ever Pro Vice-Chancellor Online Education with responsibility for the online learning portfolio across the University.
David's impact on education and design practice was thanks in no small part to his writing, which influenced design education and the direction of the design industry. 'Visible Signs: an introduction to Semiotics' is now a key text in the USA and UK with its 4th edition in Summer 2022. David wore his learning lightly and his books reflected this: rich with intellect, curiosity and critical insight, while always accessible and engaging – and always beautifully designed and illustrated, often using examples from his own work. He positioned graphic design and visual communication at the heart of culture and the future of language. For young designers this felt like a validation – and a challenge. He was always keen to underline the importance of embedding professional relevance, and experimentation and innovation, into art and design education.
David was remarkable for being without ego or posturing, and always warm, interested and approachable. An unassuming man, he was unwaveringly generous with his knowledge and support for art and design, and for graphic design courses and colleagues across UAL and the sector.
Friends, colleagues and students have started to share tributes to David, reflecting on their memories of working with him during his time at UAL and beyond. Here, we share some of those tributes in a celebration of his life and work.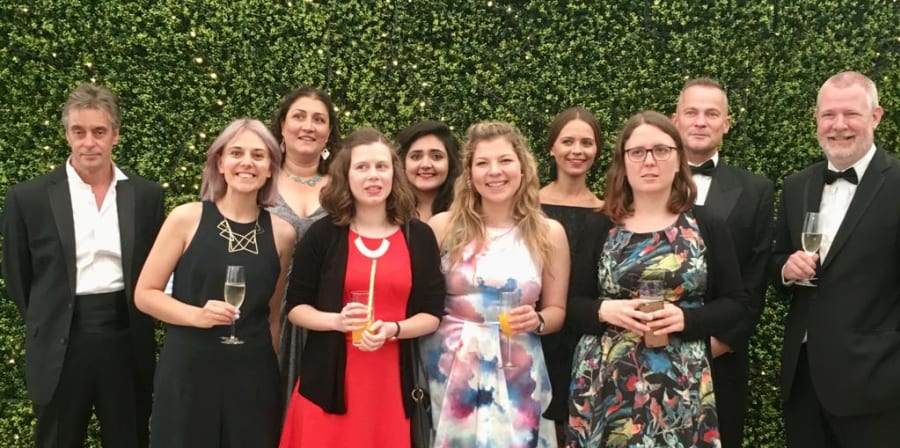 James Purnell, UAL President & Vice Chancellor:
"David was a huge presence at Camberwell, Chelsea and Wimbledon, and across UAL. He was a big influence on our academic mission and in our lives. David was a fount of kindness and empathy. We will miss him deeply."
Dr Paul Thompson, Vice-Chancellor, Royal College of Art:
"'Professor Crow was a hugely respected and admired academic with a fantastic track record of achievement at UAL, MMU, and Liverpool John Moores; his sudden death represents a really profound loss for the creative arts in higher education. David was incredibly popular across the sector both as an academic leader and designer and will be much missed by all of us."
Professor Simon Ofield-Kerr, Vice-Chancellor, Norwich University of the Arts
"On so many occasions, David's expertise, experience and sound judgement shifted my perspective or changed my mind, even after we no longer worked together, and I'm going to miss that so much. Working, and chatting, with him was always fun, and his contribution to creative arts education and the future of UAL and Manchester Metropolitan University was immense and an impressive legacy."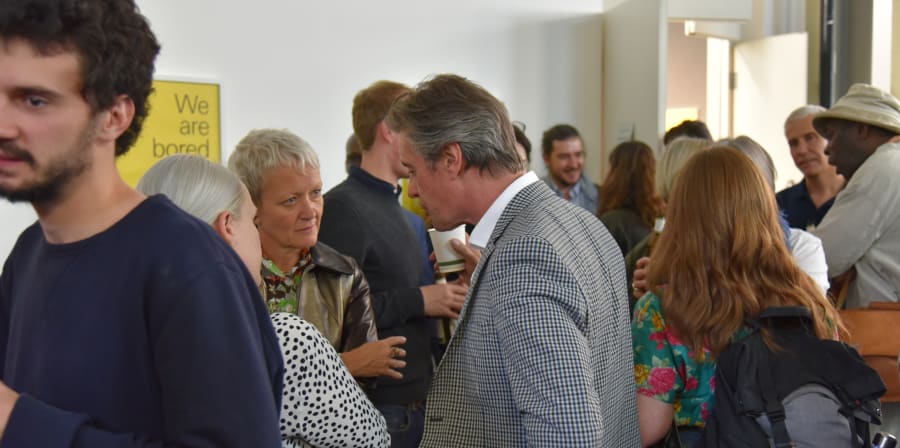 Professor Frances Corner, Warden, Goldsmiths, University of London
"David was a very fine colleague – thoughtful, considerate and always very cool. I loved working with him over the years. He is a real loss to us all."
Professor Roni Brown, UAL Deputy Vice-Chancellor (Education)
"David held the truth of both the worlds of practice and education, and through his publications, brings them together, inspiring a generation of learners in his field. David was an incredibly modest person, so quietly intelligent and perceptive, yet having immense authority and impact. He is a great loss and I will miss him terribly."
Rebecca Wright, President of D&AD.
Dean of Academic Programmes, Central Saint Martins, UAL
"Although I already knew of David's stellar design work, it was the publication of 'Visible Signs' by AVA in 2003 that made him something of a superstar in graphic design education. Visible Signs was among the very first graphic design books – and still one of the best – at taking contextual theory and making its relationship to practice not only clear and compelling, but exciting and relevant. I was teaching at London College of Communication when the book came out and I can remember how transformational the book was in bringing critical conversations about meaning, visual language and communication theories into the teaching studio, where previously these had largely sat separated in contextual history lecture rooms.
"His fascination with visual culture came through in everything he did and within graphic design education, his was a voice that was listened to sector-wide on the evolution of practice and education as continually evolving and vitally entwined activities. Graphic design education is better for learning from him, and he will be so missed and so fondly remembered."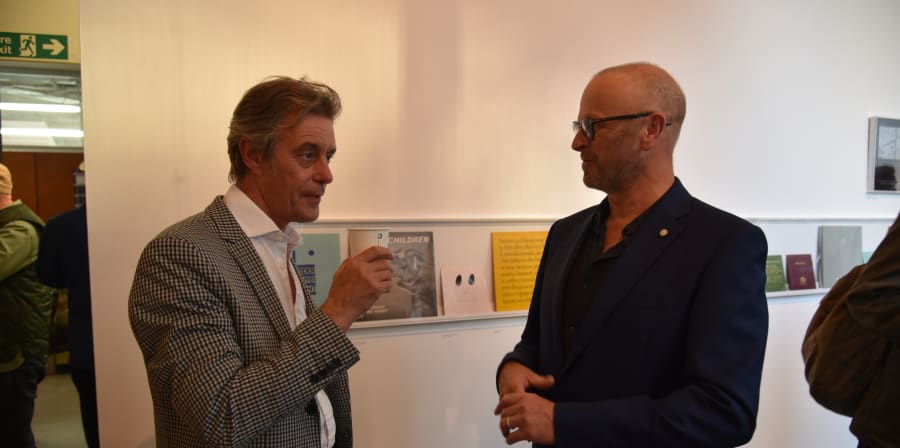 Professor Martyn Evans, Pro-Vice-Chancellor for Arts and Humanities, Manchester Metropolitan University
"One of the reasons I joined Manchester School of Art was David's vision and passion for creative education. He was instrumental in shaping the School of Art to take on the challenges of the 21st century in ways that drew on his deep knowledge of the power of creativity. We have lost a visionary leader whose impact will be felt for many years to come in Manchester School of Art and the wider creative community. David's presence is felt in every brick of the School of Art and our collective thoughts are with his family and all who knew, loved and were inspired by him.
Malcolm Garrett MBE RDI, Images&Co, London
"David was a dear friend and colleague for close on 40 years. He joined the team as a junior graphic designer at our Assorted iMaGes design studio in London, after graduating in the mid-80s from Manchester Polytechnic, yet in recent years I came to look up to him as my own mentor. He was wise, insightful, supremely talented and generous in everything he turned his attention to. Above all he was a man of principle who excelled in his eventual chosen path in academia. There are precious few such wonderful people as he was on every level."
Professor Graeme Brooker, Head of Programme, Interior Design, Royal College of Art
"David's stature as a leader, designer, writer, educator is only surpassed by his humanity, his openness to ideas and new directions, his warmth and support for colleagues and friends. I knew David as both colleague and friend, in my 7-years at Manchester Met and then in London. We also spent time in numerous places such as Glasgow, Singapore, Moscow, examining. David always made these experiences not only fun, but also times to learn. His forensic nature, coupled with his compassion and thoughtfulness, could disarm the most volatile situation or irate academic. I have many fond moments and recollections of David, but right now all I can process is that the loss of David is a devastating blow to not just the creative academic community, but to his partner, family, friends and colleagues across the world."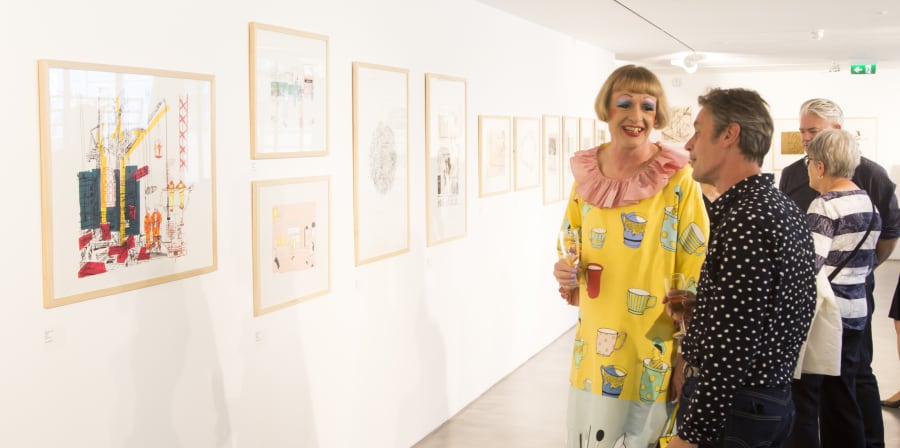 Paul Haywood, Dean of Academic Programmes, Central Saint Martins, UAL
"I first came across David as a very much younger man when he worked for a brief time with my partner at the University of Salford. For a short while, he taught drawing to Fine Art students, a course that was based in a glorified shed next to the goods yard at Salford Crescent Station. That was a long time ago and he quickly moved on to influential and transformative roles within his academic career when he took over as Head of the Manchester School of Art. His impact reached across all areas of discipline, research and local engagement. He will be sorely missed by that community; he is held in huge esteem for his legacy and for the strengths and vitality that he returned to that Institution and to the Art and Design landscape of the North West.
"David was always incredibly supportive of other people's practices. Having established himself as Head of College at Chelsea, Camberwell and Wimbledon, he then took the time to visit our small artist community in the North East of Manchester to open our Gallery at Ebor Studios. He tailored his speech to stress the importance of Art and Design education as an aspirational vehicle for young people from working class and post-industrial communities. His considered words were a true reflection of his own upbringing and demonstrated the care and compassion that he brought with him into the Higher Education profession."
Neil Kirby, Head of Regeneration – South, London Borough of Southwark
"David brought vision, energy and enthusiasm to all the projects we worked on."
Alice Kettle, Professor of Textile Arts, Manchester School of Art
"David appointed me to Manchester School of Art shortly before he became the Head of the Design School. It was a defining time for us all, and for me, embedding specialist knowledge and practice alongside new technologies and collaborative ventures. He shaped the vision and identity of the Art School and took part in a collaborative cross disciplinary project that I was co-curating. This ability to both lead and be fully engaged with creative activities has endured in all he has done subsequently. He understood the potential of cross fertilisation across creative disciplines, of what could arise through opening conversations and making connections. His presence is tangible still at Manchester School of Art, he is part of its fabric and character. We still think of him as our David and he lives on with us."
Nigel Carrington, Former Vice-Chancellor of the University of the Arts London 2008–21.
"I was devastated to hear the news of David's death. He was not only a wonderful and humane man but one of the driving forces behind the recent success of the University. He had so much more to give in his new role and in all aspects of his life. David transformed the operations of Chelsea, Camberwell and Wimbledon and created new course structures across the three colleges which made sense of their individual strengths, allowing them to step forward confidently into a challenging environment for arts education. The Camberwell expansion owes much to his determination and focus on the student experience. Under David's determined leadership, the Wimbledon campus has been greatly enhanced and it is quickly becoming a leader across the broad field of performance, both nationally and internationally. Chelsea remains a powerhouse of arts education. He was a much-admired leader, gently but passionately committed to our student and staff communities across the University, as well as to his own discipline.
"I had lunch with David just a few weeks before he fell ill. He was happy, energised and, as always, engaged in every aspect of his rich life. We talked about music, travel, the people he loved and his new book, as well as his ambitions for his new role at the University. He was fulfilled and very positive about every element of his future. That makes his untimely death even more grievous. My thoughts are with everyone whom David loved and who loved him."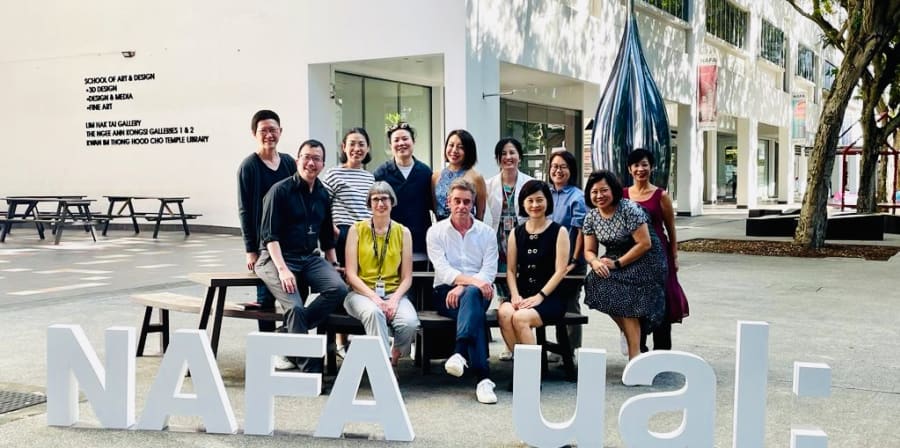 Tan-Soh Wai Lan, President, Nanyang Academy of Fine Arts, Singapore
"In our time working together, David left a deep impression on my colleagues and I at the Nanyang Academy of Fine Arts (NAFA), Singapore. He was instrumental in ensuring that our strategic partnership took off smoothly and swiftly and was always at hand to provide counsel. In his recent visit to NAFA, David was generous with his feedback, affirmed our community in our direction, and readily shared from his wealth of experience on NAFA's move to form Singapore's first arts university. David also thoughtfully offered to link us up with UAL colleagues so that we could learn from their experiences. He showed great enthusiasm for lifelong education, which reflected his ardour for learning and that was an inspiration to us all as educators. David was an esteemed professional, a gracious leader, and above all a steadfast friend. We will cherish the beautiful memories of the times we had together, working on our UAL-NAFA collaboration and many future possibilities. Thank you David, for all that you have done."
John Brooks, Vice-Chancellor of Manchester Metropolitan University 2005-2015
"I had the pleasure of working with David when I was Vice-Chancellor of Manchester Metropolitan University (MMU) between 2005 and 2015. I appointed David to the role of PVC and Dean of The Manchester School of Art. David rather reluctantly accepted the role and the task of modernising art education. Working with a young team of architects from Fielden Clegg Bradley Studios, he led a process of collaborative dissection of art education into fundamental activities. His plan was to design a building and the use of its space in ways which removed boundaries and encouraged collaboration."
"His approach was gentle yet clear and the results were astounding! Most classrooms and offices were removed and replaced with flexible open shared spaces. The spaces had to be three dimensional to encourage horizontal and vertical integration. The architects faced a challenging brief to refurbish some old buildings and to build a new flagship for art. The process was not without controversy. I remember discussing the feasibility of erecting Aircraft Hanger doors on the top floor of the building and using an early wallpaper design David had discovered to provide 3D texture to the concrete columns. Both were achieved with spectacular effect. David was an outstanding leader and art educator. He combined this with a real commitment to community engagement and to supporting his students and staff. But above all else David was just a lovely man who motivated others by his deep passion and enthusiasm. He is a sad loss to the academic community."
Kasper de Graaf, CEO of Images&Co and Director of Design Manchester
"David had the rare gift of always seeing the big picture while tackling the close-up detail it takes to deliver meaningful change. He got how heritage can create new futures, as he showed at Manchester School of Art and again as the first Pro-Vice Chancellor for Online Education at UAL. He inspired Design Manchester to engage the whole city in how things are done, and – never parochial – encouraged us to build links with other universities and partners in the region, across the country and internationally. He knew how to play the game not for his own advancement, but to create opportunities for colleagues, young people and creatives at all stages of their careers. As one of the most talented of our great generation of designers at Assorted iMaGes he brought professional authority to his second career in academia, and showed that there, by design, he could achieve even more."
Sir John Sorrell CBE, Former Chair at UAL
"I was so sad to hear the news about David Crow. His passing is a great loss to humanity.

I was Chair of UAL when he was appointed and quickly realised he was very special. The most important people in education are true givers and he was one of them. His love of learning and helping others to learn was emotive as well as practical. His empathy ran deep. He really cared about the students. He used his intelligence and imagination to help thousands of young people at UAL, and before that in Manchester, to develop their calling. He was a lovely man and will be greatly missed by everyone who was lucky enough to know him."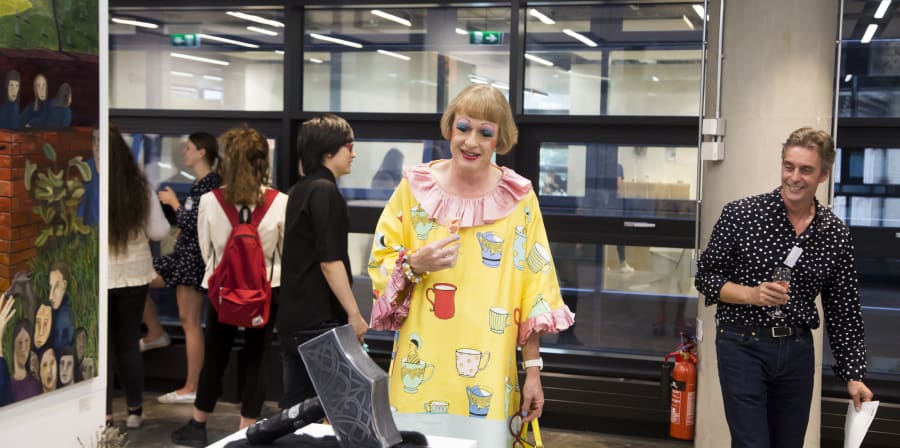 ---
We will add more tributes to this post as we receive them. If you would like to contribute, please send your memories of David to: ccw.ic@arts.ac.uk
Condolence books are available at the main reception desks at Camberwell's Peckham Road and Wilson Road sites, Chelsea's Millbank site and Wimbledon's Merton Hall Road site. An online condolence page has also been set up and is open to all. We invite you to contribute if you would like.
The University is discussing with David's partner and family a suitable memorial event at UAL to celebrate his life and work. Details will follow in due course.
If you work or study at UAL and are affected by this news about David, the following support is available: