Your creative future starts here:
Beatriz Cardenas Garza studying at Chelsea
Published date
24 Sep 2019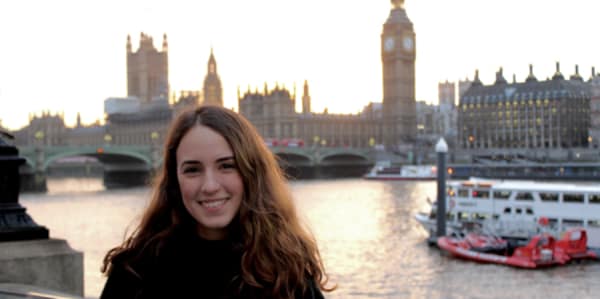 Beatriz joined the 2nd year of BA Textile Design at Chelsea College of Arts for the spring and summer terms from her home institution, Universidad de Monterrey, Mexico.
What was the best thing about studying at Chelsea?
Studying at Chelsea was an amazing experience, not only because London is an amazing city, but also because the learning programme contains plenty of exciting projects. One of the best things for me was being able to create a collection to exhibit at Première Vision in Paris.
How was the learning style different at UAL?
The learning programme at UAL is very different from home. In Mexico I have a set of classes to attend each semester, whereas here you work to briefs. Learning at UAL is much more independent and self-directed.
What opportunities did you have in London?
Studying Textile Design at Chelsea gave me the opportunity to attend Première Vision and to create a textile design collection to sell at the fair. The workshops are fully equipped with machines that I do not have at home, so I was able to learn new skills and techniques. I was also able to help backstage in a show at London Fashion Week.
What advice would you give to students thinking about studying abroad at Chelsea?
I definitely recommend coming to study Textile Design at Chelsea, as it will help you develop a self-directed learning method and to look at your ideas in ways you haven't before. Try to come in the spring term so you get to attend Première Vision.
What was the best thing about living in London?
The best thing about living in London was being able to explore the city. It is an amazing city, filled with art and there is always something new to do. I loved going to all the different museums.