Story
Pride Month 2021 - visibility, unity and equality
Written by

Student Communications

Published date

01 June 2021
Share story

Pride Month - What's the story?
A time to celebrate
Pride Month in London, in June, has traditionally meant a sea of colour and costumes, floats and flags, bodies of all shapes and sizes, and sound systems competing against a bellowing troupe of boisterous drag queens who whip crowds up into an ever-increasing fervour. Black Pride in July, and Brighton Pride in August follow the same exuberant formula.
And protest
Yet beneath the gala and merrymaking is the grave history of how this event came to be. These global celebrations mark the anniversary of the Stonewall riots, which began outside the Stonewall Inn, Greenwich Village, in New York City in late June 1969. The weekend of rioting is acknowledged as the birthplace of the modern gay liberation movement. It was the first-time queer communities fought back against the regular police raids on the city's gay bars and clubs. The pioneering activists of the Stonewall Inn include Marsha P Johnson and Sylvia Rivera. Marsha, a black drag queen, and Sylvia a Latinx transgender woman. Without the fightback of these activists, gay liberation may have gone at a much slower pace [Source: The Diversity Trust website]
Pride represents a significant and safe time and space for the LGBTQ+ community and their allies to celebrate their lives and histories with one another, and also to mark their place in a society that continues to silence, 'other' or criminalise them.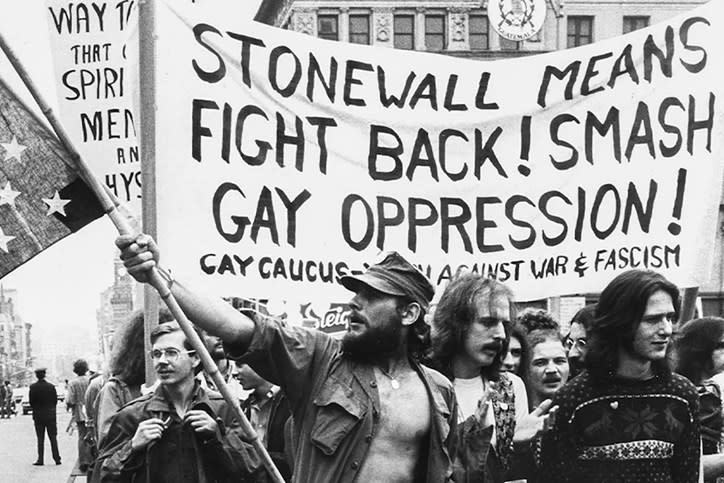 For me, Pride Month and other LGBTQIA+ awareness dates aren't just about educating people outside of the LGBTQIA+ community, it's also about educating people within that community. For years, as a white cisgender lesbian my understanding of the wider queer community was very limited, fed by my curated personal bubble, the TV shows I watched, the podcasts I listened to, the Instagram accounts I followed. The beauty of diverse workplaces is that you get introduced to ideas, concepts, literature that you might otherwise not be aware of. Working at UAL so far has introduced me to UK Black Pride, gave me a deeper understanding of intersectionality, provided me spaces to learn more about non-binary and Trans identities and what it means to be an ally within the LGBTQIA + community.
— Sophie Willis Organisational Development Consultant, UAL.
This year's pride theme means so many different things to me, especially after the past year we have been through. Many people within the LGBTQ+ community have compared the pandemic with the 80's aids epidemic and Channel 4's It's a Sin filled me with deep sadness (I cried a lot) because I realised even in 2021 we've still got a long way to go for true equality. Recent studies suggest 83% of LGBT people globally aren't able to reveal their identity so it's important now, more than ever, to support our community. In a world where you can be anything, be kind.
— James Greenwood, Student Experience Manager.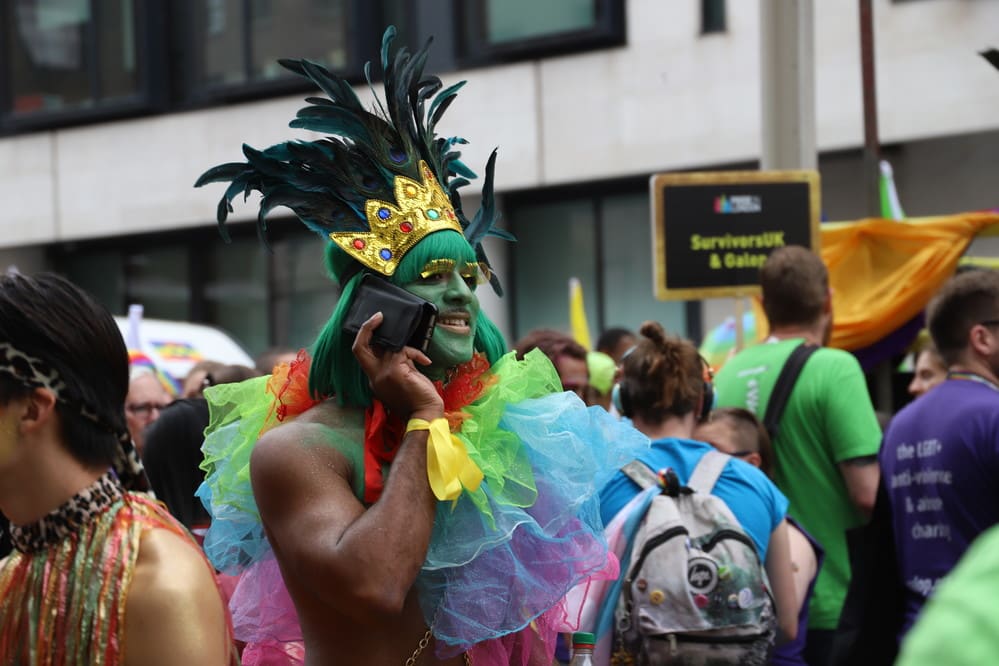 Pride Month in the pandemic
With social distancing still in place many events have been taken online, or rescheduled for later on in the year, an example is Black Pride who have decided to hold a 3-day, virtual celebration in July. There are also fewer activities happening than usual, but have a look at our event listings at the end of this page, if you want to make plans.
Fortunately, there is still some stuff happening 'in real life'; Pride in London have confirmed their march will be going ahead on the weekend of 11 September, so that's one for your diaries. Their theme this year is based on their values of Visibility, Unity and Equality - for all LGBTQ+ communities. Read more about their call to arms on their website.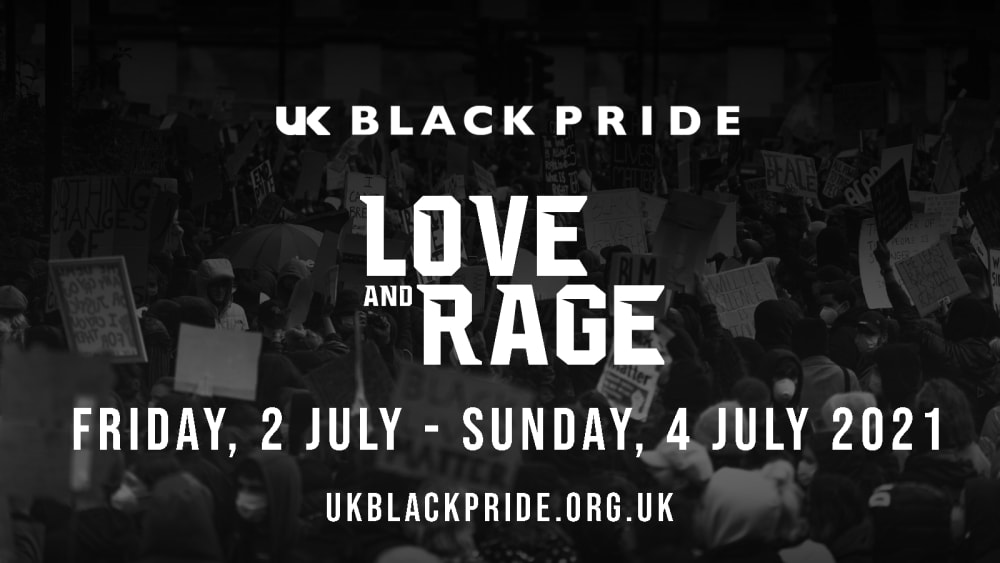 Free gifts for students
The UAL staff LGBTQ+ network have kindly commissioned free badges for all our students. Look out for them, they'll be available from the middle of the month on campuses and halls.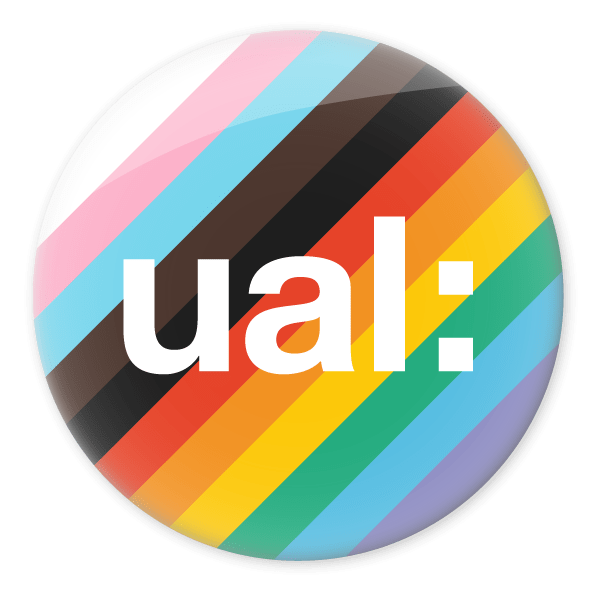 Events listings
Representation, Love and Prejudice in Young Adult Literature – Gays The Word Bookshop, 3 June
Queer Magic Workshop – Catland Books, 5 June
Week 2
Wellbeing and Mental Health in Black People - University of Westminster, 7 June
Celebrating Pride in the Workplace – Stonewall, 8 June
Week 3
So the Darkness May Glitter – Queer & Trans Arab Futures, 19 June
Uncovering LGBTQ history through the voices of those who lived it – Out Professionals, 20 June
Week 4
Queer Musical Theatre – Bishops Gate Institute, 26 June
Pride LGBTQ history walking tour of Greenwich Village – Out Professionals, 26 June
Brunch With Birch – Fabulous Beyond Productions & Juno Birch, 27 June
First Steps to Trans Inclusion – Stonewall, 29 June
Pride Month events beyond June
UK Black Pride: Love and Rage, - 2 – 4 July
Pride in London, weekend of 11 September
Podcasts
Norwich Pride: Out Loud (An audio series exploring the LGBTQ+ objects in the museum's collection) - Norwich Castle Museum and Art Gallery
Available Now for download
Queer histories, Goldsmiths
Student diversity
Please visit our Student Diversity section for information on how UAL promotes and supports diversity, individuality and innovation.