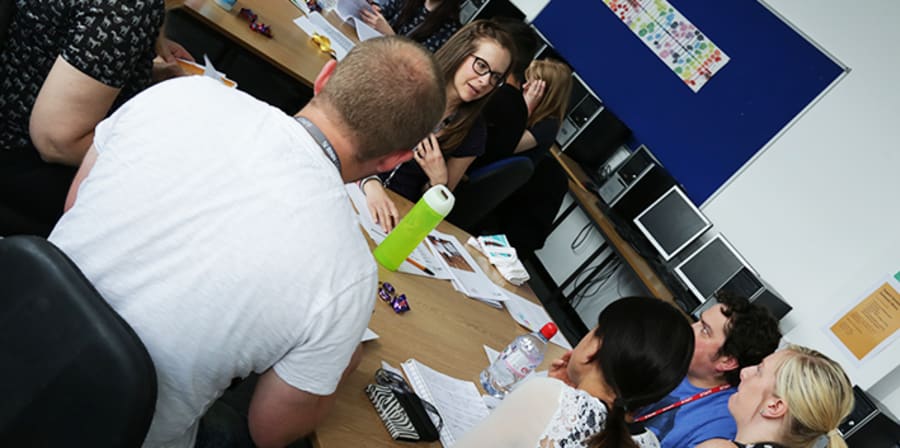 UAL Awarding Body offers a bespoke in-centre training service. Our academic specialists can deliver training tailored to meet the needs of your centre.
We offer 2 types of bespoke training:
General academic
Support and guidance on planning and delivering UAL Awarding Body qualifications. These sessions cover the ethos of UAL Awarding Body's qualifications and are designed to provide delivery staff with detailed guidance on the development process, including:
Understanding the holistic approach of UAL Awarding Body qualifications
Developing innovative delivery models
Effective planning for the academic year
The moderation process
Employer engagement
Creating engaging assessment materials.
Appropriate for teachers delivering any UAL qualification at any level.
General academic and subject-specific
These sessions provide the general support outlined above, in addition to subject-specific delivery and assessment guidance (e.g. Art and design, creative media, music, performing and production arts).
Topics that have previously been covered include:
Structuring a course
Assignment writing
Development of delivery models
Assessment
Internal and external verification
Grading
Evidencing analysis
Understanding unit requirements and different pathways.
Our academic specialists will provide a comprehensive overview but centres are encouraged to shape the training based on their specific needs. Attendees should familiarise themselves with the centre handbook and specifications for the qualification(s) they are delivering, and prepare questions that they would like clarified during the training.
Pricing
We will work with you to establish your precise training needs and tailor a quote based on the information you provide.
Booking
Interested in running bespoke training at your centre? Please email ual.cpd@arts.ac.uk outlining your requirements.
"Well led, targeted at the right level and very informative. Delivery was excellent."
– Tutor, Rotherham College of Arts & Technology