It is our intention to welcome students onto campus for the autumn term.
We are planning for libraries, workshops, studios, classrooms, study spaces and other resources to be available.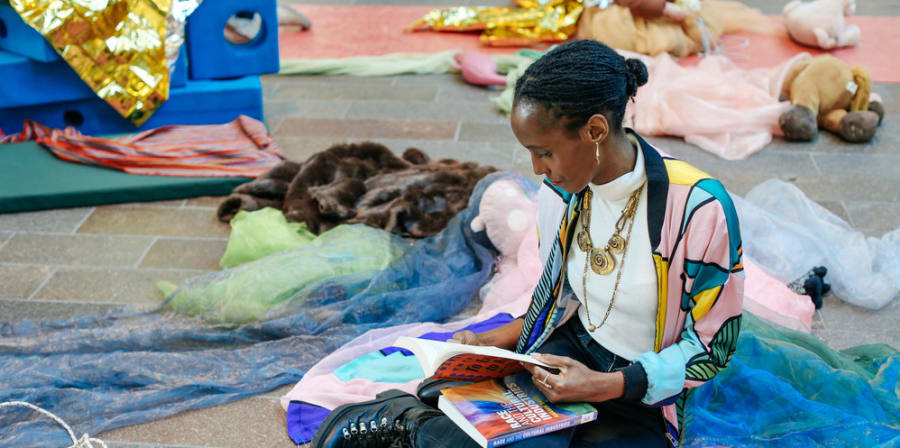 Teaching and learning
We know it's important to know what your teaching experience will look like next year.
Our aim is to provide learning experiences which are a rich mix of online and on-site learning according to what works best for students.
Over the past year, an enormous amount of work has taken place in designing the delivery of your course to give you the best possible learning opportunities. We've learnt what works best in different situations for different courses and different groups of students and we have developed innovative ways of doing things.
Engaging with the full mix of on-campus and online learning, will mean you have a great student experience at UAL.
We know from experience that things can change very rapidly, so we have plans in place just in case we have to adapt to further restrictions or other events.
If there are further lockdowns, we will move our teaching online, as we have done over the last year. We will continue to update you if there are any significant changes to the delivery of your course.
Rules for travelling to England
What you must do depends on whether you qualify as fully vaccinated under the rules for travel to England.
Fully vaccinated means that you have had a complete course of an approved vaccine at least 14 days before you arrive in England. The day you had your final dose does not count as one of the 14 days.
The vaccine must be administered under either:
Read the UK government guidance on travelling to England.
Travelling from a red list country
There are different rules if you have been in a red list country or territory in the 10 days before you arrive in England. Red list rules apply whether you are fully vaccinated or not.
Financial support for arrivals from the UK government's red list
If you've been in a country or territory in the UK government's red list in the 10 days before you arrive in England you must book a managed quarantine hotel for your 10 day isolation period.
We're providing a financial contribution towards the cost of the managed quarantine hotel for students who are starting or continuing their studies at UAL in the autumn term. We'll reimburse eligible students with £1,300 once enrolled and the course has started.
Read our Hotel Quarantine Support page for details.
Remote learning
We believe participating fully in your course provides the richest possible experience.
Due to ongoing coronavirus travel restrictions, it might be impossible for some of you to join us in London at the start of term.
If this affects you, we will support you as best we can to commence your studies online for a short period of time. These support arrangements will vary across courses and programmes.
If you are studying remotely, you will be missing on-campus teaching.
All students are expected to join us in person by the start of spring term (January 2022).
If you cannot join us in London for the start of term
If you find yourself unable to join us on site in the UK at the beginning of the autumn term for a Covid-19 related reason, you should still enrol on time using our remote system.
You can then apply for Covid-Related Authorised Absence using your UAL Student Portal. You'll be expected to take part in the virtual elements of your course until you're able to join us in person. Covid-Related Authorised Absence may last all the autumn term if necessary.
All students granted Covid-Related Authorised Absence are expected to attend on site from the start of spring term 2022 at the latest.
If you're unable to join us on site for the start of spring term, you may be required to take formal 'time out' until you can attend in person. Your Course Leader can discuss your options with you if needed. Read our Student guide to taking time out (PDF 250KB) for further details.
Covid-Related Authorised Absence
We know Covid-19 is impacting our students in a number of ways and we want to support everyone as best we can.
If you can't join us on site anytime during the autumn term for any reason related to Covid-19, you must notify us you'll be taking Covid-Related Authorised Absence. Reasons for this absence include (but aren't limited to):
travel restrictions
anxiety about coming to London
having and recovering from Covid-19
caring responsibilities
bereavement
You can notify us you need Covid-Related Authorised Absence once you've completed the online registration step of enrolment. Within 48 hours of completing your online registration, you'll see the option to take Covid-Related Authorised Absence on the homepage of your UAL Portal.
We won't ask you to evidence your need for Covid-Related Authorised Absence - you'll self-declare your eligibility. We'll send you an email confirming we've received your absence notification. When you're ready to join us on-site, contact your Course Leader to plan your return.
Remember, when studying under Covid-Related Authorised Absence you must take part in the virtual elements of your course. During this authorised absence, you may miss on-site teaching and, depending on your course, it may not be possible to replicate this with an online alternative.
If once you've begun your course you feel your authorised absence is affecting your ability to meet an assessment deadline or the level of your performance at assessment, you must talk to your Course Leader as soon as you can. You may be able to make an Extenuating Circumstances claim. If your claim is successful, the Exam Board will take your circumstances into account when making assessment decisions.
Student visa and Tier 4 visa holders: important information
To qualify for Covid-Related Authorised Absence you must either be:
outside the UK during your absence, or
in quarantine following your arrival in the UK (if required by the UK government).
Your authorised absence ends when you're in the UK and have completed any quarantine.
When your authorised absence has ended you must attend your studies on site. Check your timetable to find out when you're due on site and where to go.
You must attend on site because it's a condition of your visa. Your visa may be cancelled if you don't attend when expected.
What to do when you arrive in the UK
1. Within 48 hours of arrival you must email your Programme Administration team. In your email:
include your Student ID number and full name
confirm when you arrived in the UK
tell us if you need to quarantine.
2. Log in to your UAL Portal, go to 'my Online Registration' and:
upload a photo or scanned copy of your boarding pass or e-ticket as evidence you've arrived in the UK. If you have a date stamped entry vignette you must also upload a photo or scanned copy of it.
update your term time address.
3. Attend on site when timetabled. Only attend once you've completed any required quarantine.
Foundation Diploma in Art and Design students
We're waiting for further guidance from the course regulator, Ofqual, about how much online learning we can provide.
This means if you can't join us in person before enrolment closes on Friday 8 October 2021, you may not be allowed the option to begin your studies online instead.
Contact our Further Education team to discuss your options: feoffice@arts.ac.uk.
Study Abroad students
If you're an Integrated Study Abroad student or a Semester Study Abroad student you must participate in your programme from within the UK (unless your programme is fully online).
Postgraduate Research students (MPhil and PhD)
Because your study is self-directed and all mandatory elements are online, you'll only need to inform us of your need to take Covid-Related Authorised Absence if you require a visa to study with us. Notify us of your absence by emailing researchdegrees@arts.ac.uk.
If you're a visa holder you must arrive in the UK on or before Wednesday 6 April 2022 in order to comply with UK Visas and Immigration (UKVI) requirements.
If you have a query that is not answered here, you can: