Your creative future starts here:
Story
Grayson's Robes 2022 winner announced!
Written by

University of the Arts London

Published date

31 March 2022
Share story

Frills, thrills and sewing skills! The Grayson's Robes 2022 competition reached its exciting conclusion this week, when the final winner was chosen.
The competition gives UAL students a chance to design the robes for Turner Prize-winning artist and UAL Chancellor Grayson Perry to wear at our July 2022 graduation ceremonies.This year's competition had an exceptional level of quality and number of submissions, with a total of nearly 60 entries to choose from, including 7 groups.
Students from across all Colleges submitted a wide range of impressive and unique designs, with a special focus on sustainability. The submissions were a real testament to the quality and dedication of our students. Grayson had a hard time whittling these fabulous entries down to a shortlist of just 5 final designs.
This week, the students behind these designs were invited to pitch their robe concept to Grayson, who was aided by John Lau, Interim Dean of Academic Strategy, London College of Fashion (LCF) and Sarah Gresty, BA Fashion Course Leader, Central Saint Martins (CSM).
All the designs were incredible. As Grayson said, any of them would make outstanding and eye-catching robes.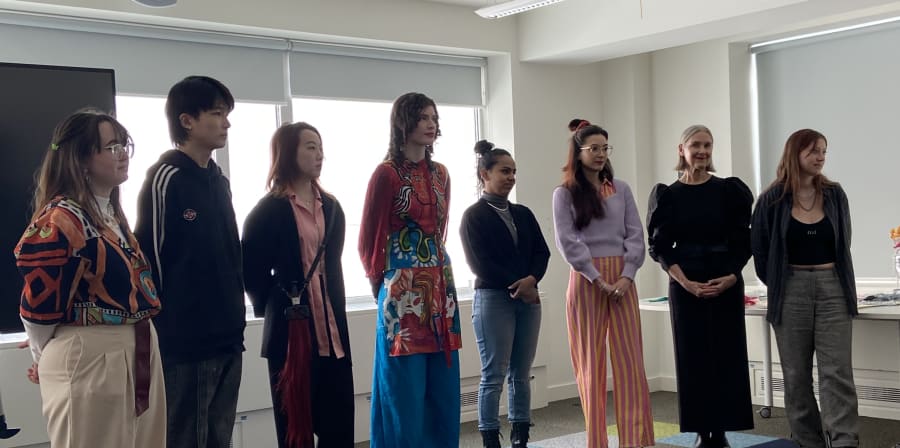 The finalists were:
A group submission from CSM students, Celina Camboni, Michelle Lowe-Holder, Molly Preston and Saumya Singh, who combined their practices to present an eclectic design focusing on sustainability and reclaimed materials.
Electra Bruce-Smith (CSM), who presented a characterful collage displaying Grayson's head.
Georgia Archer (LCF), who brought a daring denim and lace design.
Yuze Li (CSM), who presented a technically impressive combination of embroidery and knitwear.
Zhouxuezi (Kitty) Wang (LCF), with her bright neon colours and flowing hair design.
After much careful deliberation the final winner was selected – Yuze Li, 1st year BA Fashion Knitwear student from CSM.
I was incredibly impressed with the amazing designs submitted by our students this year. The quality of work was outstanding, making it really difficult to come to a final decision. Li's design stood out to me and I'm very excited to see how the concept will evolve and be brought to life to make splash on stage at the July graduation ceremonies.
— Grayson Perry, UAL Chancellor
Now Li will start the creation of the robes, bringing his design to life. Once made, the robes will be worn by UAL Chancellor, Grayson Perry during the summer graduation ceremonies this July.
Congratulations to Li and all the students who submitted designs, we can't wait to see the final robes on stage!
It is my greatest honour to be designing and making this year's Chancellor's robe for Grayson. It is a highlight moment for my first year at CSM, but also a catalyst of my design career. I can't wait to start making the final robe!
— Yuze Li, First year, BA Fashion Knitwear, CSM