Senior LCF Research Fellow in Design for Performance Donatella Barbieri has become the first person ever to be shortlisted for a book on based on a costume at The Society for Theatre Research (STR) awards 2018. We caught up with Donatella following this unique announcement to find out more about her research, what motivated her to write this book and what the shortlist announcement means to her.
Donatella Barbieri shortlisted for The Society for Theatre Research (STR) award.
Scholar and scenographer Donatella publishes her work extensively, lectures publically present work in international exhibitions curates events and devises performances around costume. A Central Saint Martins alumna, she has pioneered methodologies of designs which have, through MA graduates, extended their influence internationally. In 2010 she was awarded the Joint Research Fellowship at V&A and LCF, through which Costume in Performance: Materiality, Culture and the Body was written and later published by Bloomsbury Academic. At the V&A she founded Studies in Costume and Performance biannual research journal published by Intellect.
The STR was founded in 1948, holding its first meeting at the Old Vic Theatre on the 15th June. It emerged at a time of post-Second World War investment in British culture. The STR was the first society in Britain championing scholarly research into theatre and continues to be a driving force in moving the industry and discussion forwards. Its core aims were to educate the public in the knowledge and appreciation of British theatre and to conduct and encourage research into its history, techniques, practices and participants. Its prize winners include Judi Dench and Alan Rickman.
Costume in Performance: Materiality, Culture and the Body (published by Bloomsbury).
The award is a highly prestigious achievement in the world of theatre and being shortlisted is an accolade to someone's contributions to theatre. This prize was established to celebrate the Golden Jubilee of the Society for Theatre Research and to encourage the writing and publication of books on all aspects of theatre history and practice, both those that present the theatre of the past and those that record contemporary theatre for the future. The award is presented annually for a new book on British or British related theatre which an independent panel of judges considers being the best published during the year. Play texts and studies of drama as literature are not eligible. The judges are drawn from theatre professionals, theatre critics, theatre academics and archivists, with a chairperson from the committee of the Society for Theatre Research.
Donatella's Costume in Performance: Materiality, Culture and the Body (published by Bloomsbury) book has become the first ever in the history of the award to be shortlisted based on a costume. The winner will be announced on 21 June 2018 at a reception at the Theatre Royal, Drury Lane when the judges will speak about the year's books and the presentations be made. This year's judges are Paul Miller, Artistic Director of the Orange Tree Theatre, Richmond, theatre critic Sam Marlowe and Professor Jeffery Richards. They are chaired by Howard Loxton representing the Society for Theatre Research.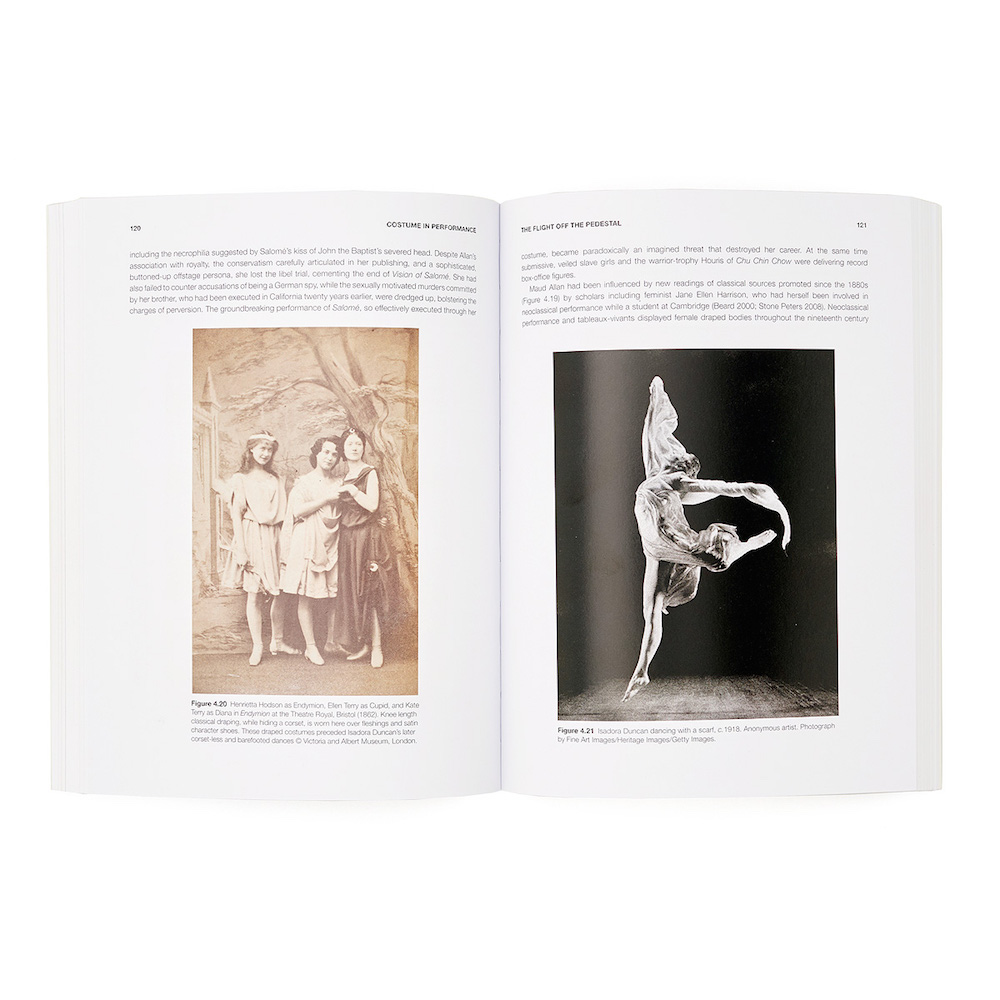 Costume in Performance: Materiality, Culture and the Body (published by Bloomsbury).
We spoke to Donatella following the shortlist announcement to hear what the recognition means to her. She told us:
Costume in Performance: Materiality, Culture and the Body being amongst the finalists for the Society of Theatre Research Book Prize means a great deal. The prize has existed for many years and this is the first book on a costume to make it this far, selected from a very long list to be amongst an incredible group of theatre luminaries and researchers. Its selection recognises how research can impact the industry, by articulating the complex work of costume in performance as much as in culture and society.

On a personal level, I have poured decades of thinking around the subject into this publishing project that re-connected me with Sally Jacobs, the designer of Peter Brook's revolutionary 'white box' Midsummer Night's Dream, who taught me at CSM, as well as with extraordinary geniuses of costume design and other majorly influential international practitioners. Embedded in this publication are also years of research in the V&A archive where I was joint Research Fellow, V&A/LCF, the intent of exposing historical connections through archived costumes to substantiate new approaches and theoretical frames.

These advances benefit research and have a profound effect on education. This prize coincides with ten years of the MA Costume Design for Performance at LCF, now led by Agnes Treplin, the initial validation of which referred to my AHRB funded practice-informed research which is also included in this book. Such intertwining of research and practice is at the core of this published investigation.
Costume in Performance: Materiality, Culture and the Body (published by Bloomsbury).
Other shortlisted books include: Balancing Acts by Nicholas Hytner (Jonathan Cape), Black British Drama – A Transnational Story by Michael Pearce (Routledge), Child Actors on the London Stage, c 1600 by Julie Ackroyd (Sussex Academic Press), London Theatres by Michael Coveney and Peter Dazeley (Frances Lincoln) and Shakespeare on Stage: Vol 2 – Twelve Leading Actors on Twelve Key Roles by Julian Curry (Nick Hern Books).
Alumni can connect with LCF in the following ways: