Indexing British Vogue Magazine 1939
This is part 1 of a two-part story on the Indexing British Vogue Magazine 1939 project.
Chloe Gilbert and Monica Hodgson are first year MA Fashion Curation Students at London College of Fashion. This project was undertaken as part of the Collaborative Challenge unit, in partnership with Westminster Reference Library. Fellow LCF student contributors to the project include Tina Crane, Yuchen Gong, and Steph Wass.
Undertaking a project that appealed to our specific interests within Fashion Curation, developing expertise in digital indexing, and working with rare historic materials was an exciting prospect. The project brief we received from Westminster Reference Library included plans to make British Vogue Magazine's content digitally accessible to the public. The intention of the project was firstly, to help digitise rare archive materials by indexing the January to June issues of 1939 British Vogue, working alongside Nicholas Osborne, the Collections Service Officer for the Arts at the Library. Secondly, we decided to create a new, professional space through the medium of Instagram, for researchers and the general public to become aware of the magazine issues being digitised and becoming more accessible. The outcome of the project was a digital platform, marketed at students, researchers and the general public, incorporating collaborations with industry professionals such as Colleen Hill, curator of costume at The Museum at FIT.
Even more so than usual, the pressing issue of COVID-19 highlighted the challenges of not having instant access to records. We understood it was important to make the archive material more accessible, and available to wider audiences. Although the students involved came from different specialties, our team shared a common interest in the history of fashion. Moreover, the issues of 1939 British Vogue we were presented with were of particular interest, due to the lead up to the Second World War and the rapidly changing fashions of the time.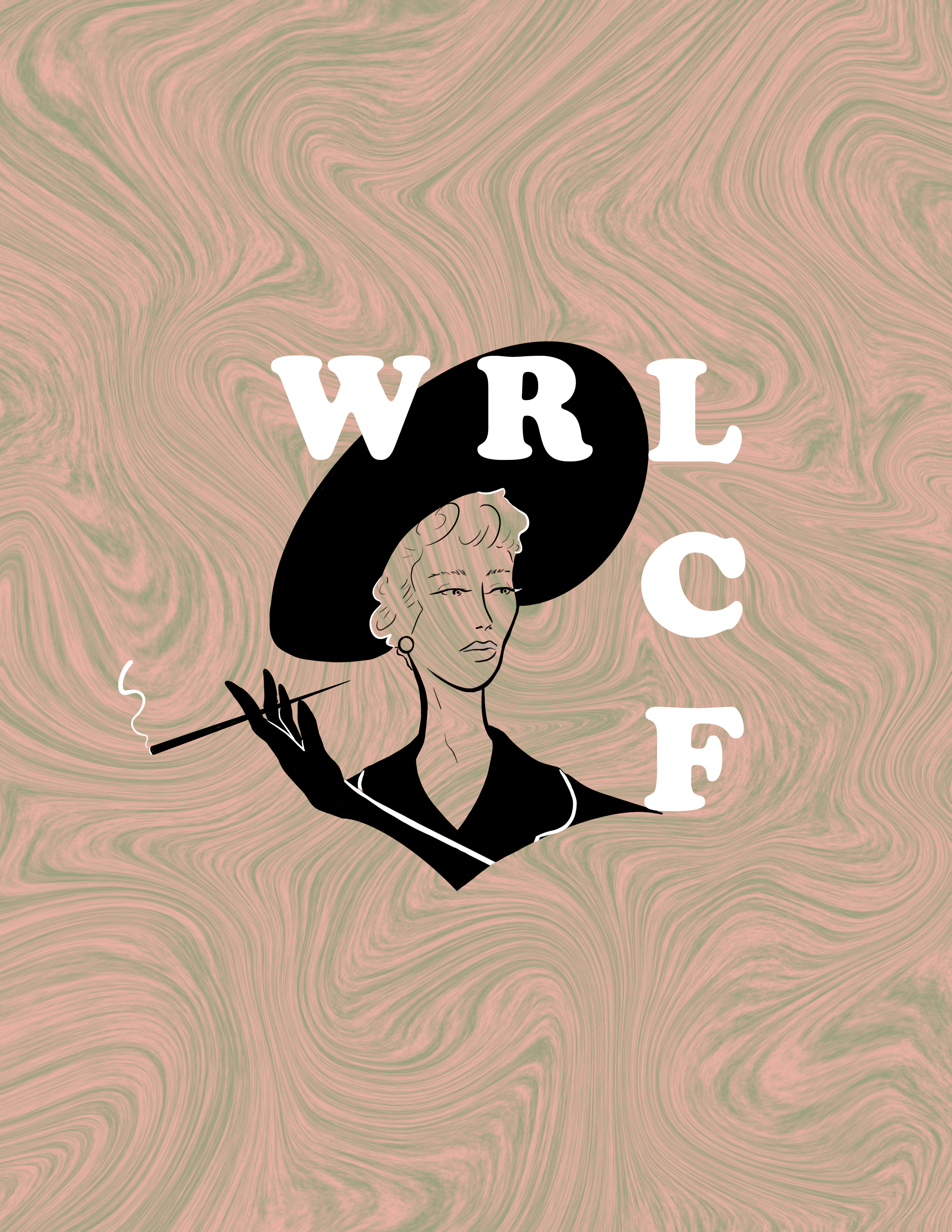 Graphics for Instagram page designed by Tina Crane
Due to the COVID-19 pandemic, we were faced with the challenge of working remotely and communicating digitally on our project. These dilemmas forced us to be more considerate of the kind of output we would create for the project, the aim being to deliver a public-facing product that highlighted the British Vogue magazine collection. We realised in today's digital age, social media would be the most efficient way for us to reach audiences. The library did not have its own Instagram presence. However, using Instagram, the biggest social media channel for the fashion industry, meant that we were able to reach a wider range of potential engagers than an in-person output might have done. It was accessible for anyone with a smartphone, multifunctional as a platform, and it allowed us to bring our enthusiasm for creating visuals into a new digital space.


Instagram page, @lcfxwrl

At the beginning of the project, we were trained in how to digitise and contribute to an index of the 1939 British Vogue issues. From a Fashion Curation perspective, the process of cataloguing archive material was an area of expertise we were keen to develop. The onus was on us as a team to create a set of classifications that contributed to the ever-growing index of adverts, articles and editorials. The task involved accessing hard-copies of the archived print materials; being granted access to magazine editions from over eighty years ago was particularly thrilling. In light of COVID-19, our training was completed digitally. However, this did not deter our interest in what was presented to us in these magazine issues. During this process, we were intrigued by the contents of many of the historical adverts, articles, designs, and commentary. This led us to developing these interests into a series of Instagram IGTV videos.

Accessing archive materials and learning the skills of digital indexing over Microsoft Teams

An advert which sparked interest, Jaeger's 'Man-tailored trousers', British Vogue, 14 June 1939

Extract from Instagram page, @lcfxwrl
Each member of the group concentrated on individual topics that sparked our interests and captured our imaginations, plucked from the pages of the British Vogue magazines. Though we all read and indexed similar issues, everyone produced different conversations and curiosities.
Inspired by a lecture with Amy De La Haye, Chloe from MA Fashion Curation delved into the history of utility clothing and work for women in the 1930s. During the Great Depression, millions lost their jobs in light of the stock market crash. However, the employment for women went up as industries including electronics and food production and processing, recognised as 'women's work', were not as affected by the crash. As the onset of the Second World War became increasingly likely in July of 1939, women were recruited to work on farms. Known as the Women's Land Army, the uniform consisted of twelve items including corduroy breeches, dungarees and gumboots. Though trousers were becoming increasingly common - for many women this was the first time they had worn them. Watch Chloe's video here to find out more.
Yuchen, an MA Fashion Photography student, was interested in the evolution of lingerie in the 1930s. As women were increasingly involved in heavy work, the corset became less practical. Removing this garment laid the foundation of the lingerie liberation to come. Vogue was also advertising two-piece lingerie to wear in the home, providing resourceful patterns for women to sew their own. The cone bra made its first appearance in the 1930s, famously inspiring Jean Paul Gaultier's cone bra, worn by musician Madonna during her 1990s Blond Ambition World Tour. Watch Yuchen's video here to find out more.
Steph, another MA Fashion Photography student, explored her ongoing interest in the beauty and cosmetics industry. In her two-part IGTV series, Steph draws parallels with glamorous film stills and the revolutionary advertising methods in the late 1930s. This was also a time before science within cosmetics took off, so advertisements, like that of Adelaide Grey, began to include slogans such as "skin food". Like now, the brands used famous film stars and high profile socialites to model their products. Steph also discusses why many advertisements used illustrations, rather than the increasingly popular medium of photography. Watch Steph's videos here to find out more.
MA Fashion Costume student Tina waltzed into the 1939 London Season, exploring a series of social events for the British elite. For young women of elite social class, their formal debut into society began with the Queen's Ball, where the debutantes are presented for the first time. This main event being so exclusive, they had to apply and receive a royal summons to attend. Tina explains why this season was seen as the last, as Britain found itself at war later in 1939, and in 1958 and later Queen Elizabeth abolished the official presentation ceremony altogether. Watch Tina's video here to find out more.
Monica, from MA Fashion Curation, was immediately inspired by the Elegance in an Age of Crisis: Fashion of the 1930s exhibition at the Museum at FIT (MFIT) in New York (2013). This was the beginning of an exciting collaboration with Colleen Hill, Curator of Accessories and Costume at MFIT. In a virtual conversation, Hill and Monica discussed engaging topics split into four videos. Hill spoke about the exhibition, her research methods and past exhibitions that inspired her work. They discussed the key accessories of the 1930s displayed in the exhibition; shoes, bags and hats. Hill shared the significant history of MFIT and the parallels between the crisis of 1939 and what many are experiencing today during the global pandemic, so Hill and Monica spoke about the role of fashion during these times. To find out more, watch Hill's and Monica's conversation about Elegance in an Age of Crisis exhibition here, the history of and past exhibitions at MFIT here, the main accessories of the 1930s here, and comparing the crisis of the 1930s and the Covid-19 pandemic here.

Colleen Hill and Monica Hodsgon discuss 1930s fashion in IGTV videos.
During the pandemic everybody felt further away and everything felt out of reach. However, with the surge in virtual meetings and interactions, many have never felt so connected. Monica reached out to Hill outlining the project and asking whether she would be interested in collaborating. Hill very kindly expressed interest and was enthusiastic to be a part of the project. Hill found time in her busy schedule to sit down with Monica to have a virtual conversation over Zoom at the start of 2021. She kindly provided original photographs from the Elegance in an Age of Crisis: Fashion of the 1930s exhibition and publication to include in the IGTV videos, and shared a depth of fascinating conversation surrounding her curatorial work.
Digital team meeting via Microsoft Teams
This project would not have been possible without London College of Fashion's industry partnership with the Westminster Reference Library and the regular support of Nicholas Osborne. We would like to thank the project supervisor and MA Fashion Curation course leader, Dr Jeffrey Horsley for his ongoing guidance and encouragement. We would lastly like to thank Colleen Hill for her generosity and agreeing to collaborate.
The LCFxWRL Instagram page (@lcfxwrl), can be found here.