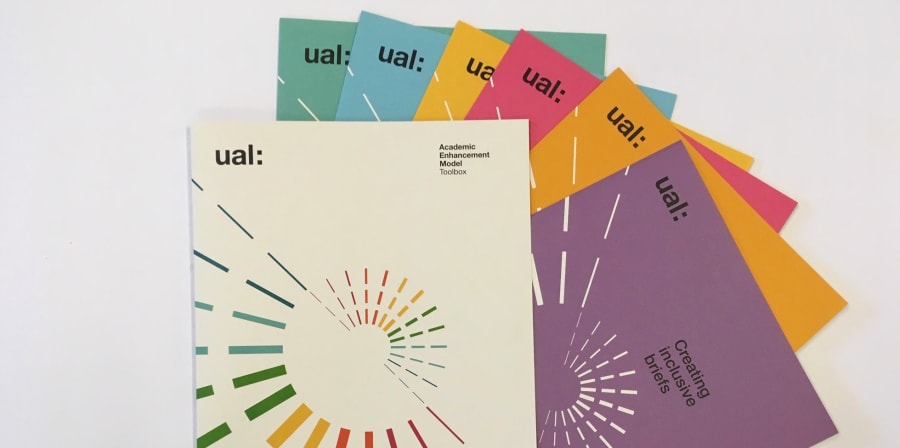 What is the Academic Enhancement Model?
The Academic Enhancement Model (AEM) is part of UAL's strategic approach to reducing awarding gaps and improving student retention and experience. It was established in November 2017 to provide focused, course-level support to address attainment differentials and below benchmark scores in the NSS and retention.
AEM develops teaching and learning approaches in attainment, social justice and anti-racism. It is delivered by a team of six AEM Senior Lecturers working in partnership with colleagues across the University. The AEM team is committed to the common goals of equality, inclusivity, and diversity of access and provision.
How does AEM work with course teams?
The AEM process provides multiple spaces for course teams to explore their challenges, co-create responses and engage in personal development activities. A bespoke package of support is co-constructed for each course team.
AEM deploys co-design approaches focusing on decolonising pedagogy and curriculum, fostering belonging and compassionate pedagogy, and assessment for learning.
Wider collaboration across UAL
AEM relies on the commitment of a wide range of stakeholders across UAL, notably our students and the Attainment team. We draw on and amplify the impact of internal support services across the University, including academic support, the language centre, library, careers, disability and mental health. Recommendations are made for university-wide action in areas of student experience outside the responsibility of the course team.
The AEM Toolbox
These evidence-informed, practical, downloadable materials curate aspects of pedagogic research into accessible documents, to help staff independently address key challenges in teaching, learning and attainment.
Titles include Decolonising reading lists, Teaching for retention, Creating inclusive briefs, Internationalising the curriculum, Reducing referrals and submissions, and Rethinking industry engagement.
You can download the AEM toolbox guides from the Teaching and Learning Resources Library.
The AEM team
Professor Susan Orr leads AEM with a team of college-based leads:
Siobhan Clay - AEM Coordinator and CCW Lead
Jheni Arboine - CCW Lead
Catherine Caldwell – CSM Lead
Dr Emily Salines – LCC Lead
Liz Bunting – LCF Lead
Carole Morrison – LCF Lead