Chloe Bailey, a final year BA Interior and Spatial Design student, has been based in London while working on her project for the Graduate Showcase, usually working between her balcony where she has set up a makeshift desk out of a disused barbecue, and her living room. So far it has proved inspiring for Chloe to work in this new setting, and when she's outside she gets to enjoy the sounds of everyday life.
We invited her to reflect on how her practice has had to adapt during lockdown, and about her commission to design a play space for children for the South London Gallery.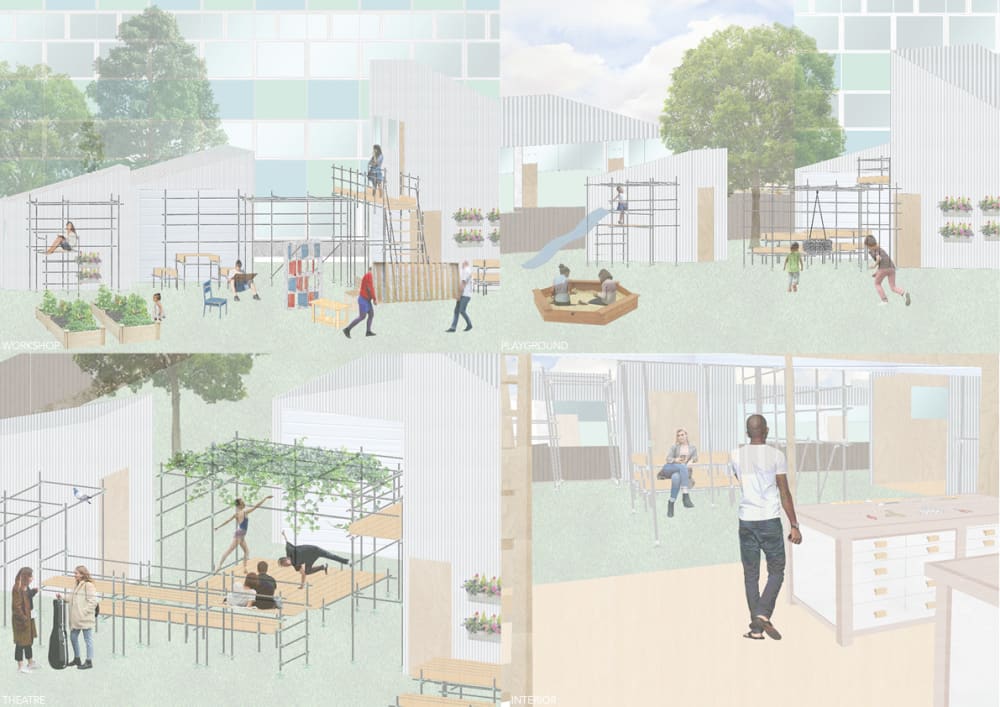 Describe your design practice.
My practice usually centres around ideas of play. Designing for young people and children is something I have done in previous projects; I really enjoy this kind of designing and it is something that I would be really keen on pursuing in my practice for the future. I think with designing for children there is a lot of freedom, and I love when I am surprised by what I can learn from them. Within Interior and Spatial Design I find that with designers of play spaces tend to impose their design on the children instead of allowing the children to inform them. Therefore, testing is the most important stage.
How have you adapted your practice for working outside of the college studio?
I usually tend to work best surrounded by peers in a library or studio setting, so the current times have dramatically altered the way I work. I found at the beginning I wasn't being as productive, but recently I have translated the idea of working together to a digital setting. I spend most of my days on Zoom calls working together with fellow students, helping them and getting their advice.
What has helped you remain positive and keep creating during these unusual times? Do you have any tips for other students?
I would suggest keep trying new things and find out what way of working is best for you. Don't stay attached to your computer, make a model, sketch and use materials in your home. It took me some time to find the motivation to get creative, but once I understood what kind of environment I needed it was easy.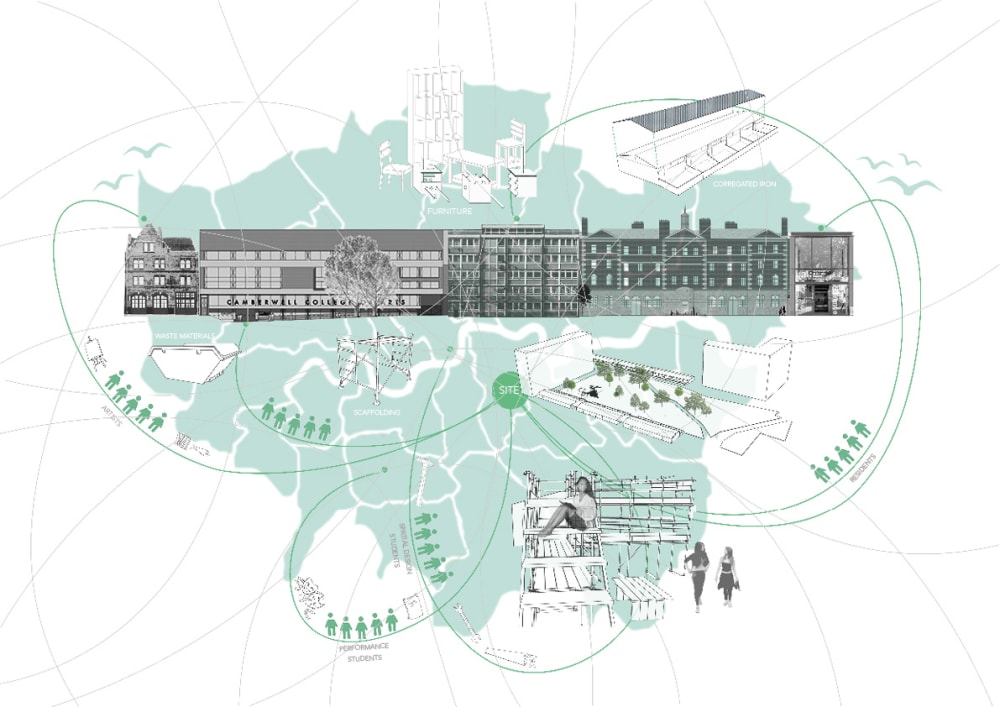 Please tell us more about your Graduate showcase submission. What were the inspirations and ideas behind it?
I recently won a commission with South London Gallery (SLG) for designing a play space, and the other work is a progression from this: a community hub for up-cycling waste in the surrounding estate. My inspiration for my play space came from two places. Initially I started the project by conducting my own playing: I went on a walk nearby and played a series of different games to get my ideas flowing. Themes that arose in this walk were the ideas of hand eye coordination and connection in terms of bringing people together, and I decided to take these themes forward within my initial design.

I wanted to bring the children together to work alongside each other and learn by creating a game of their own. This game was a childhood game we all know well, 'the buzz wire game', I was expecting the children to work together to build a 1:1 buzz wire game out of drainpipes and other materials and then get from one side of the maze to the other.

At testing stage I realised that my aspirations were too advanced for the age level of the children, and they wouldn't be able to build unaided. I was able to see my design elements being used in different ways- I had created sand boxes to allow for the pipes to stand; however, the sand came out of the boxes and the children were using them to draw patterns on the floor. They would also lean the pipes on chairs and then let the ping pong balls roll down them.

It was insightful to let the children dictate the importance of the materials. Testing informed my design further allowing me to create alterations to help facilitate the children in their creative play. I was able to design wooden structures that would act like scaffolding for the drainpipes, and these would allow the children to mimic the behaviours they had shown with the chair.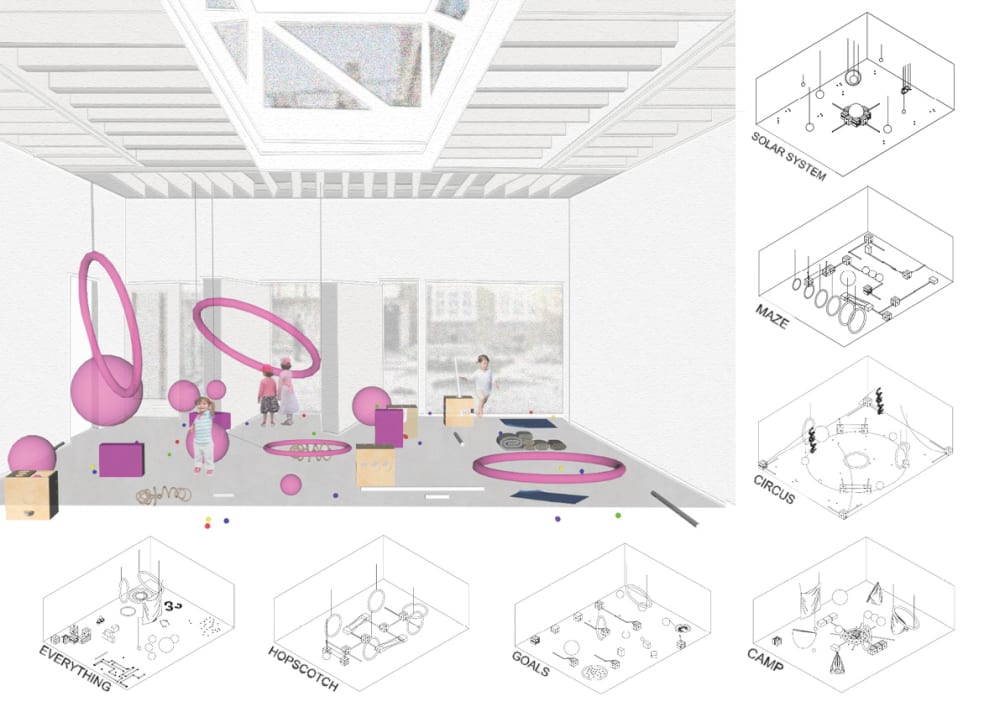 For the second follow-on project I wanted to carry forward the main themes of connection and so opted to design a community space that would sit on the estate behind the South London Gallery. The idea is to bring together three communities, the estate itself, SLG and Camberwell College of Arts. The community space will be an up-cycling hub and the idea is that waste materials will be taken from the three sites. The South London gallery and Camberwell will also provide artists, tutors and students to run the workshops. In terms of design I was thinking of using scaffolding as my material as there is currently construction work happening next to my proposed site and I wanted to employ this into my reusing cycle. The project will be temporary and will run over 6 months, with workshops running at the weekend covering certain topics so the residents can learn necessary skills for upcycling. The skills learnt in the workshop can be transferable to their own home. And on weekdays the space will be a kind of play space or interpreted space for the community to use as they wish.
What's next for you?
Since submitting my final project to the UAL Graduate Showcase, I have been in the final stages of completing my collaborative project with the South London Gallery. Once this is completed I am looking to expand my practice by working in a studio, I'm hoping to look for something that encompasses all of my interests.
What advice do you have for students considering studying BA Interior and Spatial Design?
Students should consider studying BA Interior and Spatial Design because it will allow you to learn a holistic approach to design. This course encompasses a variety of specialisms, varying from architecture, theatre, furniture design and more. It has helped me to understand where my position sits within design and know where I want to go in the future. It offers independence to drive your own projects forward in any direction you wish, but also the course and its tutors give support in learning new skills and realising concepts. During my time studying BA Interior and Spatial Design we have done many collaborative projects with the surrounding communities. This is something I love because you are working on live projects with real deadlines, and it also gives you an insight into industry life. This course has opened doors to many opportunities and is definitely one that students should consider studying at UAL.