The Post-Grad Community Project Fund makes funds available to UAL postgraduate students to organise events, projects and cultural interventions that bring together postgraduate students from different disciplines, courses and colleges.
In the Summer of 2019 a group of students created this exhibition they titled 'Bringing the Spice'. The project responding to the funding theme 'Resilient Communities' and was organised under the banner of WAH! Women Artists of Colour. Below is their funding report.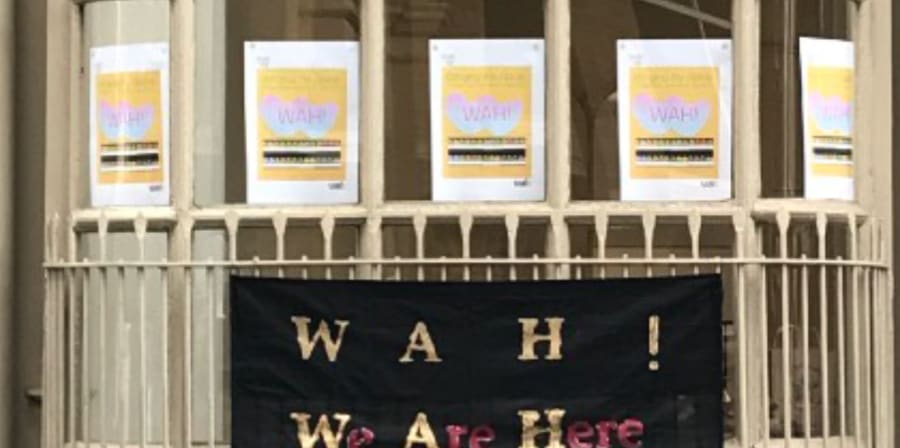 Bringing the Spice Funding report
This event was organised under the banner of WAH! Women Artists of Colour; a platform committed to raising the profile of this under- represented demographic. We want and need to be seen and heard by providing support through events, exhibitions and workshops to broaden research in this area and prevent erasure of this important work.
We proposed an event where we showed art, carried out a collaborative meal and invited guests to participate in a meal that reflects the hybridity in the identity of diaspora communities. Our aim was to encourage an environment to have a dialogue concerning food stories and whether there is a reciprocal relationship between food and identity.
We put out a call-out through the UAL Post-Grad Community Newsletter for women artists of colour to respond to the brief of food, identity and memory, graphic designers, evaluators, curators, photographers, documentary makers and were truly excited by the response we received. It is not as though we got a huge response as this is a niche area, but it did mean that we had submissions from those who are genuinely aligned with the brief.
We met up with all those who got in touch;
Mathilda Della Torre is studying MA in Graphic Communication Design at Central Satin Martins and applied to help with the graphic design of the recipe based manifesto. We had an interesting meeting and discussed the idea of the recipes being handwritten instead of typed into a computer. This would relay an intimacy and authenticity of a recipe being shared, and we furthered this by placing carbon paper between two sheets of paper.
Sushma Panambur is on the MA Narrative Environments course at CSM and also interested in helping out with the graphic design aspect.
Cai Zhang is studying PG(Cert) and also an MA Art and Science Associate Lecturer. Although Cai set up the UAL Food Society in 2012 and has a lot of experience writing about food, she was keen to come aboard as an artist and proposed to contribute Recipes for Angry Asians (2019) consisting of 100 copies of 10 recipes with QR codes on A4 80gsm paper, in paper envelopes.
Nadina Narain is a student on the MA Interior & Spatial Design course at Chelsea and interested in the concept of fried chicken shops and the cultural safe space they provide for black and brown communities. Nadina was happy to work in a flexible way and was able to make print outs that we
displayed in the window to be seen from the outside, as well as show work inside the gallery consisting of video and drawings.
Sara David is a second year BA Fine Art student at Central Saint Martins who I invited to send in a proposal as I was aware of her practice fitting our brief. Although she is an under-grad student, I think she makes strong and meaningful work, and following the exhibition she posted on Instagram how she had finally found a place for her work to exist.
Judy Hallgarten is on the Central Saint Martins MA Narrative environments and first got in touch saying that she would like to participate as an evaluator on the project. This was just brilliant as this is not an area Naira and I had previous experience in. Judy very patiently explained how evaluation works and helped us to determine our markers of success, whilst describing how this exercise can help with future funding bids.
Yifat Moskowitz-Shir is on the MA Performance Design and Practice course and proposed video work that fit well with the brief. At the end of the show, she came to us with tears in her eyes to say that she felt like she belonged.
Janaki Mistry is a BA Fine Art student at Goldsmiths who we met at the Women of Colour Index reading group, who responded to our brief and exhibited a collage for the exhibition.
Unfortunately, we did not receive any interest from photographers/filmmakers which is a huge shame. We had to make do with just ourselves to take as many photos and videos throughout the event. I will look at the footage we have and see if I can edit it to produce a short film.
Raven Row is an amazing space. The size, the character, the layout, the location is all a dream. It is also a listed building and we had to have the utmost care and respect, we were unable to nail or drill into the walls, and this had to be taken into account when accepting work from artists.
We had only one day to install, but managed to do this with very few glitches. All the artists were very amenable and put in effort to make the show a success.
Initially, the plan was to have the meal first, followed by a reading and then time to view the art, however, it occurred to us that visitors may not feel particularly energetic after food and be inclined to leave, therefore we opened with the exhibition at 3pm and sat down to read Audre Lorde essay, The Uses of Anger, at 4.30pm. The cooking performance/meal took place between 6.00 and 8pm. This gave guests the opportunity to meet and chat and become familiar with the environment.
The feedback we received from our guests I am pleased to say was largely very positive. My own feelings are that we had a good amount of art work considering the space and time we had to install. The reading group was a little trickier to control in terms of making participants to feel comfortable and safe due to one or two people with strong opinions. During the meal, my hitch was that the pan I had chosen to use was not heating up well enough which meant the rotis were not served as quickly as I would have liked and am able to. I was comfortable to talk whilst I cooked, but I wished I had taken the opportunity to introduce the artists in the room and talk about their work. In the future I think this could be a good format to use, however, I am pleased with the organic way the meal progressed and everyone was talking and relaxed. In fact, many wanted the recipes and also to cook rotis too which made it clear how comfortable the atmosphere was.
We were able be start building a mailing list and make new contacts as well as strengthen existing ones.
The project also enabled to begin building a network of women artists of colour who are equally committed this ethos, and certainly the participating team that we formed through the Post-Grad Community call-out were invaluable.
In terms of budgeting, the funding provided enabled us to pay for the food ingredients, sustainable cutlery, stationery and travelling expenses.
Additionally to all of this, we have been able to begin a recipe based manifesto which have been had written by our guests. These will be uploaded on to a WAH! Website which will be coming soon.
I cannot thank the Post-Grad Community enough for believing in this project, helping us with funding and making connections with fellow students, and for all the guidance you have provided to us.
At Bringing the Spice we launched our Manifesto; a collection of recipes donated by artists and all visitors. The manifesto will continue to grow with time, and we would love for you to contribute your special recipes to add to the collection. Contact us via PGCommunity@arts.ac.uk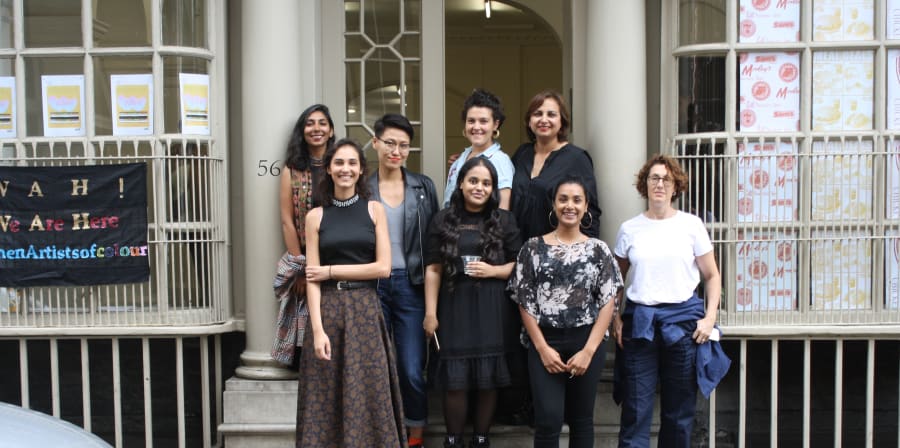 More about the Post-Grad Community Project Fund
The Post-Grad Community Project Fund makes funds available to UAL postgraduate students to organise events, projects and cultural interventions that bring together postgraduate students from different disciplines, courses and colleges.
These funds are open to all current postgraduate students at UAL including taught and research students:
MA, MPhil, MRes, MSc, PGDip, PGCert, PhD and Early Career Researchers.
Proposals are encouraged to respond to one of UAL's 4 identified research themes, enabling students to become active participants in UAL's research culture. Projects must not be a part of an individual/groups assessed course work.
The regular Project Fund award is up to £300, with a deadline each term.
The EXTRA Project Fund awards of £500 - £1,000 are available only in the spring term, to enable more ambitious projects.
---
Related Links:
---
Artists Instagram accounts:@saradavid_art, @nadina_narain, @c_ai_z, @m_i_stry, @yifat_shir_moskowitz