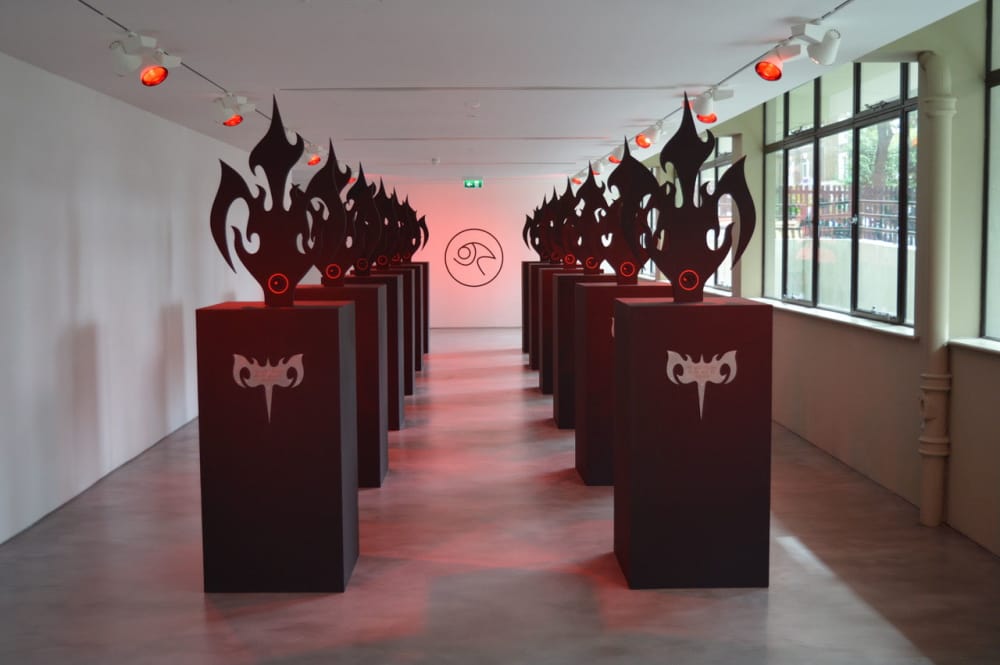 Camberwell Space presents Think And Pray For Me, a solo exhibition of new work by Rosie Grace Ward, the culmination of a year-long residency at Vanguard Court Studios.
28 August - 7 September 2018
"Think And Pray For Me draws from a phrase used by politicians and public figures to offer condolences after public loss of life. Bill Clinton offered his 'thoughts and prayers' after the Columbine High School massacre; former Vice President of the United States, Joe Biden, offered his following the shooting in an Orlando gay bar; Theresa May sent out her 'thoughts and prayers' to the victims of the 2017 Manchester bombing and Donald Trump continues to offer his 'thoughts and prayers' to the victims of mass shootings across the United States.
In the face of perpetual violence - where 'thoughts and prayers' are given but no action is taken - is anything gained from these empty platitudes? In this exhibition at Camberwell Space, Rosie Grace Ward explores the violence of contemporary neoliberalism, considering the hollowness of 'thoughts and prayers'.

"Evoking the funereal atmosphere of the graveyard, the gallery space is dominated by rows of monolithic sculptures, some shrouded from sight in the dim red light of the space. Engraved in repetition on each black monolith; 'he who treads on me, will be trodden'.
Mixing her signature gothic fantasticism with the language of political slogans and advertising, Ward creates an immersive vision of dystopia, a sinister world extruded from the brutal structures of the present. In a time of growing violence and uncertainty, this exhibition examines the impotence of just 'thinking and praying'." - Ruth Pilston

The exhibition is accompanied by a sound piece by Vegyn. Musician, producer and founder of the PLZ MAKE IT RUINS record label, Vegyn has many producing credits to his name, including music by Frank Ocean. He is currently working towards releasing his debut album.

The exhibition has been made possible with the contributions of Jack Clarke, Ruth Pilston, Joe Thornalley, Fred Hunt, Phoebe Ward and Iona Dugdale.

Rosie Grace Ward is an artist and writer based in London where she graduated from Camberwell College of Arts in 2017. Recent exhibitions include Totally Different Animals, Arcadia Missa (2018), The Unlimited Dream Company, Hannah Barry Gallery (2017) and UNIT, CGP London (2016). She was the 2017 recipient of the Vanguard Prize.

The Vanguard Prize, launched in 2010, offers a current or recent graduate of Camberwell College of Arts a free studio residency at Vanguard Court for one year, with ongoing mentoring and support from Camberwell College of Arts, to help them to further develop their practice and career.