How to book and pay for your English course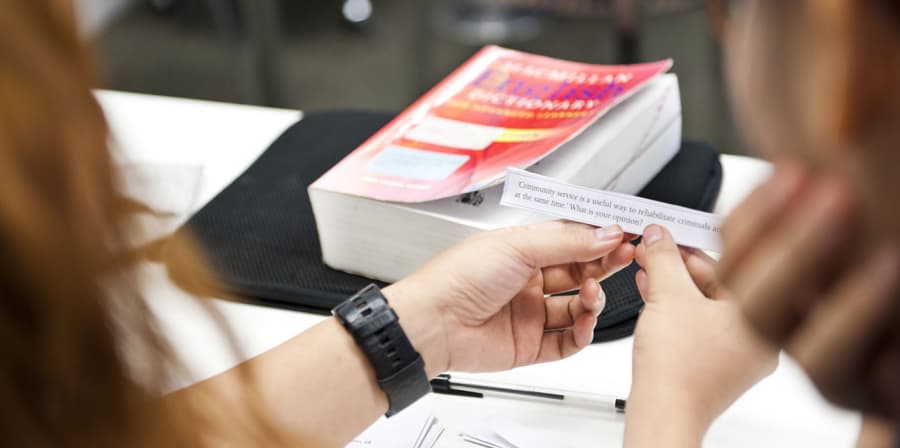 To book your place on a UAL Language Centre English course, you will need to complete our online booking form.
Most of our courses carry a minimum English language requirement. Please check this on the respective English course pages before applying. If you are unsure of your current English level we can provide a level test.
Students under 18 need to read the information we have provided for students under 18 and their parents or guardians.
Update - Arrival information for international students from:
South Korea
Japan
Singapore
Australia
Canada
New Zealand
USA
Students joining the Language Centre for short-term study (less than 6 months) must not use the automated eGates when arriving in the UK. You will need to see a Border Officer on arrival to get a Short Term Study visa stamp. Please note that you will also need to keep your boarding pass or flight ticket.
If you use the eGates, you will be granted entry as a general visitor, which means you cannot study for more than 30 days. If your course is longer than 30 days you will need to leave the UK and return with the correct visa stamp.
Please read our short term study visa information if you are from outside the European Economic Area (EEA) and Switzerland and will study English for a short period of time at UAL Language Centre.
How to pay
First submit your completed online booking form.
When we have received your completed booking form, we will email you your student ID number and full instructions of how pay for your course/s. You need this student ID number in order to make your online payment.
Application fees
In addition to the tuition, accommodation and transfer fees, we may also apply the following fees to your booking:
Registration fee - this is a one-off fee for all bookings: £85
Courier fee - this is only charged if you would like us to send original documents by post: £40
Payment using Flywire bank transfer
University of the Arts London has partnered with Flywire to help streamline the payment process. Flywire allows you to pay securely from any country and any bank. This is the preferred method for both international and sterling payments. Flywire offers multiple payment options including using Union Pay cards or Alipay, good foreign exchange rates, and ensures that your payment arrives safely and accurately.
Flywire allows you to:
pay in over 140 currencies
track your payment from start to finish
pay by credit or debit card, bank transfer or e-wallet solutions
Chinese Union Pay cards and Alipay are also acceptable (not accessible in Hong Kong)
pay from any country and any bank
save on bank fees and exchange rates
get multilingual customer support, any day and at any time
If you have any questions about making your international payment using Flywire, visit Flywire's help section.
Please note: the Language Centre cannot accept payment by cash or cheque.
Paying by bank transfer
You can also send a bank transfer directly to:
Account name: University of the Arts London
Account number: 01045822
Sort code: 50 41 06
IBAN: GB73NWBK50410601045822
BIC: NWBKGB2L
Bank and branch: National Westminster Bank plc, Piccadilly and New Bond Street, 63 – 65 Piccadilly, London, W1J 0AJ
Please make sure any bank transfers are accompanied by your (the student's) name and invoice/student ID number.
If you have questions, please email language-centre@arts.ac.uk or phone +44 (0)20 7514 2309.
If you pay by bank transfer, please scan and email a copy of receipt to us on the email address above as soon as possible. Please note that all bank transaction charges must be paid by you.