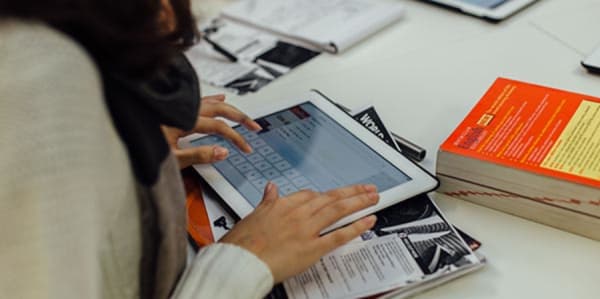 Improve your language skills by joining one of our Academic English classes for UAL students - or sign up to study a course online.
Classes cover everything you need to complete your studies, from speaking about your work to dissertation and advanced academic writing.
College classes
Our Academic English classes take place in all the Colleges and you can attend any of them. Each class has 6 sessions and you must book them individually.
Language of Academic Writing
A general introduction to good academic writing.
This course offers guidance and practice in producing the noun phrases and sentence structures that will help make your writing more precise, clear and objective.
Speaking, Fluency and Pronunciation
Builds your confidence speaking with students and staff.
In this course you will become more aware of your voice, pitch and tone and how this impacts on the listener.
English Conversation class
This course provides an opportunity to build your confidence in speaking English in an informal environment with students from across UAL.
Our Language Tutor will help you to find the vocabulary and language to express yourself.
The Language of Advanced Academic Writing
The course will examine in greater detail the features of academic writing.
You will work on expanding your vocabulary, developing greater cohesion, increasing specificity and building your confidence and sophistication as a writer.
Language of Fine Art - Part 2
This course will give students a better awareness of Fine Art discourse.
Focus is on vocabulary, critical structures, reading and speaking about theory.
Online courses
Academic Language Skills
You can study English anywhere and at your own pace with Language Development online courses. Our online programme will help you with skills for speaking, reading, writing and listening. Subjects include:
Seminar participation, group work and presentations.
Interacting with different departments and staff members.
Preparing for and attending lectures and note taking skills.
Effective academic reading and research strategies.
Academic writing skills and referencing conventions.
Log into Moodle to access these courses.