Twan Lentjes is a costume maker and digital embroiderer who graduated from Wimbledon last year. Since he left, he has been working non-stop, making costumes for the film industry and the Royal Opera House.
Since the Coronavirus crisis began, Twan has been using his considerable sewing skills to work with other Wimbledon costume graduates to make scrubs for local medical workers, and has also turned his hand to making non-medical protective masks out of beautiful, decorative fabrics for the public to buy.
We spoke to Twan about how he started making scrubs, what he has been working on since he left Wimbledon, and his thoughts about how the Coronavirus crisis might impact his industry.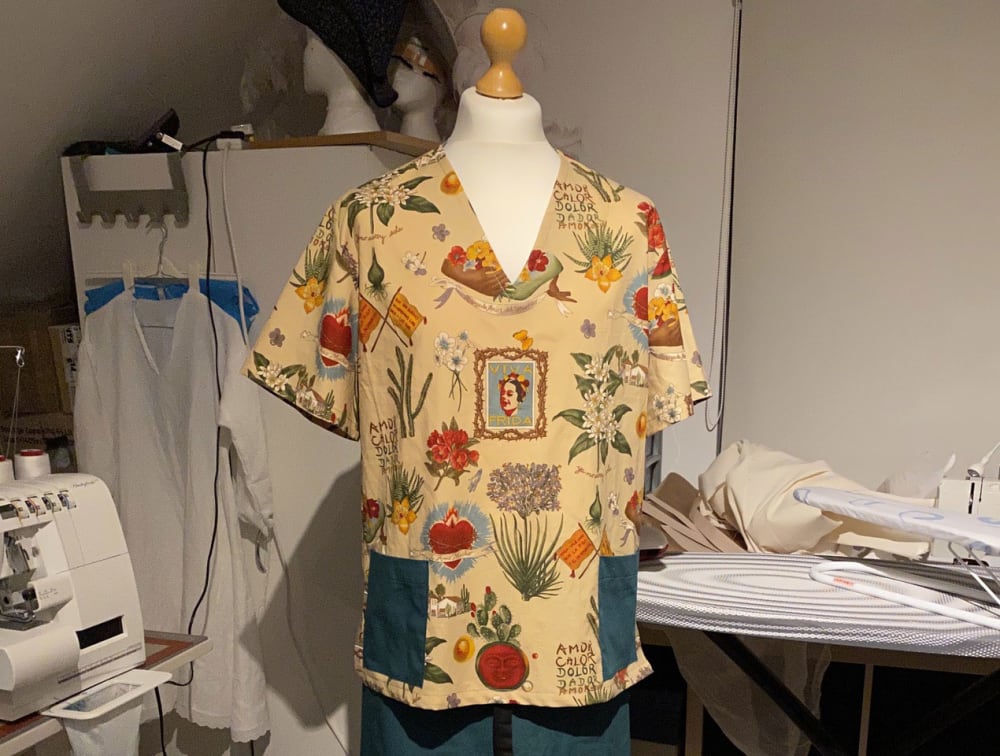 How did you get involved in making scrubs for the NHS? On Instagram you said that you were working with some other costume designers on this project. Can you tell us more?
The brilliant maker Madeleine Fry, who also studied at Wimbledon, approached me about making scrubs for GPs in our local area. They don't normally wear scrubs, so have no access to NHS supplies and no budget to buy them with.
We started off with the Nelson Medical Centre, which is located just 100 metres from Wimbledon College of Arts, and have now supplied scrubs, hats, masks and washbags to 9 GP practices in total as well as a Covid-19 'hot clinic' where GPs offer face-to-face treatment for patients with Covid symptoms.
Madeleine has donated a lot of her fabric stash to the project too, which included some really fun prints. They really liked the colourful scrubs they were given and said they helped to brighten things up for staff and patients alike.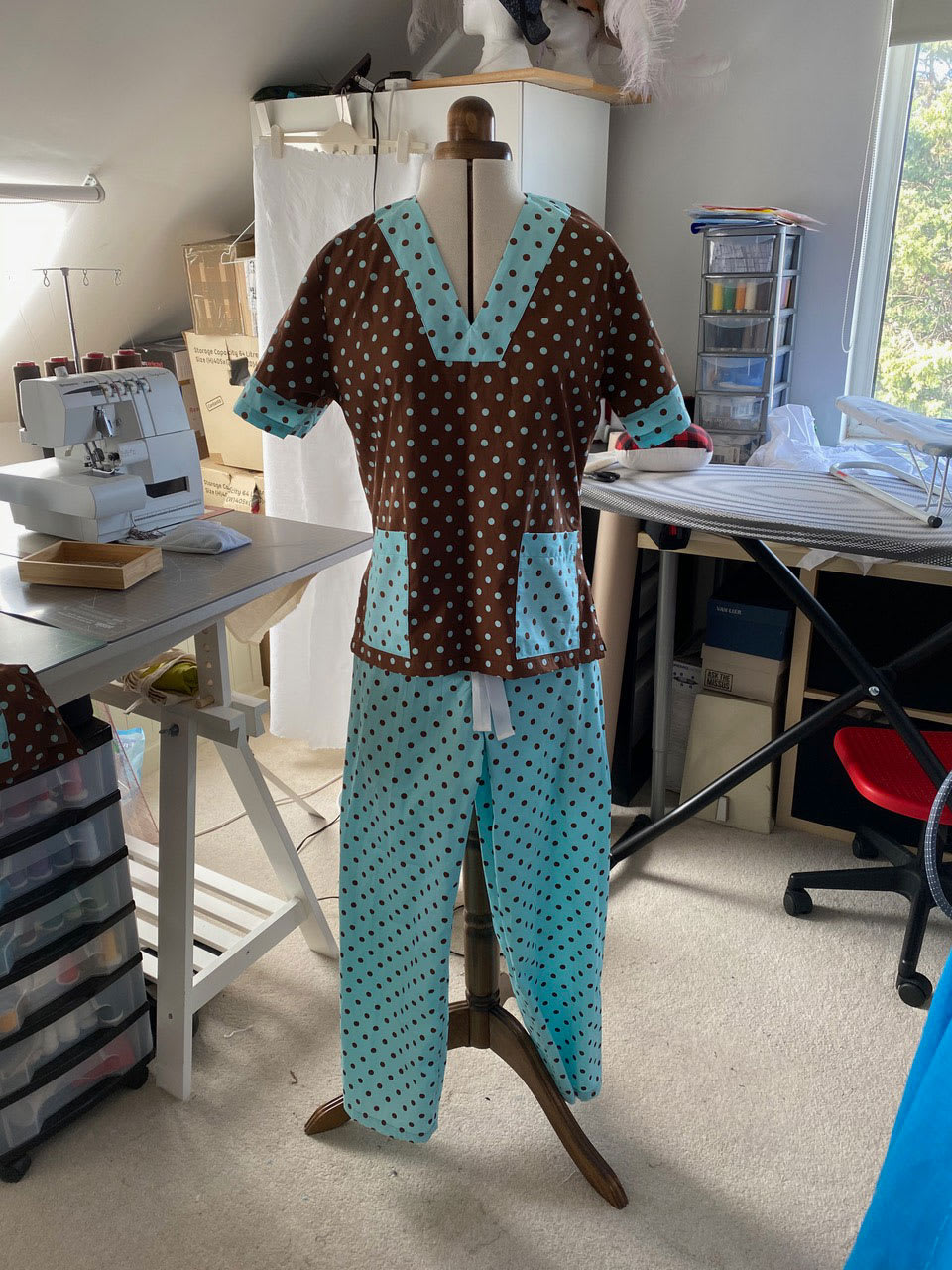 Quite a few fellow BA Theatre and Screen: Costume Interpretation (now BA Costume for Theatre and Screen) alumni including Popi Wilson, Hannah Curtis, Julian Taylor are still living in the area and were also very eager to help. Jenna Miller also got in touch and, as well as making with us, arranged a funding scheme with the Wimbledon Sewing Machine Company so that people could buy us 'virtual' fabric – this meant we could then choose to buy exactly what we needed, when we needed it, and it kept the money in the local economy.
We had a large donation made by alumnus Sarah Bowern via the funding scheme she set up on behalf of the costume department at English National Opera which raised over £25,000. As a result of this scheme, rolls of fabric for scrubs have been sent to freelance-makers all over the country, many of whom are also Wimbledon alumni.
Jamie Attle from Attle Costumiers also very generously donated all the scrubs, nurses' uniforms, gowns and polo shirts from his costume hire stock to a value of over £6000, and that has been sent to local care homes and a hospice, as well as the GPs.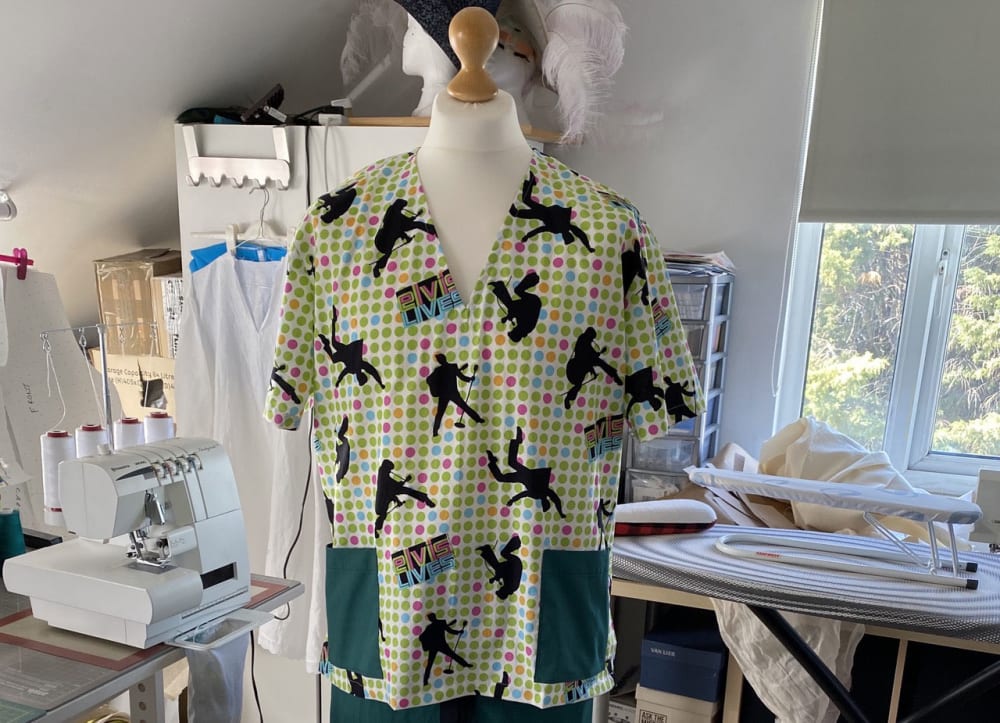 You are also making masks – can you tell us about that?
Since a lot of people are starting to wear masks and countries around us are forcing people to wear them in public transport and other public areas, I thought I'd jump on it after not willing to do so for a long time.
With clear statements that these are non-medical I felt a little bit more at ease to start selling. It will hopefully also generate a little bit of extra income.
The masks are reversible and open on the sides, so you can add in a filter layer and it has a hidden nose wire.
What have you been working on, other than this, since you graduated from Wimbledon last year?
To be honest I haven't stopped since I left! I have worked for quite a few individual makers such as Madeleine Fry, Roxy Cressy, Will Skeet and Jamie Attle and then I worked for 3 months on Cruella (Disney, 2021) which tells the story of the Cruella De Vil character before she appeared in 101 Dalmatians.
After that I worked on the film Venom 2 for a few weeks, before working on Fidelio for The Royal Opera House. I was asked to provide the waistcoat embroidery for Jonas Kaufmann and I also got to make some other pieces which was all extremely exciting.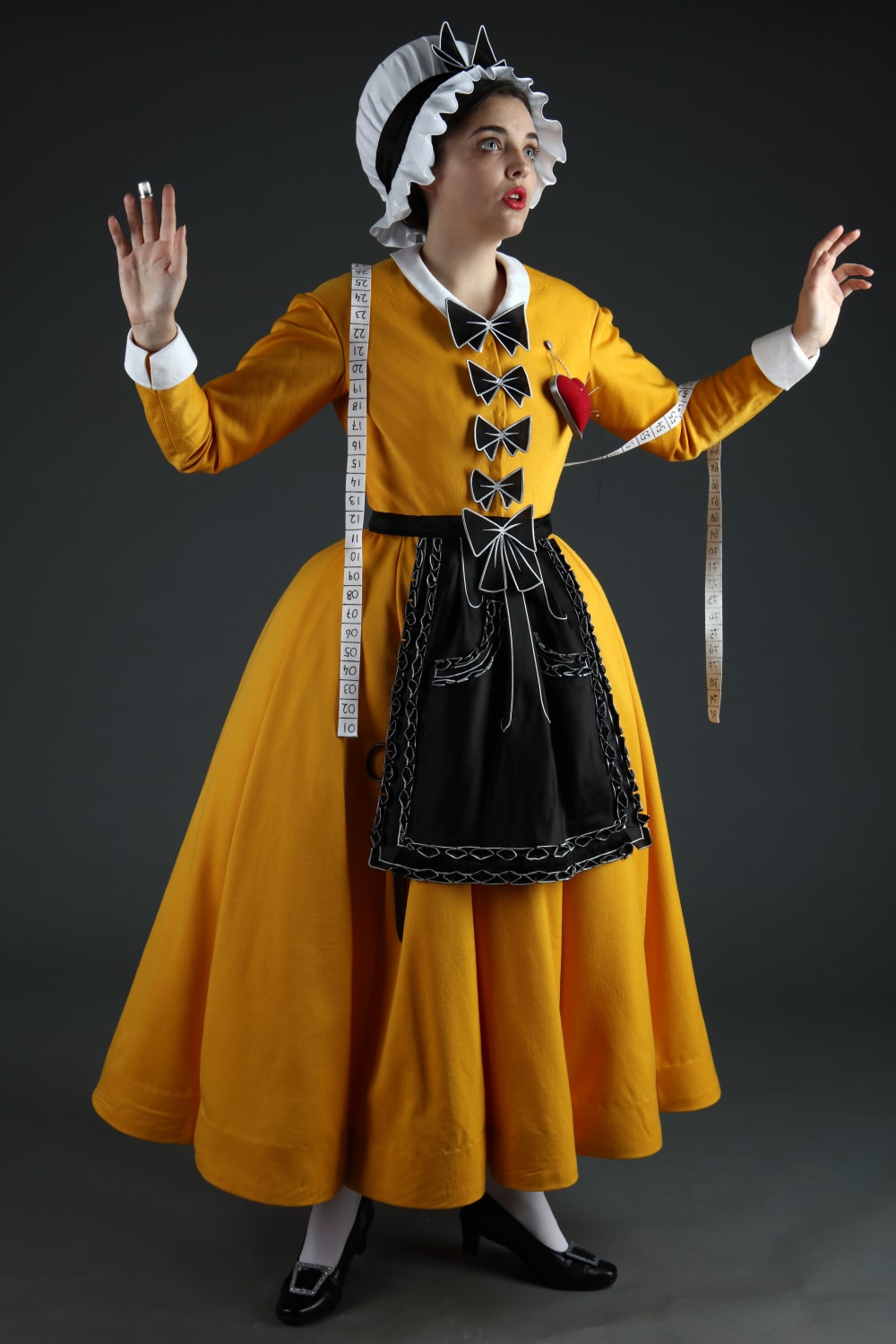 Have you been able to continue your work during lockdown? How have you found inspiration during these difficult times?
I've not had any paid work since lockdown. Because of social distancing, I won't take commissions for items that need to be fitted. So instead, I dug out some fabric which I bought years ago to make a village costume for the character Belle from Beauty and the Beast for fun - my mannequin is very happy not to be naked all the time (also it's not finished!).
I also tried doing some embroidery designs, but without a machine to test the designs it's not very easy to keep going. Then I worked on the scrubs.
After that I had a bit of a dip, without any motivation to do anything. I think we all have those moment during this lockdown and I allowed myself to have it. It is ok not to feel motivated all the time.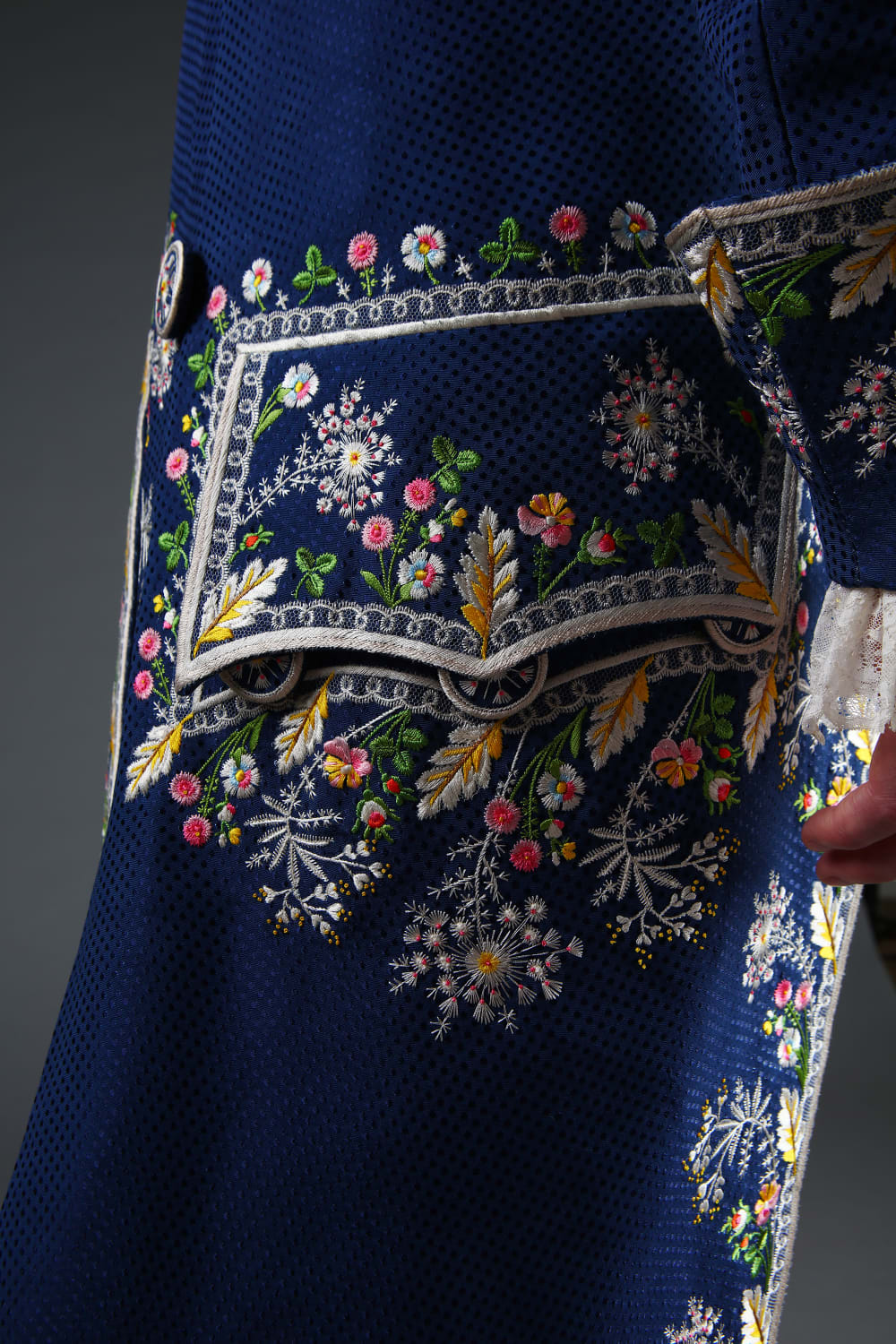 What impact do you think the crisis will have on your industry, if any? Do you see it changing as a result of the ways you have been working during lockdown at all? What are your hopes for the future?
Where to begin? The film and theatre industry, I think, have been hit hardest by this and will take the longest to recover. There is talk of starting up filming again with social distancing in place – but anyone who's ever worked on film knows this would be difficult. I'm thinking about makeup, sound, costumes… all these jobs involve a lot of close contact with the actors.
Many theatres can't put on any shows until it is a large number of people are allowed to be together in one space again.
My hope is that I will be able to get back to work soon. I am not very good at working on my own from home. I like to be around people.
But one of the great things that has come out of the scrubs-making project is that, in working together as a group of costume makers, we have all broadened our network of contacts, which will hopefully help in finding work when this is all over.
Madeleine specialises in opera and ballet, Jenna works in film, and Jamie does a lot of West End plays, and we also have the ex-head cutter from the Royal National Theatre and a senior costume supervisor from the Royal Opera House on the team, so it has been great to talk about the industry to people who have been in it longer, and share our experiences of studying at Wimbledon at different times.