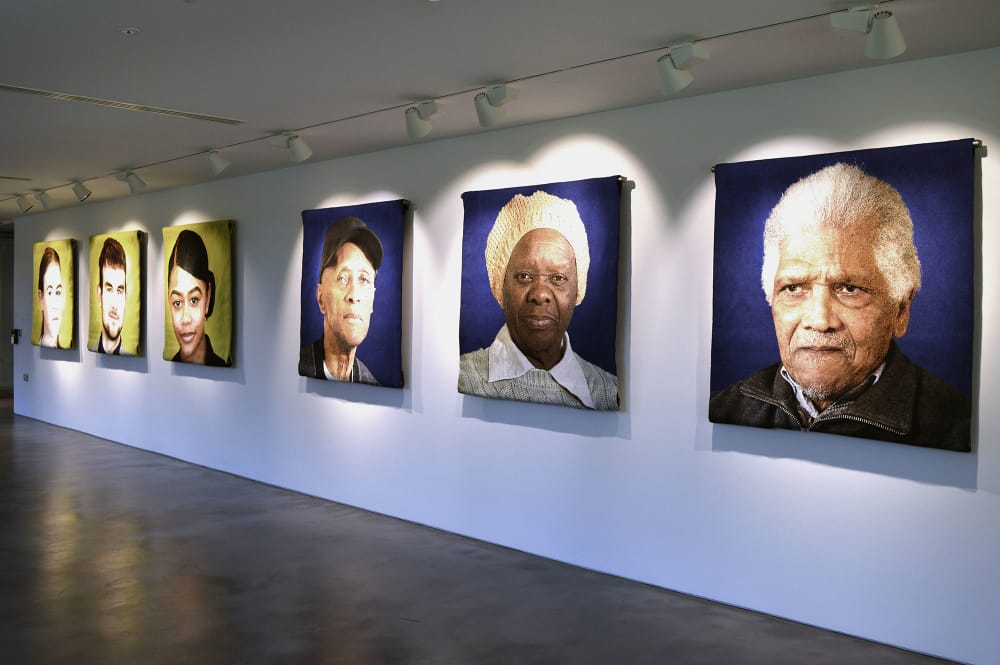 Selected by Hew Locke, artist Faisal Abdu'Allah collaborates with the local community in and around Camberwell College of Arts
6 March - 14 April 2018
Working with Bishop Thomas Grant School in Streatham, and Golden Oldies elders project in Walworth, as well as with students from Camberwell College of Arts, and photographers Kristóf Szentgyörgyváry and Mike Whelan, Abdu'Allah has created a dynamic exhibition that explores what it means to be part of a community.

The exhibition includes a new series of Jacquard woven tapestries made in collaboration with the Magnolia Editions, California and their mill in Belgium, depicting members of the community groups.
The tapestries are presented alongside materials generated by the community groups in various printed and ephemeral forms, creating a shifting repository of thoughts, stories and images that will gradually populate the gallery over the course of the exhibition.
The exhibition invites questions about the role of high and low print and craft techniques in influencing perceptions of the messages presented.

The exhibition will features a new film made by Vic von Poser (with thanks to Autograph ABP and the Arts Council) and publication including an essay by Dr. John Baldacchino, commissioned especially for this occasion accompany the exhibition.

Faisal Abdu'Allah is an acclaimed British artist and Associate Professor of Art at University Wisconsin-Madison. His work has been shown at Tate Britain, The National Portrait Gallery and Chisenhale Gallery.