Your creative future starts here:
Story
Work in progress: MA Interior and Spatial Design
Written by

Grizelda Kitching

Published date

26 March 2021
Share story

Our current MA Interior and Spatial Design students will be completing their course later in the year. Studying mostly virtually, due to the pandemic, these students have shown real perseverance and creativity as they continue their work in unexpected circumstances.
We caught up with 4 students to find out about how they came to join the course, and what they are currently working on as they prepare to exhibit their work at our UAL Graduate Showcase 2021.
Aia Sakr
Before coming to Camberwell, Aia studied a degree in Interior Architecture in Lebanon, followed by working in the Interior Design team at an architecture firm. After a year of producing mostly luxury residential work, Aia wanted her work to have more depth and impact.
Aia describes her practice as politically, socially, and economically motivated and aware. Her aim being to subvert expectations and allow for new perspectives to emerge to make an impact.
"As my country was going through a hard year, dealing with nationwide protests our corrupt government and a (still ongoing) economic crisis on top of COVID-19, I found the MA Interior and Spatial Design programme and knew I had to apply."
"My project focuses on addressing the buildings destroyed due to conflict and how the trauma can be addressed. It came about after having experienced the port explosion in Beirut in August, brought on by the neglect and inadequacy of the country's leadership, and the subsequent effects the event had on the city."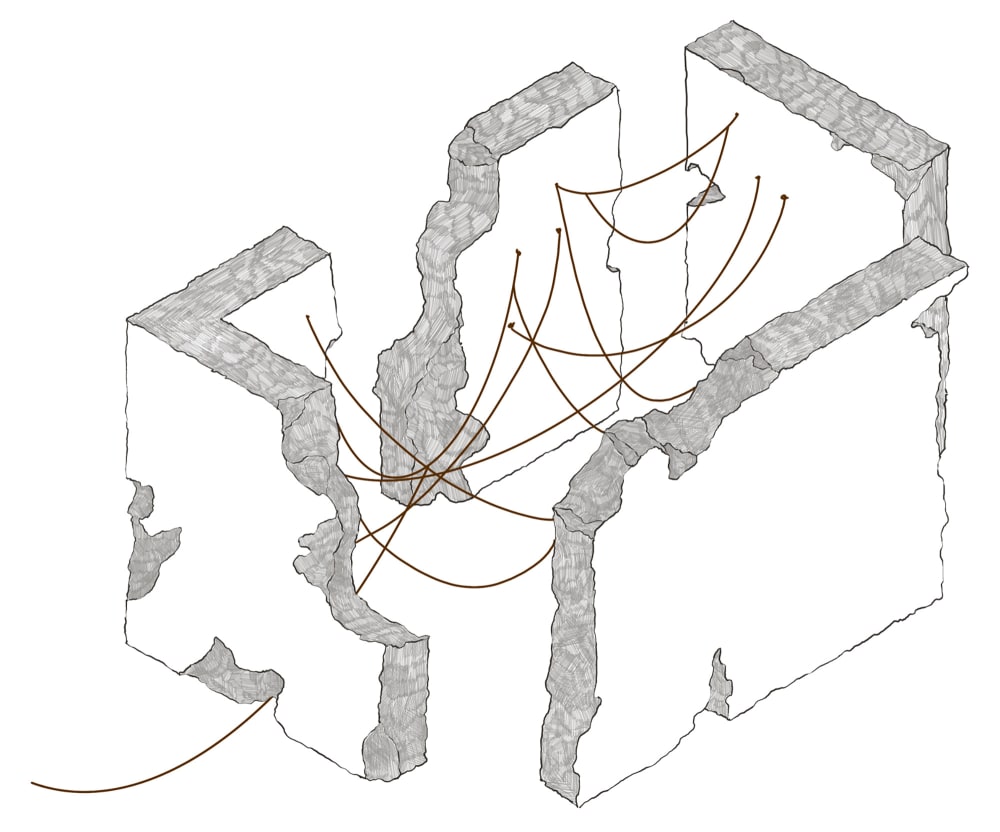 "Studying on this course has evolved my practice by pushing me harder and further than I could have ever hoped. It has taken me out of my comfort zone and allowed me to study areas and topics I wouldn't have thought myself attracted to upon first joining the program."
"Being supported and surrounded by like-minded creatives has been a source of inspiration, intellectual debates and conversations. It's allowed me to question my own ideas to evolve them into the best versions of themselves in the quest of creating a well-rounded project."
Maria Garcia
Maria, a former London College of Fashion student with a background in the fashion and retail design industry embarked on the course for the opportunity to grow out of her comfort zone and to develop her skills further.
Her project, titled Geometry of Lights: MEMORYSCAPE, explores the concept of architectural details within a branding concept, focussing on how light and shadow lie in the act of construction.
"When the notion of space, transparency, lightness and darkness, solid and void enter a symbiosis, the structure is the geometry, and the light is the movement. Both symbolise the space."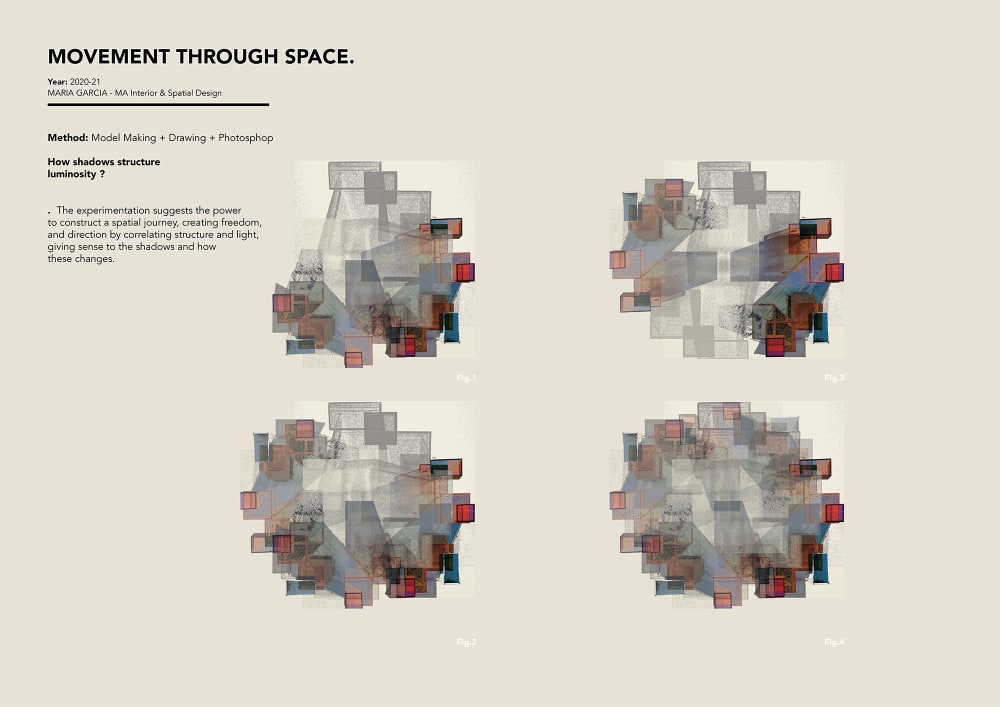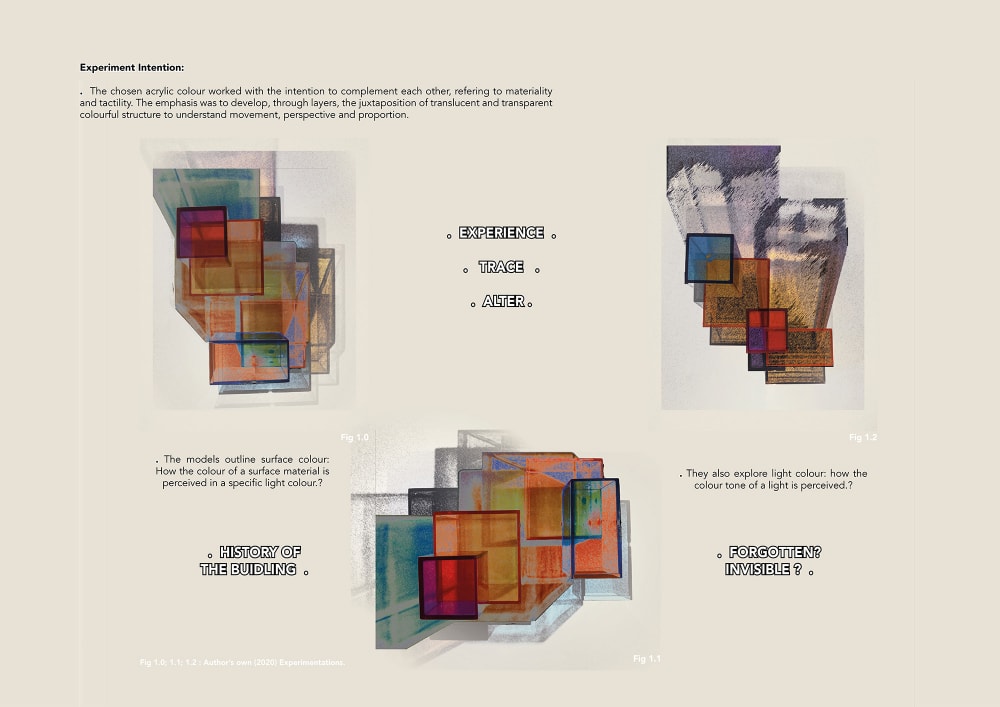 Joseph Murphy 
Joseph applied to the course straight after completing his BA in Interior and Spatial Design describes this as "a natural yet challenging progression to further the refinement of my practice."
"My process often begins by just making a mark. I am interested in materiality and find the most compelling moments in my process when form and material meet, often informing one another's development."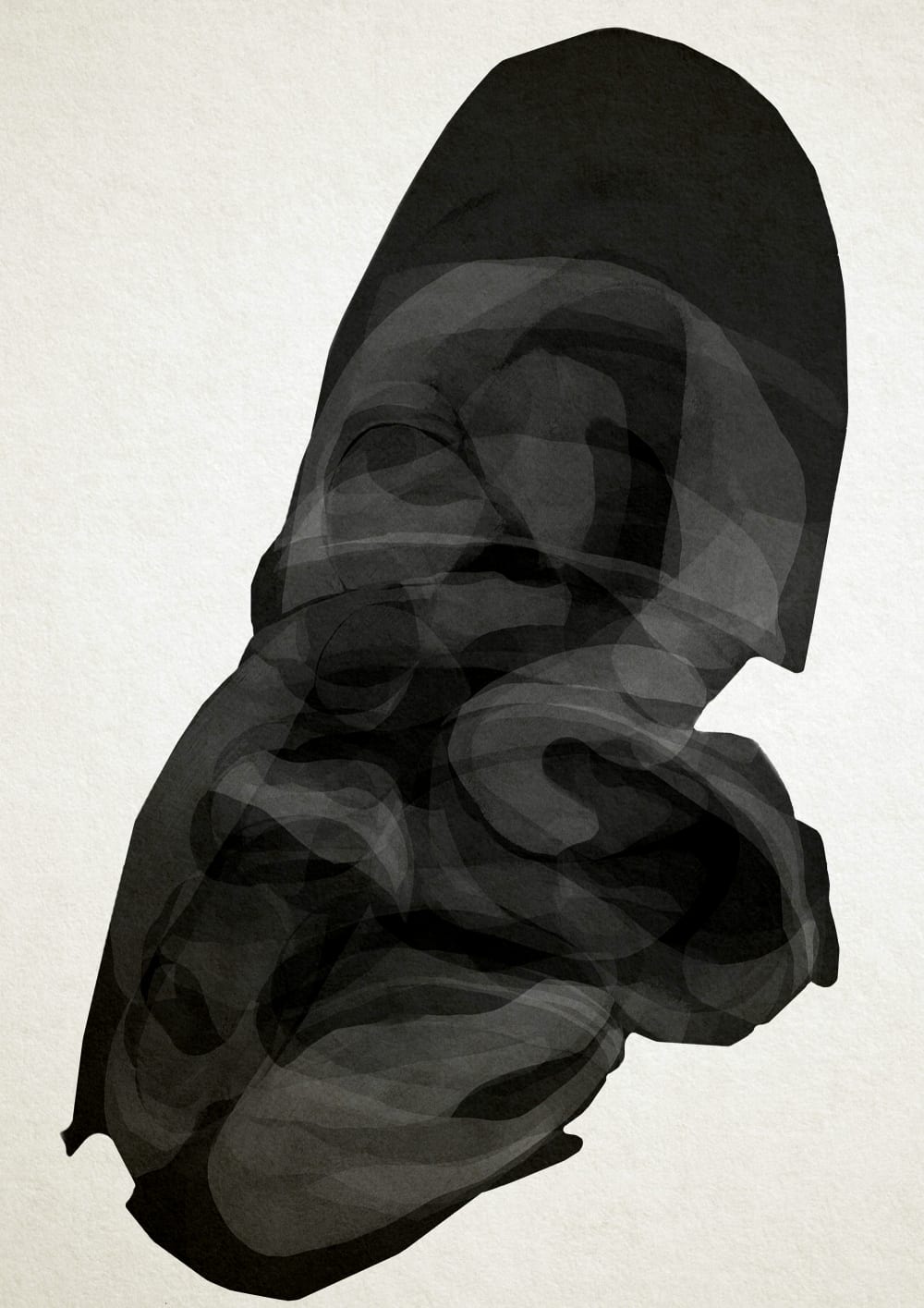 "We use shadows to judge the shape of objects in their environment because shadows reveal much about an object's extension in space. By layering atop one another the shadows become ubiquitous echoes of past and present."
"The absence of the physical doesn't mean the absence of place as the memory lives on through the shadows cast. By bringing the past and future to now a visual vibration of 'nowness' is created through the representation of the memory of place."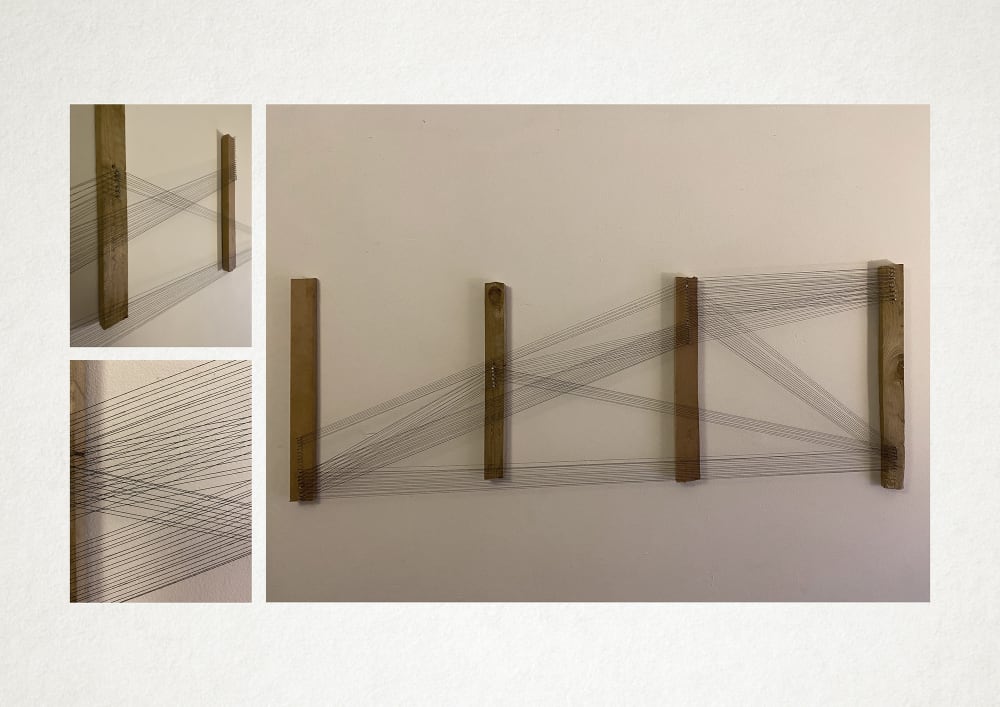 Annie Baxter
Annie's previous creative education lies in graphic design. Initially developing an interest in architecture through a typeface project, she chose to progress onto an MA in Interior and Spatial Design. Throughout this course Annie has enjoyed merging the handmade with digital processes.
"Initially I started with pen sketches as it helps to show the sometimes not completely sensible or quantifiable objects/forms in my head; it allows me to present to others what I envision or cogitate. Moving into more detailed sketching through pencil drawings, I then explored the forms in a digital format (both 2D and 3D) to illustrate and expose the underneath, the wireframe, or the skeleton of the structures."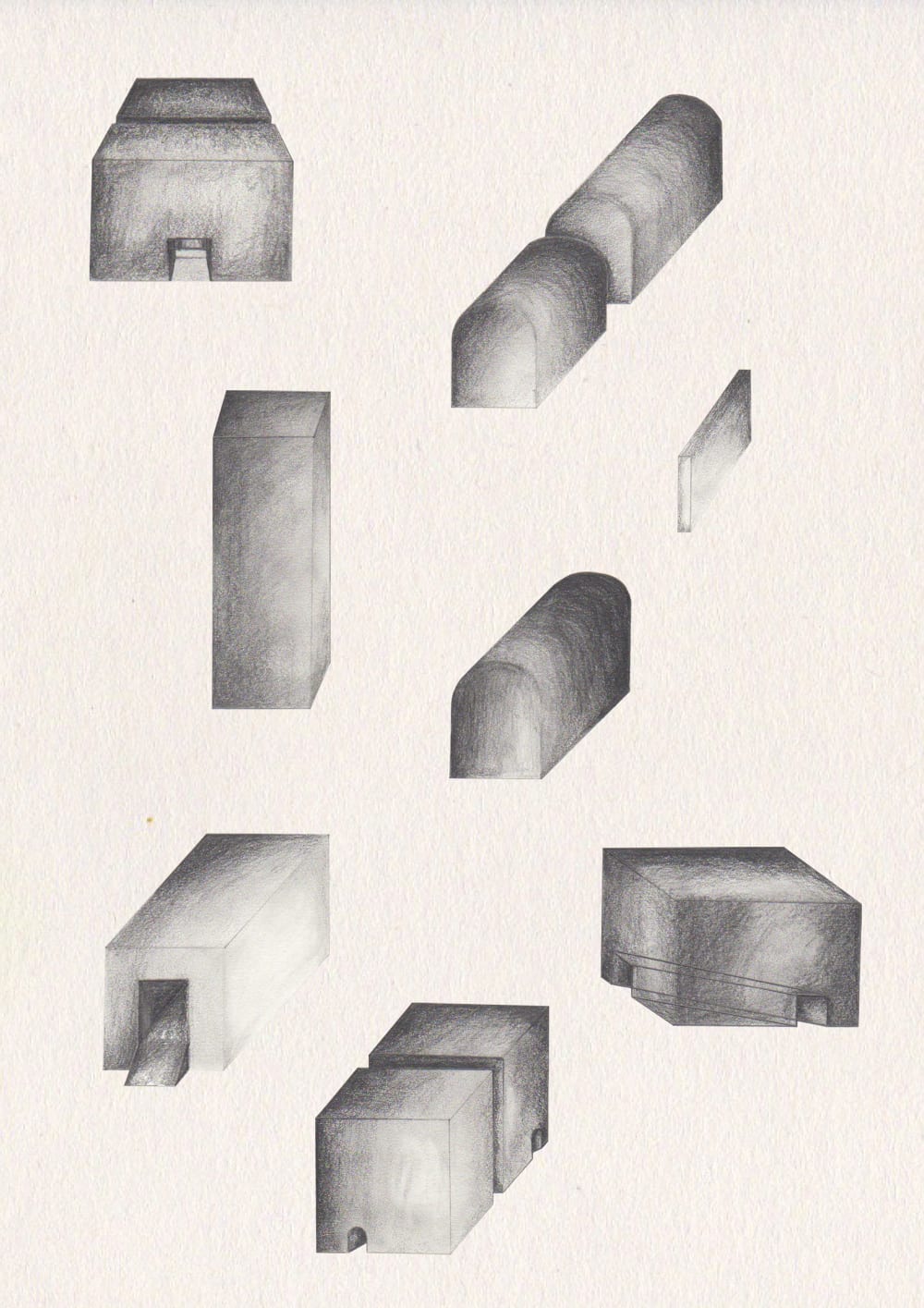 "Once this was visualised, I subsequently went into exploring them through clay. Cutting into and carving out the forms from blocks, this was to represent my current ideas and explorations of carved transitional space and in turn how we can inhabit the split or the in-between of an entity."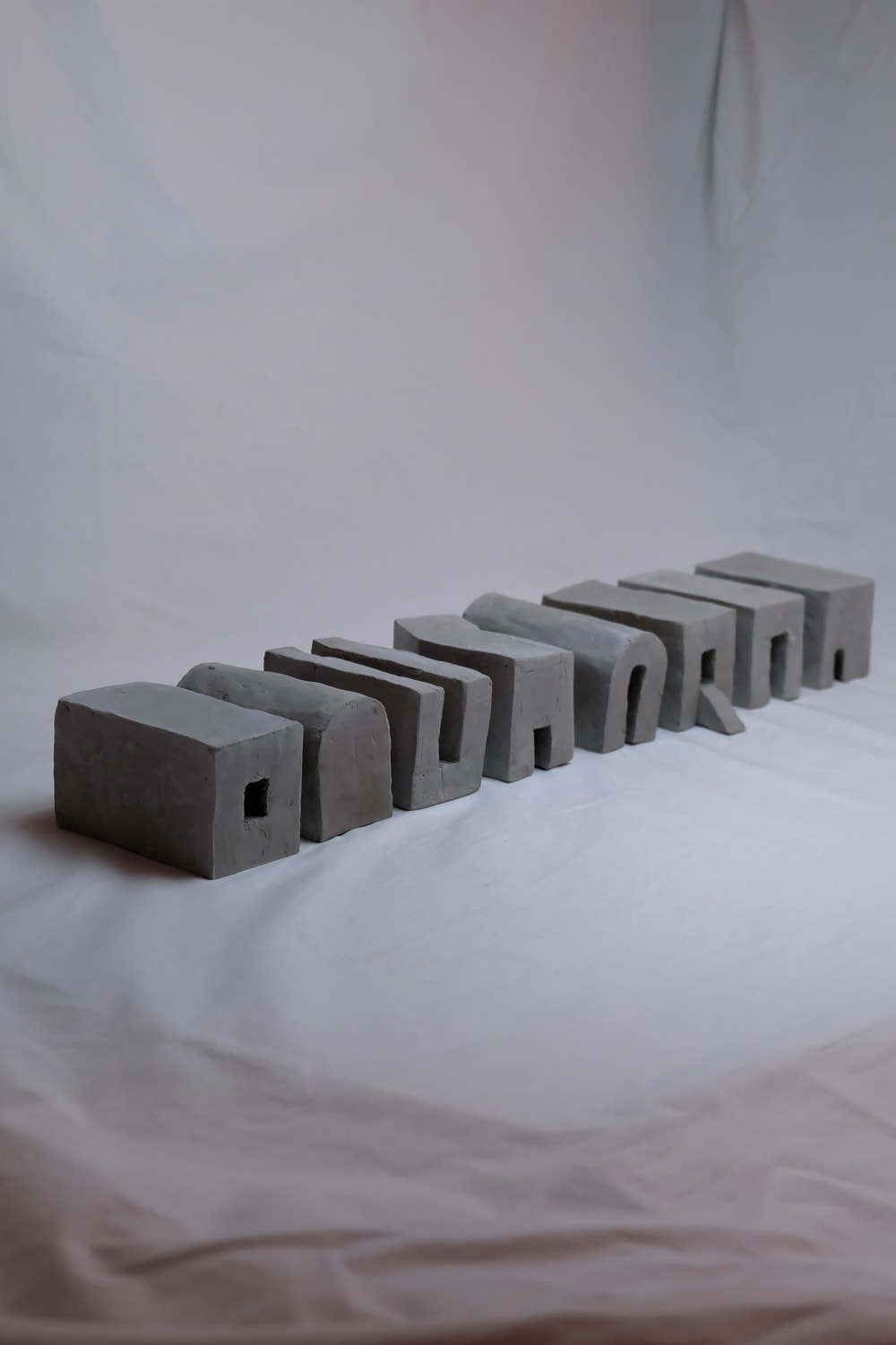 "I have also presented all text in my portfolio as 'carved into' or 'cut out of' as I am also exploring how emotive text can work alongside and compliment my design. With this I have begun to consider how we can afford new forms of continuity to urban life and lessen this feeling of spatial segregation within such setting."
See more of Annie's work on her website