Short Course
Art and Design for 16 to 18 Year Olds Online Short Course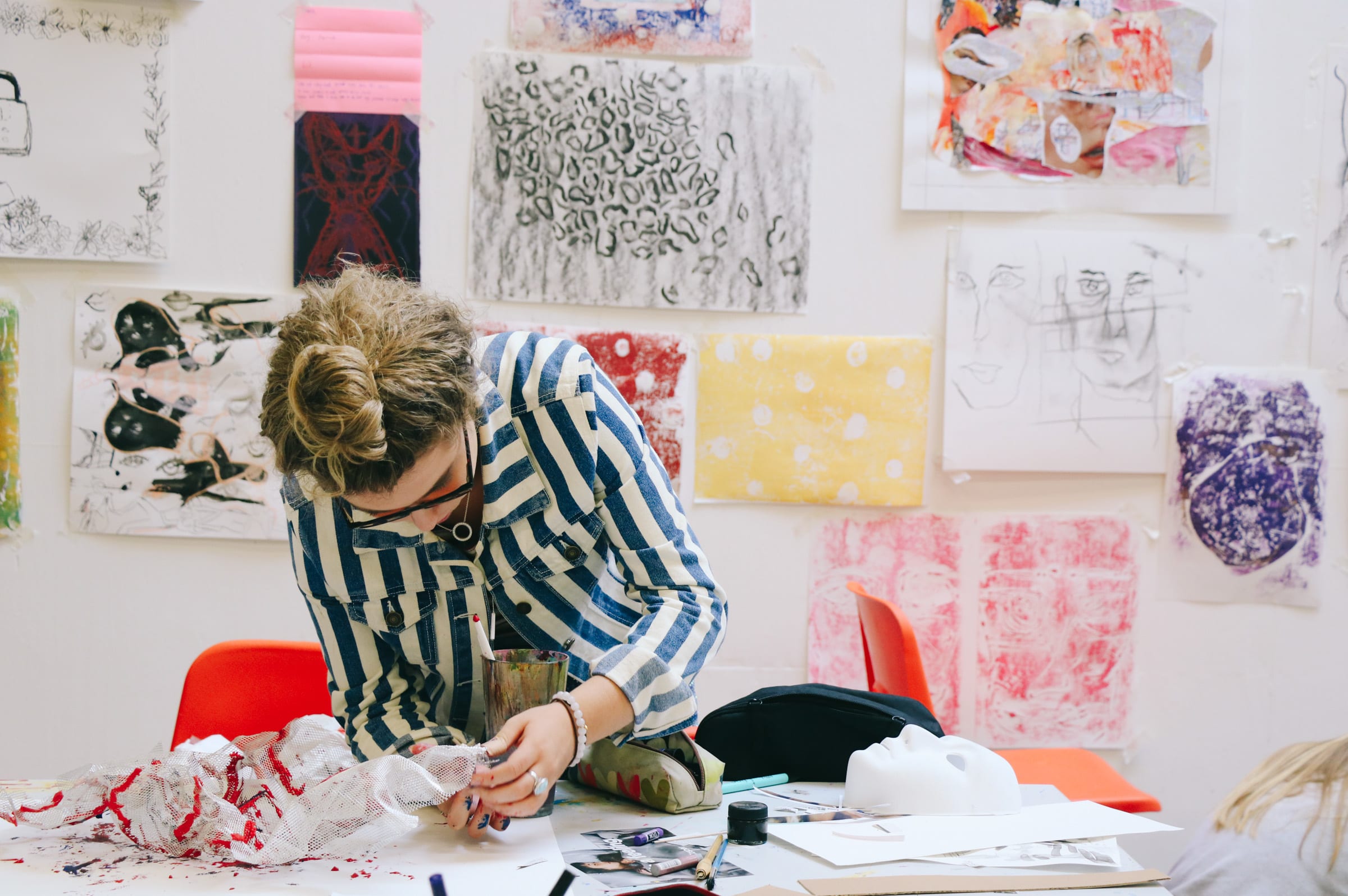 College
Central Saint Martins
This online course will help young art students strengthen their portfolios, gain confidence in their abilities and engage with experimentation and generation of ideas. Several areas of fine art will be covered.
Course description
This online course will help young art students strengthen their portfolios, gain confidence in their abilities and engage with experimentation and generation of ideas. Several areas of fine art will be covered. You will be free to approach your projects in the way you choose and focus on your areas of interest, such as painting, drawing, photography or illustration.
You should expect to find the focused studio atmosphere an inspiration. Some use this experience in order to help them decide on future study choices. Advice on how to produce a portfolio of artwork and its presentation will be available.
The course encourages experimentation and the development of a critical approach to the work produced. As you gain more confidence in your abilities, you will be encouraged to take greater control and responsibility for the direction of your work.
Who should take this course?
Students with an interest in art and design, including complete beginners
Those who have recently completed a GCSE in art and design, or those studying art at 'A' of 'AS' level
Students aiming to apply for study art and design at foundation level
International baccalaureate students aged between 16 and 18 who need to be better equipped to apply to a foundation course
Students already on a foundation course who want to improve their portfolio for degree application.
Clear, easy to understand lessons:
Our tutors will explain in easy to understand accessible English, if they use any special terminology we make sure they explain what it is they mean.
New methodologies will be explained to you in a way that's clear and easy to understand.
We even include live demonstrations of particular techniques so that you can see exactly how things should be done.
We also offer a bunch of learning resources for you to access outside of the live lessons. This allows you to ensure you are up to date and you can practice and review the things that are important to you. Practice makes perfect after all!
Live interactive classrooms:
We like to do things the right way, that's why all of our online classes are live
Expect live interaction with your classmates from around the world, our students come from far and wide
Ask questions of your tutor in real time
Receive feedback and critique on your assignments
Discuss topics related to your course in real time via your microphone and camera or if you're not feeling brave, in the chat box
A certificate of completion:
You've put the work in so we want to make sure you have something to show for it!
As long as you attend a minimum of 80% of your classes, we will provide you with a certificate of attendance.
However we always recommend you attend all of the classes so that you get the most out of the experience!
Certificates are a great addition to your CV
All our online short courses include:
Live online lessons with the same tutors
The same course content and learning outcomes as our face to face courses
Access to the virtual learning environment with course content
Forums for support
Please note that all courses are taught in UK time.
Online courses are closed to all new bookings 48 hours prior to the course starting.
Available dates
If no dates are showing then please sign up to our mailing list to find out about upcoming dates and new course developments.
Details
Topics covered
Observational drawing and research
A session where students will draw by looking at a life model (male or female)
Opportunities to work across a range of art materials and techniques
Advice on use of materials and methods
Research trip outside college in a museum, gallery or other location.
Materials
These materials are recommended for this course:
Drawing mediums
pencils (non-colour)
pens and markers (biros, fineliners, etc)
coloured pencils/ markers / crayons
Eraser
Pencil sharpener
Charcoal
Paper/card
A4 cartridge paper x 50 sheets (or sketchbook)
A3 cartridge paper x 10 sheets (or sketchbook)
colour paper
A4 Cutting mat or thick card for cutting with a knife
Collage
Masking tape
Glue stick
Paper scissors
Craft knife
Magazines / newspapers to cut up (or print outs from the internet)
Painting
Set of brushes
Acrylic paint in primary colours Red, Blue, Yellow and White
Watercolours
Inks (if you have them)
Paper or canvas for painting
Rags / tissues / pots for water etc.
Modelling
Paper, card, string, wire, recycling bin contents etc…
Recommended
Old clothing/apron for painting
Appropriate area for drawing/painting
Supervision whilst using craft knife/ internet searching
Technical Requirements:
Prior to the start of your course, please ensure you have:
An up-to-date web browser (we recommend Chrome)
Microphone and headphones (a headset with a microphone function is recommended)
Webcam
Strong Internet connection, we recommend a minimum of 2 Mbps download, and 1 Mbps upload, faster if possible. You can test your network speed here - https://www.speedtest.net
Pay by:

Contact us:
Central Saint Martins
Telephone

+44 (0)20 7514 7015

Address

1 Granary Square King's Cross London N1C 4AA
Contact

Central Saint Martins

Short Courses
Address
1 Granary Square
King's Cross
London
N1C 4AA