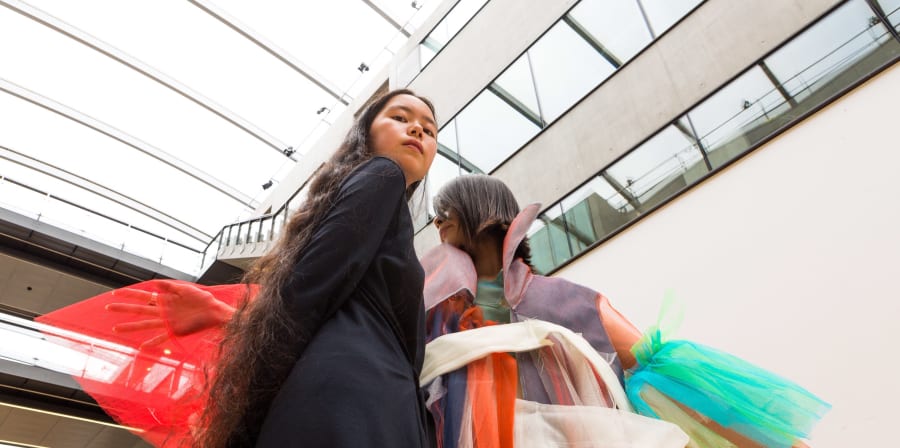 I believe studying abroad has broadened my horizons and I will definitely take what I have learned and experienced here in these 6 weeks back to NYC and moving forward.
What is your name, & can you tell us a bit about yourself?
My name is Vivian Li. I am a third year student studying fashion design at Parsons School of Design in NYC.
What course did you study on and why?
I attended the Experimental Knitwear course as well as the Advanced Fashion Design course. For the knitwear course, it was something I have never worked with (machine knitting) and it seemed like an interesting class, but also beginner level so I could learn the basics.
For the advanced fashion design course, I wanted to try and challenge myself at the highest level offered for the summer programs and immerse myself in a different way of working and thinking.
What did you enjoy most about your course?
I liked how students really get a basic and strong foundation of all the skills needed to work the knitting machines. And afterwards, the course was open and freeing to whatever you wanted to design/work with. The tutors really helped one on one with each student and would assist in whatever you are interested in making.
The advanced fashion design course really pushed my boundaries and introduced me to new ways of working and thinking that is very different from Parsons. I really enjoyed the challenge and working through the different ideas, and diving deep into my research to inform my design. I also loved the tutors and their support and guidance throughout the entire process.
They were extremely helpful and knowledgeable, helping every student with their process and journey.
How has this experience benefited your career and personal development?
I think studying abroad will introduce new ways of thinking and different rhythms in life than what you are used to. I believe studying abroad has broadened my horizons and I will definitely take what I have learned and experienced here in these 6 weeks back to NYC and moving forward.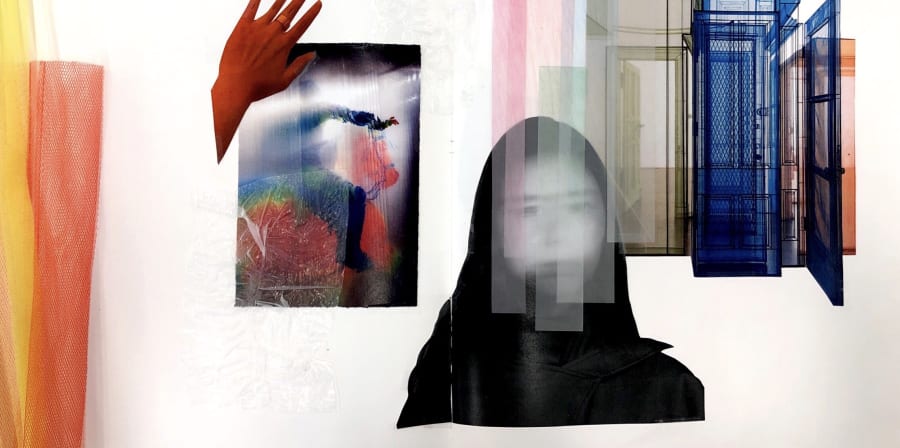 Why did you decide to come to London?
I originally wanted to study abroad at CSM for a semester during the fall, but the timing never matched up, so I decided to come for the summer. And looking at the list of courses, there were a lot of interesting ones, so I wanted to apply and see what happens.
What would you say to someone who is thinking about studying abroad at UAL?
I definitely would recommend it to someone, since it is beneficial to have a different experience and exposure to a new style of teaching and working while you are still a student. The tutors really care about the students and will push hard, which in turn makes you push yourself and produce good work.
What do you believe is integral to the work of an artist, in any discipline?
I think my time here has really exposed me to how important your process is. From the very beginning, the research and initial inspiration, to documenting your 3D experimentation, to looking through vintage markets or high end retailers like Dover Street, to sketching and fabric manipulation. It is easy to create a story and convey it to an audience when you keep a record and are able to layout and display this process so others understand your work. It is also good for any type of artist to look back and be able to note what they like to work with, their progress, and can generate new ideas.
Tell us more about what you created while you were here?
For my knitting course, I created two garments that were inspired from Japanese pottery and tea rooms. I liked one style of pottery in particular, kintsugi, and the idea of wabi-sabi, or finding beauty in imperfection. The predominant yarn I used was a chunky navy yarn (donated to the school) with other colors spun into it, giving it a soft and heavy feel to it. Another yarn I used was a clear, plastic one to create the illusion of a gap.
The technique I used was honeycombs, which is knitting and tucking up the yarns to create a rippled effect.
Finally, I combined the pieces and hand-embroidered the edges with a golden thread, to connect it back to my original inspiration. For my advanced fashion design course, I created a garment that was inspired by the many layers of identity that we have, and what we choose to show the world vs what we keep hidden. I loved the idea of working with transparency/translucency to create different effects. The entire process was rooted in my research and experimentation that I documented in my sketchbook. From draping with paper, to ironing the pleats for my tulle, to hand-sewing up to the last minute, everything about the course was fast-paced and rigorous, but it really pushed me to create something different and rewarding.