Inspired by a passion for sustainable design, Laetitia joined UAL as a PhD student in order to be at the forefront of the pioneering work being carried out in her field. Through her work with UAL's Centre for Circular Design and Post-Grad Community, she's had the opportunity to develop a strong academic network which has helped her build and strengthen her research.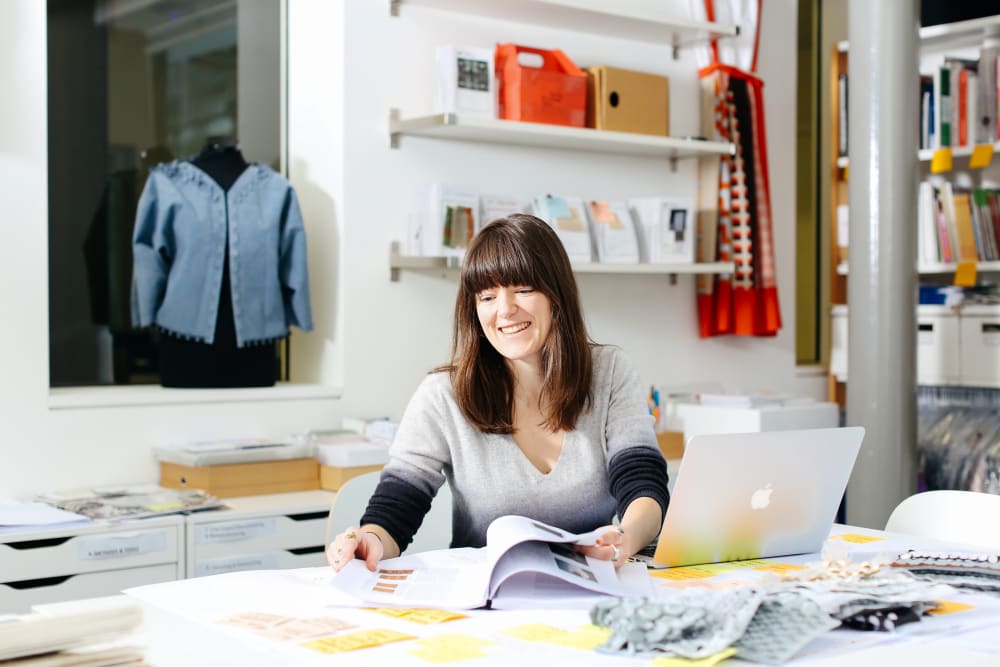 "I embarked on a PhD because I was passionate about design for sustainability. I wanted to deepen my knowledge in this field and explore how my textile design practice could contribute solutions to current environmental issues. Coming to UAL meant that I could be part of a research centre and a community that was already doing pioneering work in this field.
I've co-run the Circular Design Lab interest group and the There and Back Again symposium for the past few years, which are centred around the themes of my research. This has been extremely valuable, and it has helped develop a supportive community where we can discuss research ideas together. It's also been a great experience to put together events, talks and workshops to make our research available to a wider audience. The Centre for Circular Design and UAL's Post-Grad Community have played an integral part in supporting these projects.
Being a research student at UAL means being connected to leading research centres and academics across many fields. Being part of the Centre for Circular Design has opened a wide network in the area of design for sustainability and given me a lot of professional opportunities which I'm very grateful for.
At the moment I'm working on my thesis, so my days involve lots of writing! But it is often more varied. A typical day would generally involve reading and taking notes on academic papers, visually mapping the insights to feed into my research, making samples to test my ideas or working on a paper or presentation for a conference.
I expected the PhD journey to be rather lonely, but in fact I've become part of a vibrant community of researchers and students. The networks created by UAL's Post-Grad Community have been really helpful in this way. The newsletter they send out lets you know what students across UAL are doing and they've been so supportive of the projects I've been running. Thanks to this, I've been able to work on a number of collaborative projects that have been truly rewarding.
To get the most out of your postgraduate experience, find out about all of the opportunities available to you. There are so many training, exhibiting and connecting events across UAL to benefit from, alongside your course work. There are also a lot of funding options to provide support if you have an idea for an extracurricular project. Just get in touch with the Student Union or look up the UAL Post-Grad Community Project Fund!"
Laetitia Forst, PhD student
Camberwell, Chelsea and Wimbledon Colleges of Arts
You can find out more about studying on a PhD or MPhil course at UAL on the Research section of our website.