Story
Thinking through making
Written by

Post-Grad Community

Published date

10 May 2021
Share story

Written by UAL Post-Grad Community Ambassador Yulin Huang, MA Fine Art, Central Saint Martins
---
It was just last June (of 2020) when I graduated from the wonderful BA Painting course at Wimbledon College of Arts (WCA). Thinking of that time always brings me a great feeling of warmth and welcome. I was surrounded by the most friendly, open-minded tutors, technicians, and artists - their way of working greatly inspired my own creativity and practice throughout.
During my studies, I was going into the wood workshop regularly to make wooden panels to paint on - though I have to admit I I have an irrational fear of going into the seemingly foreign space, from the anxiety of not knowing how to do anything - a feeling shared by some. But one thing I absolutely love about the UAL workshops, and notably the Wimbledon one, is that it is a completely safe and supportive space. It was okay when you forget how to use a clamp, or break a drill bit (I have broken several). The technicians were there for you every step of the way, and I appreciated that immensely.
When I heard that the 3D lab at Wimbledon was hosting a series of online talks led by specialist technician Ashleigh Pearson, I was delighted and found myself joining every single session!
Screen still from 3D Lab Guest Session: Arantza Vilas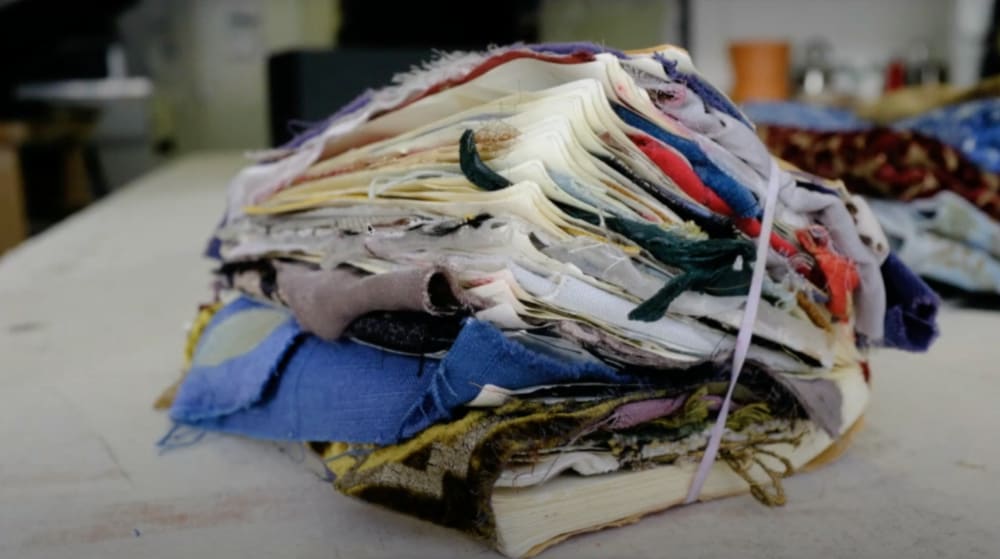 3D Lab Guest Sessions are online technical talks or collaborative workshops with external practitioners or our in-house technical team and are hosted by WCA's 3D Lab. We seek conversations that reflect the richness of thinking through making, technical research and development, and practical learning and teaching. We aim to provide a learning resource and an opportunity for connection through sharing making practice, across UAL and beyond.
— Ashleigh Pearson
Each event emphasises 'the richness of thinking through making'. I cannot stress how valuable these conversations are for anyone that feels like an outsider peering into this wonderful world of experimenting, fiddling, handling, thinking, creating, arriving at answers through the physicality of making.
The senses merge with material, the learning comes through confronting what you hold in your hands. This is where you find the beautiful nuances that only belong to you because you've dyed the fabric this way, or bent the paper at this angle. It is an intimate set of relations to think through making - and it is an honour to spend time with that material, to challenge every crevice that arises… It's through hearing about such diverse works from the remarkable guests so far that has made me realise this so clearly.
The talks felt like a warm, supportive breeze; reminding me of the three years I spent at Wimbledon. I felt right at home, strangely, like I was able to return to the college for a brief interval post-graduation. Ashleigh is the most phenomenal host and maker, from the introductions at the start of each session to the questions raised afterwards – the open discussions showered me with ideas that have been truly valuable.
The most recent session was held towards the end of April (2021) and shared the incredibly exciting practice of Textile Artist and Designer Arantza Vilas. Host and technician Ashleigh started the talk by reiterating the collaborative element in the exchange that occurs in these sessions:
…they are collaborative in a way, we want the people who come and share their work with us to have a mutual benefit of this time, a moment of reflection for them… we've had previous guests who have shared projects which weren't able to be aired during pandemic times… so there's been a real mutual benefit
— Ashleigh Pearson
Again, I felt this sentiment was wonderful and is much needed in these difficult times. Ash went on to explain that the talks aim to explore the principles that underlie our making practices, inviting artists that approach making in really intriguing ways and across several different disciplines.
Arantza Vilas works across film, theatre, design, food design, and more. "…it's almost endless… because there's a prolific focus on making, process, material, and materiality," Ash added. This session was also particularly eye-opening in the sharing of how the pandemic has impacted Vilas' approach to making.
Vilas' practice consists of self-initiated projects, commercial commissions, collaborations with people (including working on several seasons of Game of Thrones) and explains that she is much more interested in contributing to projects than filling up the world with more products.
Inspired by the passage of time, her work explores how time affects surfaces, recently playing with textiles and metal oxidisations. Her starting point is always 'thinking through making', by playing with material and processes with her hands. The hand is always present in the work.
Screen still from 3D Lab Guest Session: Arantza Vilas
Craft is very important to me. I like to understand and think about craft in the way that Richard Sennett describes it in his book The Craftsman, as an attitude, wanting to do what you do a little bit better each time.
— Arantza Vilas
Vilas went on to outline numerous projects – collaborating with costume designers on many tv series', discussing the similarities between making textiles and cooking by incorporating textile designs into chocolate, and creating gigantic insects for a boutique from fabric, fish bones, and feathers.
I could go on, but I'll leave you to watch it for yourself (if you haven't already). The final thing I'd like to highlight is during the Q&A where Vilas emphasised the value of 'unproductive fiddling'.
… I often say that I fiddle, I just fiddle all day. There are days when fiddling is very frustrating and it leads nowhere but you wouldn't reach a more interesting place unless you had had a day of unproductive fiddling…it's very easy to get stuck in your head, if you're just thinking. […] the process that works for me is much more organic and ongoing.
— Arantza Vilas
I felt greatly encouraged by this sentiment, and was reminded of the fact that there is always value in whatever you do in your practice. One 'failure' will always point you to the direction of another possible success - and that is a beautiful thing we have as thinkers, makers, creators and artists. All in all, I found great value in attending the WCA 3D Lab sessions.
Do make sure to check out the recorded sessions, and together we can anticipate future ones too. Wishing all a productive, insightful 'thinking through making' tenure. Happy fiddling!
3D Lab Guest Session: Arantza Vilas
Arantza shares her playful approach to the possibilities of textiles, materials and processes which has most recently led to research into colour from food waste and pleated electronic textiles affiliated to the Wearable Computing Team at UdK (Berlin).
Related Links:
WCA 3D Lab blog page where the recorded sessions are held.
To join their mailing list to be notified of the next session please email the team at wca3Dlab@arts.ac.uk with 3D Lab Guest Sessions in the subject.
Connect on Instagram @wca3dlab
---
UAL is home to more than 2,400 postgraduate students working across the fields of art, design, screen, communication, fashion, media and performance. Within our six world-renowned colleges, we aim to form a creative network of artists, designers and innovators.
Post-Grad Community is an inclusive platform for UAL postgraduate students to share work, find opportunities and connect with other creatives within the University and beyond.
Ambassadors assist with the platform's social media channels, help deliver and innovate sociable online events and act a point of contact for the Post-Grad Community across colleges and courses. FInd out more about the Ambassadors
---
A thriving online magazine of our postgraduate student voices sharing thought-provoking experiences, practices, thoughts and articles about what matters to them.
Download the PDF Guide to writing articles for Post-Grad Stories
Want to write an article? Get in touch with the Post-Grad Community team PGCommunity@arts.ac.uk