The Art for the Environment International Artist Residency Programme (AER) provides UAL graduates with the exceptional opportunity to explore concerns of the 21st century. One UAL student was selected to visit one of our partnering institutions; Banff Centre for Arts and Creativity.
Founded in 1933, Banff Centre for Arts and Creativity is a learning organisation built upon an extraordinary legacy of excellence in artistic and creative development. What started as a single course in drama has grown to become the global organisation leading in arts, culture, and creativity across dozens of disciplines. From their home in the stunning Canadian Rocky Mountains, Banff Centre for Arts and Creativity aims to inspire everyone who attends its campus – artists, leaders, and thinkers – to unleash their creative potential.
In this report, Flavia Tritto (MA Fine Art - Central Saint Martins) shares her personal experience of the residency:
---
I got accepted to the residency in Banff with the project of creating an immersive and interactive video installation, which I was conceiving as a development of the research I had carried out during my fine art masters course at CSM and that had led to my degree show work. I was aware of the Banff centre's incredible production facilities and I was committed to use them for my project.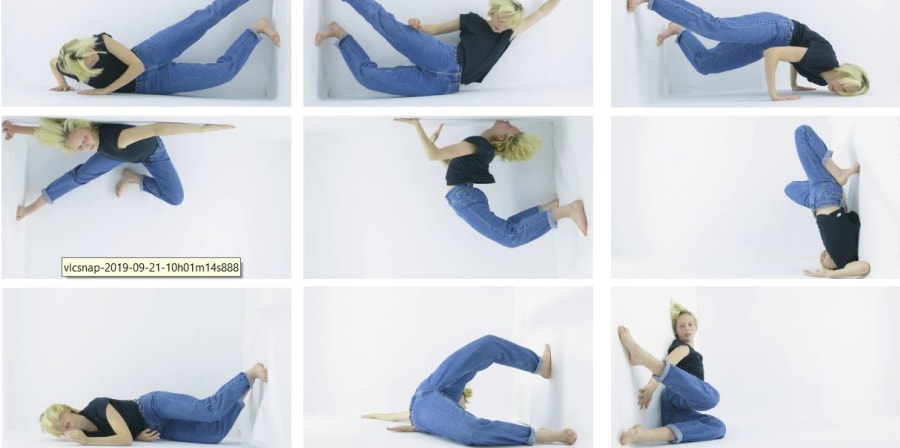 When I arrived, thanks to the support of the staff, I could arrange all my A/V equipment quite smoothly and I could then use my studio time to develop my research, experiment, and make my decisions on the development of the project. I explored different performative approaches to my images and video materials, which I projected on reflective, transparent and semi-transparent supports such as glass, mirrors and fabrics.
In the process of gathering my visual material and working with it, I started collaborating with two participants to the dance program, Katarina Nesic and Camille Taft. We worked together in my studio, filming their movements to create a video work that explored notions of space and body elasticity, and their relationship as mediated by the camera. I then used part of the footage in the interactive video installation that I had set out to realise before my departure, and that I showed, together with another video installation, at the final open-studio.
For this work, I invited visitors to take up a sheet of flexible mirrored acrylic and interact with the footage projected by a projector. In this way, they could modify, distort, show or hide the moving images analogically. By offering an unusual interaction with the digital image, I hoped to inspire a reflection on the status of images and on their tactility in the contemporary era.
I still have a lot of good footage from Banff to work on –not all of which related to the above-mentioned collaboration- from which I intend to develop a series of still images as well as some new video installations. In addition to this, I am going to continue working with Katarina in the south of Italy in fall 2019. We are planning to continue our collaboration creating work in response to the region's typical olive trees, developing our exploration of the relationship between space, body and camera as well as investigating the symbolic and evocative potential of the olive trees.
---
More about Art for Environment Residencies
In 2015, internationally acclaimed artist Professor Lucy Orta, UAL Chair of Art for the Environment - Centre for Sustainable Fashion, launched the Art for the Environment Residency Programme (AER), in partnership with international cultural institutions.
Open to UAL students and recent graduates (within 12 months), applicants can choose from a 2 to 4 week period at one of the hosting institutions, to explore concerns that define the twenty-first century - biodiversity, environmental sustainability, social economy, human rights - and through their artistic practice, envision a world of tomorrow.
Through personal research and studio production time the residency programme provides a platform for creative individuals working across various disciplines, to imagine and create work that can make an impact on how we interact with the environment and each other.
---
Related Links