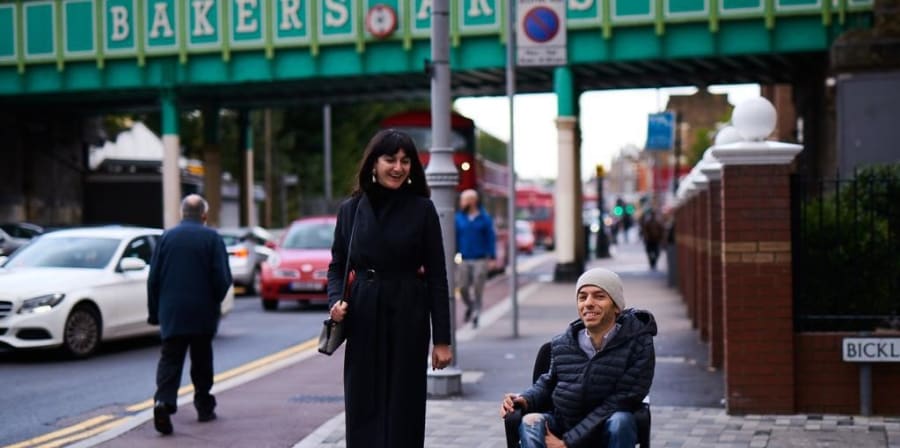 The Art for the Environment International Artist Residency Programme (AER) provides UAL graduates with the exceptional opportunity to explore concerns of the 21st century. One UAL student was selected to visit one of our partnering institutions; Waltham Forest.
"Making for Change: Waltham Forest" comprises a programme of community engagement, educational and design research activities grounded on the themes of makers, fellowships, and radicals, using fashion as catalyst for change in the borough, with long-term legacy.
In this report, Nicole Zisman (Fashion, Central Saint Martins graduate) shares her personal experience of the 2019 residency.
---
My residency at Arbeit Studios Leyton (hosted by Centre for Sustainable Fashion and Waltham Forest: London Borough of Culture 2019) was geared towards addressing the climate crisis through the lens of individual identity, acknowledging that the experience of climate change will hit different social realities distinctly. I employed community outreach and arts education within the borough to encourage participant artworks that both address identity, and remove pollutive objects from the environment, recirculating them into art and design.
During my BA Fashion course at Central Saint Martins and especially during my time working in the fashion industry, I've become aware that commitment to urgent radical changes in fashion systems must become absolutely intrinsic to any design process and future production. Artists and designers must build our practices according to the preservation of resources and natural environment. This inevitably involves an element of material research, because whilst we have relative awareness of the destructive implications that our hunger for the beautiful visuals from plastic-based, animal origin, resource-thirsty, nonrenewable materials, and our knowledge and sense of urgency to act is expanding, we don't have many truly sustainable material alternatives with which to keep creating.
I hoped that both through this residency and through the socially-engaged nature of my project, I could help kick start a lasting research effort through creative education in the Waltham Forest Borough and in my own career, to develop material and design solutions to our climate crisis, and rethink our model of creative education that relies on perpetuating old patterns, engaging minority participation and collaboration in the arts along the way.
I led an extended workshop in Waltham Forest at the recently launched Arbeit Studios Leyton. Waltham Forest is a highly urban environment, currently ranked 35th most deprived borough nationally according to the 2015 Index of Multiple Deprivation, with 48% of residents being from a minority ethnic background. The borough won London Borough of Culture 2019, and with it, a pot of funding to conduct for several arts and culture initiatives within it. My workshop involved testing a new system of creative education on a micro-scale in Waltham Forest, encouraging the residents to research alongside the artist.
The first step in kick starting the project was to give a lecture to community members (potential participants) outlining the role of fashion within the climate crisis, and emerging design techniques that are being tested at UAL, in London, and globally to combat the climate crisis and reformulate our production and consumption of fashion. Techniques such as up cycling old garments, using the materials already present on the planet (especially waste, such as plastic pollution and food waste) for fiber production, and use of biodegradables were covered in this lecture. Participating residents were given a fashion and a textile design brief to take part in alongside the artist, of which they could choose one to undertake.
The fashion brief addressed both cross-cultural collaboration and re-purposing, encouraging residents to collect garments that are significant to their identities and draping/styling them to create new imagery. No new "objects" would be produced (creating no waste as a result), and would promote and exhibit the cultural diversity and the variety of identities within the Waltham Forest borough.
The textiles brief focused more on material innovation, encouraging residents to use the materials around them in their borough to make images and collages for print, or 3D fabrics if they possess skills they wish to utilise. Materials could involve natural, biodegradable materials such as food waste from restaurants or material collected from bins at home, old clothing, etc.
Design topics could range from community issues to personal narratives to human rights, but artistic subject would be free and down to the participant. Focus on innovation of key behavior traits that future materials need to have would be encouraged, alongside visuality.
I was available in the studio at Arbeit Studios Leyton Green for individual project consultations at all times whilst I developed my own outcomes. At the end, the participant results and my outcomes were all curated together and advertised as a a community exhibition, titled 'So Let It Be Your Will.'
Twelve residents attended one of the three briefing lectures, and six exhibited in 'So Let It Be Your Will.' Most came in at least once for a brief discussion, and two participants in particular - Serdar Yusuf and Jennifer Oliphant - frequented the studio to receive conceptual advice and technical assistance. Both of these participants were especially adamant about answering to the identity-aspect of the brief, and undertook projects that were highly personal, poignant and productive.
Serdar developed a project that answered to the lack of clothing tailored towards people with limited mobility or physical disabilities, and cannot dress themselves in the same way as able-bodied people. He designed accessories, such as scarves that are shorter than standard scarves and adhere to themselves with either magnets or velcro, or a wrist bracelet that acts as a cardholder. We experimented with plaiting and fabric manipulation techniques using his old clothes or fabrics from the Forest Recycling Project.
Serdar did the best job of being diligent and proactive with his project, passionately seeing it through from start until finish and refusing to stop until he had achieved his set outcomes. Jennifer set out to create wigs and bras for breast cancer patients who have had either single or double mastectomies. This involved an engineering of prosthetic padding to insert into existing bras or bras sewn from scratch, as well as taking into account the specific structure of the bras that were necessary to accommodate this.
Jennifer did the best job of not buying any new materials under any circumstance - all materials for prostheses, bras and wigs were made entirely by re-purposing materials she had lying around at home, from old synthetic hair to her own scarves to discarded foam ironing board covers.
Likewise, participants such as Angelica Salazar and Alicia Whitfield did a great job of working at home in a focused and dedicated manner. Both produced projects that conceptually emphasized the climate crisis, whereas Serdar and Jennifer subverted their sustainable techniques. Angelica's was the most passionate cry for help, emphasizing her Colombian heritage and the deforestation disasters ravaging Latin America. She created performative masks out of up cycled fabrics from Forest Recycling Project, and showed stunning photographic images of them being worn within performance. She also exhibited a sound piece of Colombian music, some Extinction Rebellion-branded objects, and a drape she created with the masks in the stand.
Alicia exhibited her clever resourcefulness in her textile outcomes, which featured heat-shrunken crisp packets embroidered as if they were sequins, reclaimed fluorescent fabrics sewn into checks, and richly textural digital prints. Both Alicia and Angelica work with the Forest Recycling Project.
In my outcomes, I addressed two of my identity strata - my Jewishness and my manufactured digital persona - and visualised them against Centre for Sustainable Fashion's 2030 Future Scenarios: 'Living with Less,' 'Hype Hype,' 'Safety Race,' and 'Chaos Embrace' (Fashion Futures 2030). My presented body of work acknowledged the differences and inherent separateness in possible future realities the two personas (Chanah and Tramadol Baby) may soon face. Media used was film, photogrammetry, bioplastic, secondhand mannequins, and my own clothes.
In my crossing of Chanah with Safety Race, I looked at the action of walking, both within Jewish culture (as in walking during Shabbat and holidays to follow halacha, or religious law) as well as through the lens of forced migration (as in the journeys of my great grandparents from Holocaust-era Europe to Venezuela). My outcome on the stand involved draping and stacking most of my own clothes on the mannequin, constructing a compostable vacuum-seal bag around the sculpture, and sealing the clothes in, focussed on the idea of packing quickly and leaving with only the clothes on one's back. I also presented two portraits, dressed in my Shabbat dress, taken both at home in Manor House and in a hat shop in Golders Green, performing Chanah.
In my crossing of Tramadol Baby with Hyper Hype, I imagined Tramadol in a space where manufactured digital identities are the norm, where consumption and digital stimulation are high whilst mental health deteriorates, and the masses are able to play designer through digital construction. I draped some of the very same clothing from my Chanah outcomes on the stand and constructed photograms (3D scans) of the drapes. From these photograms, I created a film to be presented on my screen garment, and layered the lyrics from Kelly's Internet-hit song 'Let Me Borrow That Top' over the film. I also presented an image of myself dressed as Tramadol Baby at the gym (bringing the imagined into a real space) and a screen cap of Tramadol baby's Instagram account.
One of the biggest challenges on my end was time management, as I was working on my own outcomes, promotional material for the exhibition, and curation, as well as immediately making myself available to participants when they walked through the doors of Market Parade. I also realized how taxing being in a position of leadership can be, with all the fulfillment that comes with it. It forced me to place myself inside the minds of the resident participants to understand where they were coming from, what their worries and insecurities were, and how to overcome these.
I take forward the commitment to investigating what true sustainability is within my practice, in whatever capacity it progresses. I realised that the standards I imposed upon myself and my participants during this residency were honest and restrictive. There were materials and processes that I simply did not allow the participants to practice and exhibit, things I did not let myself dabble in, because they objectively should not be practiced. When I defined to myself and to my participants that "sustainability" means "able to be sustained," and not "better for the environment," I realised that it's not as ambiguous and complicated as the industry would have us believe. It's actually quite simple - it either comes from the soil and can return to the soil in its entirety, or it pulls pollutive objects from the environment and recirculates them into design. Anything else is just the industry's attempt to cloud our judgement and inject noise into our collective conscience so that it can continue doing what it does, and protect itself from falling into obsolescence.
I began this residency with the intention of guiding the community of Waltham Forest in rethinking identity within the climate crisis, and ended up rethinking my practice entirely. If I'm going to keep adding to the immense global pool of fashion or art objects, I have to be really careful about how.
---
More about Making for Change: Waltham Forest Project
Making for Change: Waltham Forest project was a partnership project developed between London College of Fashion (LCF) and Waltham Forest Council for London Borough of Culture 2019 and the Great Place scheme. Led by Dr Francesco Mazzarella (Post-Doctoral Research Fellow at Centre for Sustainable Fashion, UAL), 'Making for Change: Waltham Forest' uses fashion activism and making as catalysts for positive change in the borough, with the aim to activate long-term legacies.
More about Art for Environment Residencies
In 2015, internationally acclaimed artist Professor Lucy Orta, UAL Chair of Art for the Environment - Centre for Sustainable Fashion, launched the Art for the Environment Residency Programme (AER), in partnership with international cultural institutions.
Open to UAL students and recent graduates (within 12 months), applicants can choose from a 2 to 4 week period at one of the hosting institutions, to explore concerns that define the twenty-first century - biodiversity, environmental sustainability, social economy, human rights - and through their artistic practice, envision a world of tomorrow.
Through personal research and studio production time the residency programme provides a platform for creative individuals working across various disciplines, to imagine and create work that can make an impact on how we interact with the environment and each other.
---
Related Links