Story
Graduate Showcase Highlights: Kit Ondaatje Rolls MA Biodesign
Written by

Post-Grad Community

Published date

20 July 2021
Share story

Written by Kit Ondaatje Rolls, MA Biodesign, Central Saint Martins.
---
Q. Tell us about your work.
A. My work is inherently interdisciplinary as I specialise in environmental sociology and social anthropology, while my masters at CSM has been in Biodesign. While Biodesign integrates design with science, my work seeks to broaden this approach to also include the social sciences. Integrating numerous perspectives into design practice has been critical in the development and refinement of my final project, but also to me as an evolving creative. This multi-perspective, ethnographic approach is reflected in my final project as I move across industries conducting interviews, but also in the way I shift between scales: from macroscopic to microscopic, from human to non-human: working with, but not prioritising, the human perspective.
Q. Can you describe your work in this year's Graduate Showcase?
A. My final project is called Octopussy, which explores the manifestation of meat in relation to culture. In essence, I explored three different means of producing meat: fishing, aquaculture, and cellular culture (aka lab grown meat) in order to reflect upon the consumer cultures that drive their realisation. I did this through the lens of the octopus, an almost alien-like creature that has inspired strange, fetishised social cultures, of which I intentionally investigate in order to play upon the strange, fetishisation of meat cultures, predominantly cell cultured meat. I approached the new, interdisciplinary world of Biodesign via 'Critical Design', so my physical outcome manifests as an edible "cellular lingerie line" — lingerie made from cell cultured meat that I grew in the lab — that is not a product for mass consumption, but rather a prop for igniting curiosity and conversation around society's fetishisation of technological solutions to innumerable ecological crises. Our desire to do this is explored in my short documentary with interviews from key figures of the cultured meat debate which can be found on my graduate showcase page.
Trailer to my documentary Octopussy: Cellular Lingerie Line
Q. How have you found the process in producing your work this year
A. This year, the process of producing no doubt was limited by the circumstances. Covid meant that there was less room for spontaneity which I find pivotal to the creative process. The project had to be meticulously planned, and I found myself falling into tunnel vision quite early on in the project. But as soon as things were open, I spent as much time at uni as possible, working with different technicians for different aspects of the science and design process which re-opened up possibilities, ideas, and paths for the development of my project.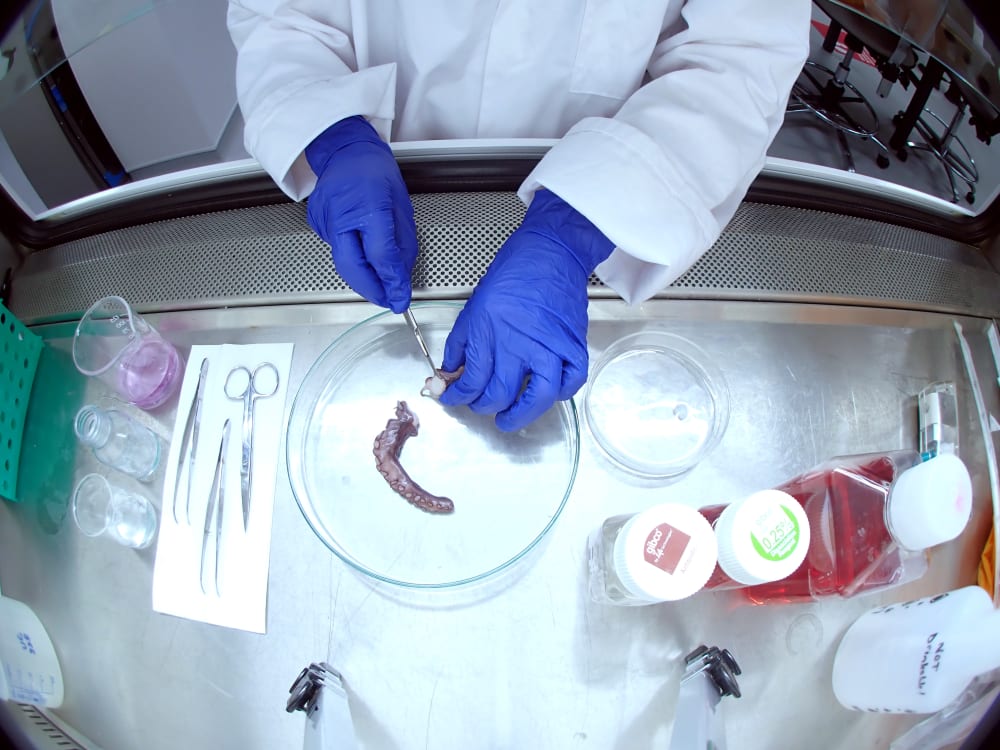 Q. Have you had to be creative under restrictions and a blended learning environment?
A. For sure. Covid essentially demanded that we adapt to the situation as best as possible, so I set up experiments, created new materials, conducted Zoom interviews, etc., from home. Further, my documentary required footage of Galicia, Spain but I'm UK based, so I had to coordinate with fishermen I knew to take footage with a go-pro I had sent them in the mail as I couldn't do it myself. It was exciting and satisfying of course when it all came together, and it really emphasised the need for communication and collaboration across disciplines, ages, borders, etc.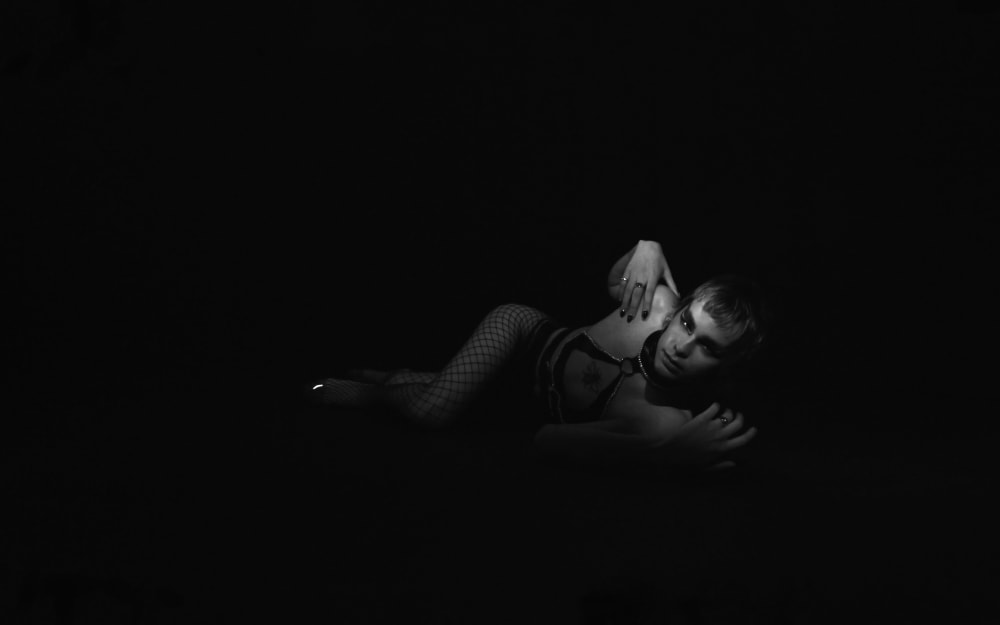 Q. Do you think the last year's experiences have been reflected in your work?
A. Hugely, especially in the documentary. I never would have gone about interviewing people for the documentary in the way I did if it weren't for covid. It meant that I knew people were open to talk over Zoom and so I reached out to far more people than I would have thought to previously! In the end I was in contact or collaboration with people from all around the world from the US, to Cornwall, to Spain, to Australia!
Q. What are your post-graduation plans?
A. Now that I've graduated the first thing that I will do is take a break! it was a very intense year, and I need to remind myself to slow down and not be doing-doing-doing all the time. I need to re-open my eyes to what is going on in the wider world, in the creative world, and become inspired again! That said, I am desperate to get back on the water and underwater and spend some hours down there with my camera as I know that eventually I want to get into the world of documentary making. My long-term plan (dream!) is to build a lab on a 'batea' (mussel raft) where I have immediate access to the sea and can conduct in-situ experiments there, but on the raft have my home laboratory. It would also serve as a means of outreach and education if people came to dive there but also to visit the lab. One day!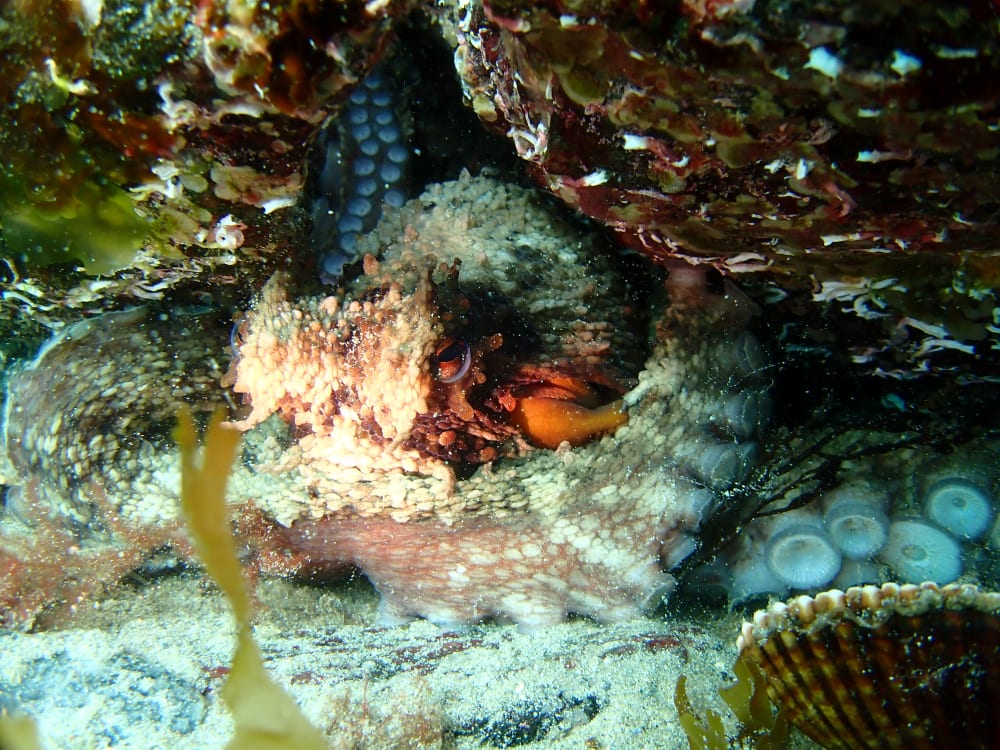 ---
Related Links:
The UAL Graduate Showcase is the place to discover the newest names in art, design, fashion, communication, media and performing arts.
View, interact with and buy original work from around the world, look out for our exciting online events and get to know our brilliant students.
Visit the UAL Graduate Showcase 2021
UAL is home to more than 2,400 postgraduate students working across the fields of art, design, screen, communication, fashion, media and performance. Within our six world-renowned colleges, we aim to form a creative network of artists, designers and innovators.
Post-Grad Community is an inclusive platform for UAL postgraduate students to share work, find opportunities and connect with other creatives within the University and beyond.
---
A thriving online magazine of our postgraduate student voices sharing thought-provoking experiences, practices, thoughts and articles about what matters to them.
Download the PDF Guide to writing articles for Post-Grad Stories
Want to write an article? Get in touch with the Post-Grad Community team PGCommunity@arts.ac.uk