Story
Fashioning My Black Body: Reflections through Autoethnography
Written by

Post-Grad Community

Published date

25 November 2020
Share story

For the third meet of the Fashion and Ethnicity Post-Grad Interest Group on the topic of 'clothing and experience', PhD candidate Kadian Gosler presented work called 'Fashioning My Black Body: Reflections through Autoethnography'.
This project draws on Deweyan Pragmatism and Black Feminist thought which she further analyses through a clothing experience framework that highlights lived experience. Kadian's primary research centred around analysing and reflecting upon three photos of clothing styles she had worn in the past. These had produced experiences that led to her examining not only her clothing choices but her Black body itself. Due to brevity, we will only review two of her examples.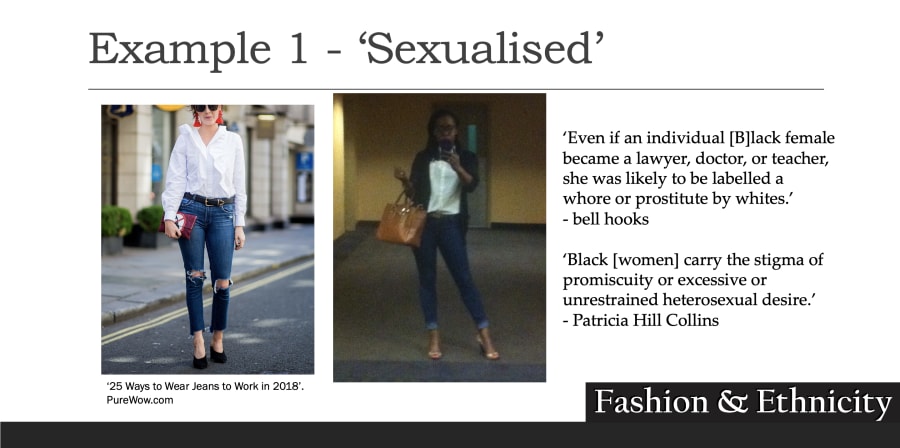 'Even if an individual [B]lack female became a lawyer, doctor, or teacher, she was likely to be labeled a whore or prostitute by whites.'

-bell hooks
First, Kadian began by recounting a memorable moment in her professional career, as a lingerie designer, where she was sexually harassed by a stranger on her way to work. The photograph analysed shows her dressed in a button-down white blouse tucked in at the front and fitted blue jeans with heels. Although the look was classically professional, Kadian questioned what about it would prompt someone to approach her with such lascivious behaviour. Revealing that the style was one gleaned from magazines on white bodies, she thought maybe it was her body that provoked the incident. Through her reading of both Patricia Hill Collins and bell hooks, Kadian untangles the belief of promiscuity that has plagued Black women. Informed by bell hooks' quote, she analyses why even in clothing deemed professionally appropriate the black body is still an outlier, lacking respectability, and bounded to licentious and wanton behaviour.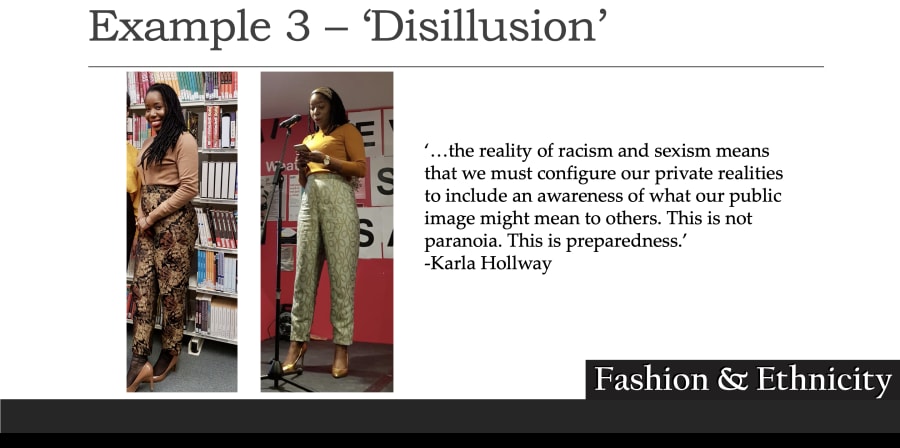 '…the reality of racism and sexism means that we must configure our private realities to include an awareness of what our public image might mean to others. This is not paranoia. This is preparedness.'

-Karla Holloway
In another example, Kadian interrogates a later experience where she was approached by a fellow parent whom she had seen while picking up her child. Though they had never spoken or acknowledged each other, the woman proceeded to interact with her for the first time by inquiring what Kadian did; "you always appear so glamourous" she said. Once she had responded, the woman walked away to her fellow mothers' group. The experience for Kadian was jarring as the woman did not introduce herself or ask for her name. In fact, the woman never spoke to her again following the incident, despite several run-ins. While it was her clothing that piqued the woman's interest, why was it tied to just what she did and not who she was? Being one of the few Black mothers, Kadian was conscious she stood out; however, she was also aware of how invisible she felt.
Reading the outfit she wore that day Kadian makes clear her seasonal dressing choices and her preference to always appear feminine and professional. Through Kadian's readings and Karla Holloway's quote above, it became clear her appearance was fashioned by something beyond her control – the extrinsic factors of society's stereotypes of Black women.
Kadian's presentation led to a fruitful discussion by the members on their own experience with clothing. One member discussed her experiences with a dry cleaner who, holding her garment in his hands, chose to comment on the modesty of the clothing item. This created a sense of helplessness, anger, and vulnerability—a feeling of "being in someone else's hands". It prompted a conversation of spaces, control, bodies, and clothing as "an extension of the body". Another member shared her experiences with modesty culture. She notes how navigating different geographies meant that her modesty barometer naturally changed accordingly—another assertion of the role of space and social power dynamics played out in that space, which in turn shape the embodied experience of clothing.
Next Meet
Join the The Fashion and Ethnicity Interest Group online on Thursday 3 December at 2pm, as LCF PhD candidate Anushka Tay leads an interactive session to explore the personal and cultural connections we make with clothing and dress.
Bring along two items of clothing and/or jewellery: one which is a favourite piece; the other an item which you feel reflects your heritage (whatever this means to you!).
This workshop draws on Anushka's object analysis methods for her PhD researching Chinese diaspora dress cultures.
RSVP to fashionandethnicity@gmail.com to reserve a space.
---
Post-Grad Interest Groups
UAL's Post-Grad Community supports a growing number of issue-specific, cross-disciplinary interest groups led by postgraduate students and academics.
​These groups connect creatives with shared research/practice interests across different specialisms and subject areas.
PhD students have launched interest groups in the past to coincide with exhibitions and symposiums that they have organised under the same theme. Students have also used Interest Groups as a working group towards research or a standalone event or series.
​Want to start an Interest Group? visit the Post-Grad Interest Group Directory