The Art for the Environment International Artist Residency Programme (AER) provides UAL graduates with the exceptional opportunity to explore concerns of the 21st century. One UAL student was selected to visit one of our partnering institutions; THREAD.
Thread is a residency program and cultural center that allows local and international artists to live and work in Sinthian, a rural village in Tambacounda, the southeastern region of Senegal (West Africa). The Albers Foundation constructed this remarkable building in 2015, and it houses two artists' dwellings, as well as ample indoor and outdoor studio space.
In this report, Anne Marie Akussah (Fine Art Wimbledon) will share her personal experience of the residency.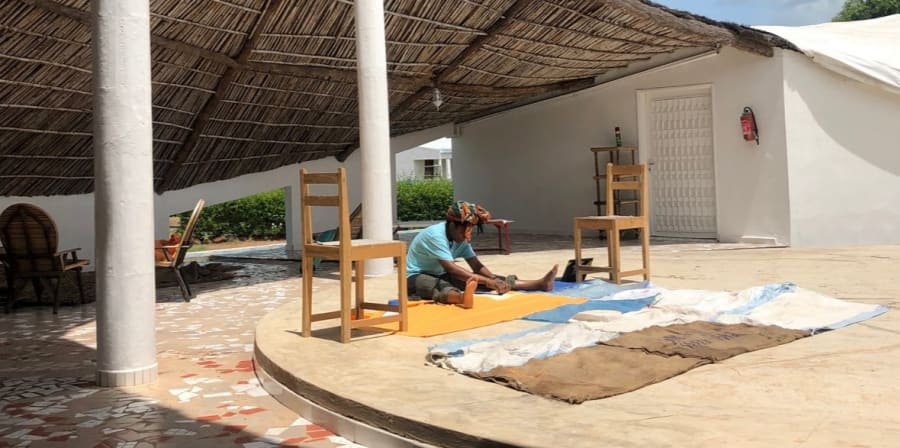 Ordinarily, some of the subjects I explore within my work are notions of belonging and the authenticity of identification documents within the context of inter-African migration. The multiplicity of materials, techniques and medium used within my work develops the context and enables me use different avenues to explore painting and other ideologies without any boundaries.
Upon arriving at thread, I intended to approach the residency at a pace which would enable me concentrate on specific strands of my practice and develop new ways of working. I anticipated spending a lot of time reading and writing (which I did). After the first few days, I decided that I would use the residency as an opportunity to make work.
A response to the building
I wanted to make work that would converse with the audible yet calm presence the building held. I decided that I would occupy one of the open areas of the centre with a painting that would hang from the roof and fall into the water channels. The painting is made from ''Crenten'' (A local bamboo woven fence often used as a barricade for farms and homes ), sardine tins, indigo fabric imported from Mali, jute and plastic sacs etc. The composition was derived from different architectural forms in Sinthian. Parts of the painting have images of Africans from various countries travelling across the continent transferred on them.
My first few days were spent visiting the village, farms, plantations and planting trees. During and after these visits, conversations around climate change and sustainability would often come up- that were incredibly informative.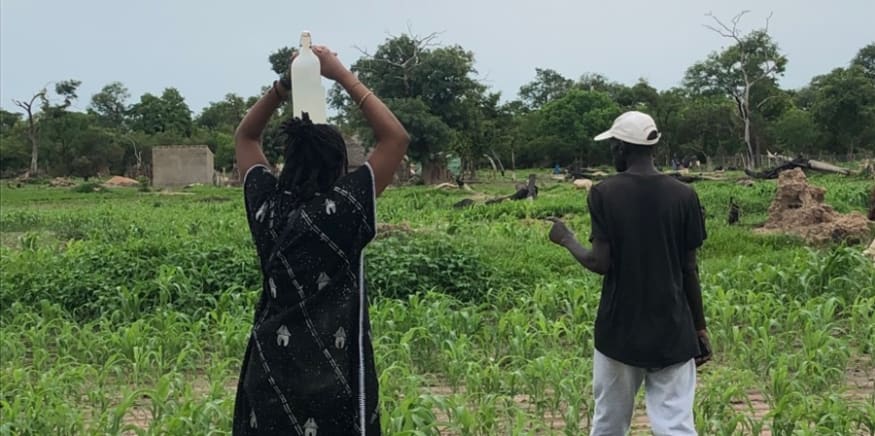 Visits to farms to plant trees made me situate myself in my practice for the very first time. I began to consider the plant as a metaphor for an entity that is being moved (like myself).
The seedling is prepped in smaller pockets of soil and later transplanted in to the ground, to stretch her roots deeply. During transplanting, a small tunnel is created and moistened. The seedling is taken out of her temporary pocket and the sand at her base is broken to expose her roots. When planting a cashew tree, one notices (almost instantly) the fine, thread- like burgundy roots that have pierced through the surface of the cylindrical shaped soil. I think of the cashew plant as myself. These ideas will be further explored in the form of a film made up from short clips recorded in several locations in Tambacounda. All the clips appear to have a reddish filter. The image below is a still from the film (work in progress). Whilst I was in Senegal, I did not have the software to edit the film, so I created storyboards in my journal to help me visualise what I wanted to make. I am now in the process of compiling and editing the film .
Film Stills - Work in progress
My residency occurred during the rainy season in Tambacounda. Whilst I was there, the director mentioned that the rainfall had dropped severely this year, albeit to me there was a lot of rain that month. Farmers and agriculturalists these days in certain parts of the continent are unable to predict rainfall as accurately as they did in the past. This evidence of climate change is very worrying in a region of predominantly self-sufficient farmers or cattle herders who rely on rainfall alongside other man-made sources of water. In terms of the functionality of the building, it was useful to see how the roof was able to collect rain water to be preserved in a reservoir and used in irrigation.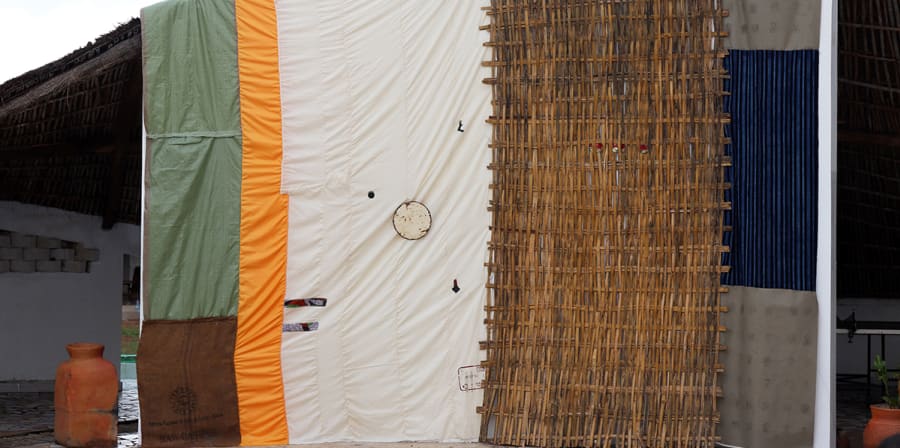 The painting above titled '' Et si la sécheresse arrive nous ne fuirons pas'' is taken from the title of a book a visitor at thread was writing. In the book he expresses his reasons for why Africa will never ''recover'' / become fully independent and prophecies a drought (due to climate change) that will end it all for the continent. My immediate response to such a pessimistic book was to try and understand why he had lost hope for a wholesome emancipation to come to pass (before his time). But also, to understand why knowing spaces like Thread (where farming and sustainable practices are present) did not influence his prophecy.
A response to Inter-African Migration and Archives in Senegal.
I used the residency to develop new elements and languages to be used within my paintings. Before arriving at thread, one of the elements I identified was paper making using Senegalese newspapers and other forms of paper pulp. The newspaper and pulp, loaded with current affairs is addressed, broken down, torn apart, soaked for days and then pounded in a mortar. It is later drained and dried in the sun. I intend to carry on playing with the strength and weight of this surface – incorporating layers and using it as a translucent platter which will hold responses to happenings and ideologies the work may be exploring.
Experimenting with paper making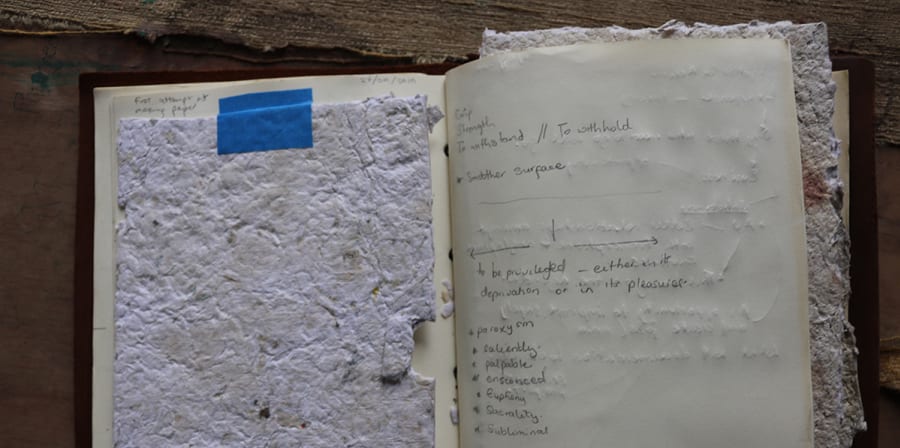 Visit to the Senegalese National Archive
After my residency at Thread, I visited the Senegalese National Archive in Dakar to commence research regarding deportation documents, travel documents, refugee records and records of farmers in Senegal between 1885 and 2010. It was interesting to see the similarities in the approach to management, processes and documents in both the Ghanaian and Senegalese archives. The approach to preservation, made an impression of how we value these adopted/contemporary ways of keeping ''history''.
Although there are some structures and funds that appear to be allocated to preserve these materials i.e. new buildings etc, they are not running conscientiously. So here are my concerns; as an artist who uses archives as a starting point, how does my practice play a role in preserving and collecting items/documents that are of value but also as an African how can we keep our archives running conscientiously so that when our artefacts are returned, they don't exist in dusty buildings.
Workshop with children in Sinthian
Whenever I get the chance to run a workshop, I choose not to impose. I choose to use it as a way to learn from participants, unlearn and unteach certain habits taught in school. The image below is from the one-day workshop I run with Silvia Rosi. We introduced collage and the work of five African artists to them. Participants looked at Ibrahim Mahama, Njideka Akunyili Crosby, Kudzanai-Violet Hwami, Soly Cisse and Deborah Roberts.
During the residency, children will often come to the space to draw with me. This was an informal workshop but it gave me an idea of the things they were interested in. They all drew the same things - a multicoloured hand with rings (drawn by tracing their palms on the paper) and a hut with a multicoloured roof. Some would occasionally add a couple of floating animals to their sketch. One thing I noticed was how they used the space on their paper. The children would make small drawings of these said items on the same side of the paper. Thus, when preparing for the workshop, I decided that I would challenge them to drawing just one object and spending a lot of time on it.
Participants were invited to draw one object (they were interested in) that existed in their homes or environment. Once they had drawn that, they were introduced to collage using newspapers.They were then encouraged to incorporate some of the techniques present in the artists' work within their work. So, in the image below, Haloumatu is using the playful/unnatural nature of Deborah Roberts collage within her work.
---
More about Thread
Thread's socio-cultural role is most pronounced in its function as an agricultural hub for Sinthian and the surrounding villages. Thread was designed to be a flexible and evolving public space, and the local population uses it in a variety of ways. It hosts celebrations, school performances, classes in language and health, village meetings, and an annual soccer tournament that draws thousands of people to Sinthian each fall.
The local and international artists invited to Thread tend to work both indoors and outdoors, and even in the surrounding fields or the village itself, depending on the nature of their work.
The artists we invite are able to focus on their own work while also interacting with the local community. The objectives of Thread are to afford artists an opportunity to work in exceptional conditions while giving people in the village and nearby region a chance to explore new forms of creativity. This is a project about connection and linkage between points, persons, places, or perspectives.
More about Art for Environment Residencies
In 2015, internationally acclaimed artist Professor Lucy Orta, UAL Chair of Art for the Environment - Centre for Sustainable Fashion, launched the Art for the Environment Residency Programme (AER), in partnership with international cultural institutions.
Open to UAL students and recent graduates (within 12 months), applicants can choose from a 2 to 4 week period at one of the hosting institutions, to explore concerns that define the twenty-first century - biodiversity, environmental sustainability, social economy, human rights - and through their artistic practice, envision a world of tomorrow.
Through personal research and studio production time the residency programme provides a platform for creative individuals working across various disciplines, to imagine and create work that can make an impact on how we interact with the environment and each other.
---
Related Links