Earlier this year, UAL Photography and the Archive Research Centre (PARC) - a research centre of the University of the Arts London - donated six of its archive collections to the UAL Archives and Special Collections Centre (ASCC).
These collections include:
Camerawork
Photography Exhibition Posters
PARC Histories
Cockpit Arts
The Elephant Vanishes
We are currently working with a volunteer at the ASCC to repackage, order, list and catalogue this material.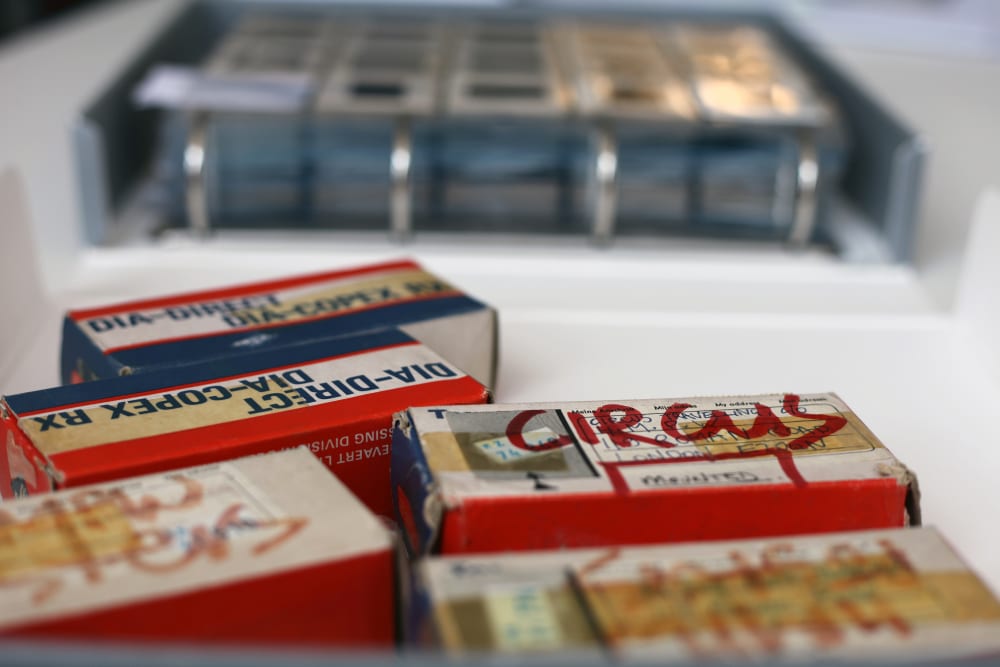 Focus on: Camerawork
The remarkable Camerawork Collection includes material from 1972 – c.1996.
The collection has a particular focus on the Half Moon Photography Workshop and Camerawork's touring exhibitions programme. Within the files are a near-complete record of paperwork on each project, including: prints, invoices, cuttings and hire charges. This reveals a fascinating network of places showing photography at a time when few galleries and institutions were staging photography exhibitions.
Also included are a set of papers relating to the 1975 'Camera Obscured?' lecture series, funding proposals, annual reports and proposal letters. There is also some documentation of events, including transparencies and negatives of installation and buildings. Typically files include papers, e.g. fundraising and correspondence, and some photographic material, e.g. prints, negatives or transparencies. Notable projects include; 'Factory Photographs' by Nick Hedges, 'Brick Lane' by Paul Trevor, Martin Parr 'The Non-Conformists', 'Work Stations' by Anna Fox, commissioned by Camerawork and The Museum of London (1987) and Representing Disability: A day of talks and events (1987).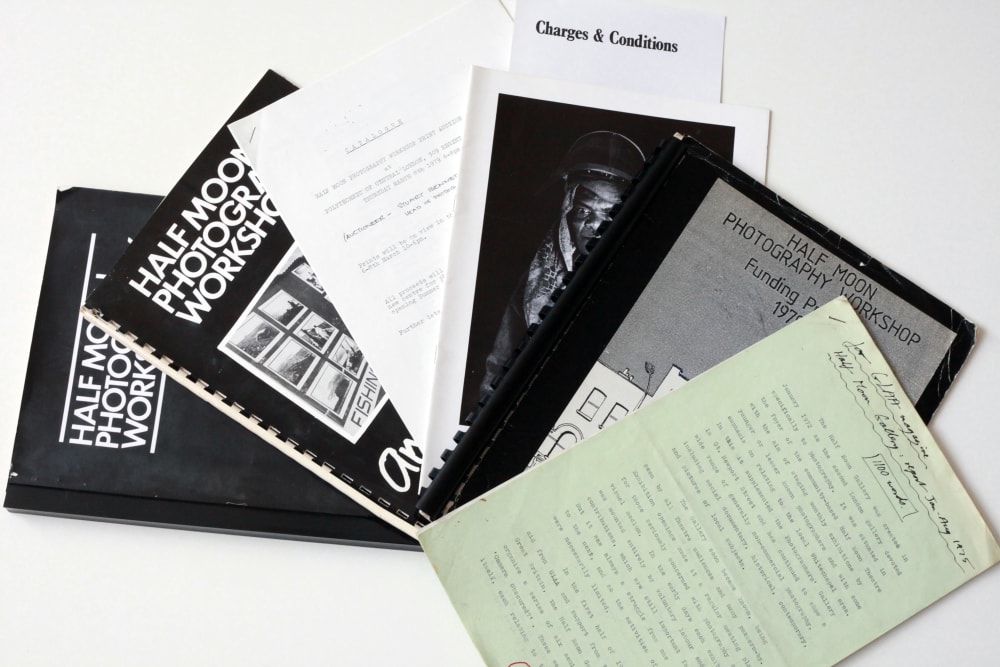 History of Camerawork
Half Moon Gallery, which took the name Half Moon Photography Workshop in October 1975 and Camerawork in spring 1981, was a photographers-led initiative whose activities revolved around a gallery space with on-site and touring exhibitions, the publication of the specialized magazine Camerawork, and an educational program combining workshops and seminars with the provision of darkrooms open to all. Half Moon Gallery was originally situated in the foyer of the community-based Half Moon Theatre with the aim of staging monthly exhibitions by younger or lesser-known photographers and with some emphasis relating to the local Whitechapel area.
Among the collective's early practitioners were Paul Trevor, Mike Goldwater, Janet Goldberger and Tony Bock, who were later joined by key figures like Ed Barber, Jo Spence, Shirley Read, and Jenny Matthews, who introduced Peter Kennard, the well-known photomontage specialist to the group in 1976.
The organisation appeared at a moment when Britain counted only two other photographic galleries: the Photographers' Gallery, created in 1971 in London and directed by Sue Davies, exhibited more established photographers; Impressions Gallery in York, founded by Val Williams and Andrew Sproxton, encouraged an emerging generation by staging exhibitions in the Northern city.
Camerawork's output evolved to housing a publication and a channel of affordable touring shows, often in laminates sent on tour throughout various venues. The publication challenged readership about perceptions towards photography, reassessing the mediums role within society and often dedicating whole issues to a particular subject. The Lewisham issue being one particular example, when images and press responses to the National Front March of 1977 were examined by the publication. Camerawork evolved around a left-wing ideology and collective, ever political. Eventually, with a lack of funding and loss of organisational direction, the magazine folded after issue 32 in 1985.