Your creative future starts here:
Story
UAL's Creative Computing Institute receives AMI Research Awards from Google
Written by

Kat Smith

Published date

06 May 2021
Share story

AMI is a programme that brings together artists and engineers to develop projects using machine intelligence. The project considers what the emerging relationships between humans and machines are, and what we can learn about intelligence (human or otherwise) through art.
The AMI Research Awards support artists and academics pursuing social science research that look at technology's implications and impacts on individuals and society. Google doesn't retain any intellectual property from the research.
CCI's pioneering research projects have been recipients of AMI Research Awards in the past. Memo Atken, a PhD student of CCI's Professor Mick Grierson won one of the very first awards back in 2016, and last year CCI Associate Lecturer Alex Fefegha received the award for his research project on the Hip Hop Poetry Bot. Out of the 5 recipients this year, 2 are research projects led by CCI staff.
Collaborative World Building With AI, by CCI Associate Lecturer Matthew Plummer-Fernández and Anab Jain from the University of the Applied Arts Vienna, received an award. The proposal centred on using AI to generate images from text, resulting in a versatile and artistic tool.
Network Bending Differentiable Digital Signal Processing (DDSP) by lecturer Matthew Yee-King, Goldsmiths, and CCI Senior Lecturer and course leader Louis McCallum, also received an award.
This work on 'network bending' builds on research from Terence Broad, Frederic Fol Leymarie and Professor Mick Grierson on the concept of network bending, where existing AI models are tapped into and reprogrammed for different purposes.
Examples of network bending in practice are Terence Broad's recent artworks - Disembodied gaze, Being Foiled, and Terratome - which are all created using this network bending technique. Creating unique pieces of work that combine artificial intelligence and art, he takes a network capable of generating photorealistic faces, and alters it using filters to disrupt the image-creating process. The result is images that have photo-realistic elements of human faces, but with unrealistic and unsettling distortions and formations.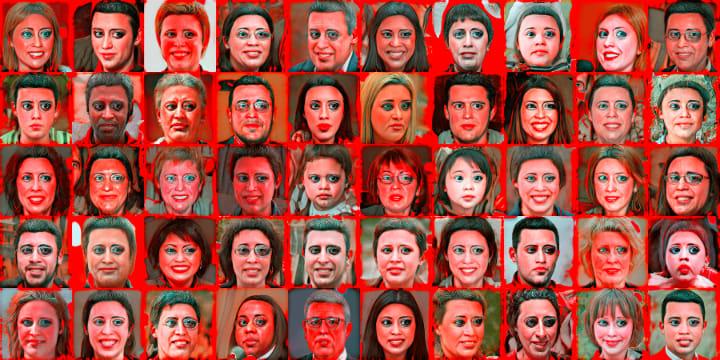 CCI's research into network bending began as part of MIMIC (Musically Intelligent Machines Interacting Creatively), which is a £1 million collaboration between Durham, Sussex, Goldsmiths, Google Magenta and CCI. It started as a project to transform and innovate in music creation, where Professor Mick Grierson, Professor and Research Leader at CCI, and Massive Attack's Rob del Naja collaborated to enable new ways of music creation. Massive Attack's album Mezzanine was fed into a neural network which had been trained to produce new sounds based on the original album. Both Louis McCallum and Matthew Yee-King have been members of MIMIC.
CCI is always looking to push the boundaries of how creativity and computational technologies can intersect. The Institute incorporates approaches from computer science, design research and creative practice to develop research which addresses industry need, cultural expression and the relationship between computing and the arts.
The incredible increase in the power of Artificial Intelligence, and in particular Machine Learning over the last five years has huge academic potential in the arts. The leap forward in the performance of computational systems in speech recognition, image recognition, media generation and natural language processing creates enormous opportunities for artists, designers, film makers, journalists, media theorists, social data scientists and creatives of all kinds. At CCI we are leading the way in grasping these new creative opportunities.
— Professor Mick Grierson, Research Lead, UAL Creative Computing Institute