The Graphic Communication Design Programme at Central Saint Martins, UAL will play a crucial role as part of Plastic Justice. The European collaboration between 5 art and design universities will raise awareness about plastic pollution and its consequences for people and the planet.
The Erasmus+ Strategic Partnership also brings along environmental NGOs and scientists to discuss the long-term impact of invisible micro-plastics on the human body, and how to best communicate these issues. Plastic Justice will focus on creating new knowledge through cross-academic exchange and field-research, promoting conscious design practices for upcoming generations of creatives and designers.
The final aim of the project is to create an educational programme jointly launched through a conference, an exhibition and an online repository with resources for younger audiences, all developed by the 5 partner institutions: Iceland University of the Arts; Royal Academy of Art, The Hague; Elisava, Barcelona School of Design and Engineering; Vilnius Academy of Art in Lithuania; and Central Saint Martins, University of the Arts London.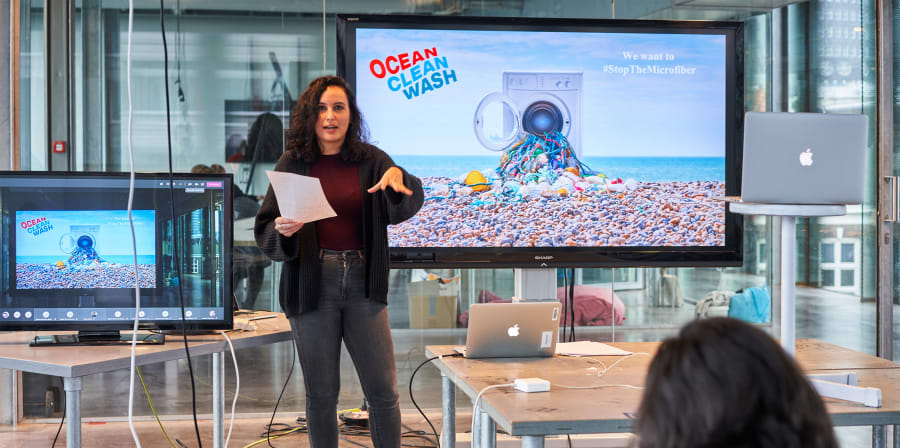 Hi Peter and Abbie. Tell us, what role will UAL play as part of this Erasmus+ partnership?
As a partner organisation, UAL is involved in the development of two intellectual outputs of the project: a teacher's guide on how to include micro-plastics issues in the design curriculum, and an online repository with information about micro-plastics and health. Together with a small group of students from CSM's BA Graphic Communication Design, we'll be attending events and lectures organised by the partners to develop materials to exhibit the findings, communicate this complex issue and give it visibility in a way that is understandable by a larger audience.
Plastics pollution is one of the many issues we are facing as we stumble into the 21st century, realising that our brilliant designs and inventions from the 20th century have begun to produce unexpected and unwanted outcomes. As design educators and researchers, we are interested in countering the feeling of powerlessness that people experience when faced by large scale, invisible and complex environmental problems (aka hyper-objects).
We aim to design effective strategies which will help us fight the issues around plastic pollution, change behaviours and policies, spread awareness and share inventive solutions.
— Dr Peter Hall, UAL Project Lead for Plastic Justice
Cross-academic exchange is one of the key elements of Plastic Justice. What are you hoping to learn from the other European arts and design universities involved?
It means a lot to be able to participate in a funded project that puts us in touch with students and teachers at other European academic institutions. We have already learned a lot from the experts assembled by our Spanish and Dutch partners for kick-off events; these included geologists, artists, chemists, cultural historians, social entrepreneurs and advocacy groups.
It has also been interesting seeing how the research and design approaches of our students align with those at the other institutions, and how the topic brings people together in a kind of collective exasperation.
And what do you think UAL students and academics involved in the project will bring to the table?
As academics, we bring different skills. Abbie focuses on experiential design, exhibition design and immersive ways of communicating complex issues. She's been leading the group of students with weekly meetings, posting resources on the repository and generally encouraging participants to think laterally and design rigorously.
As a writer and a researcher, Peter is helping steer the project as part of the original grant-writing team, working as group leader. He delivered a talk on research methods at the kick-off event, and led a cross-partnership group at the first learning activity.
We also have quite strong conceptual and research skills for a BA course, which means that our students are often taking a leading role in the group discussions.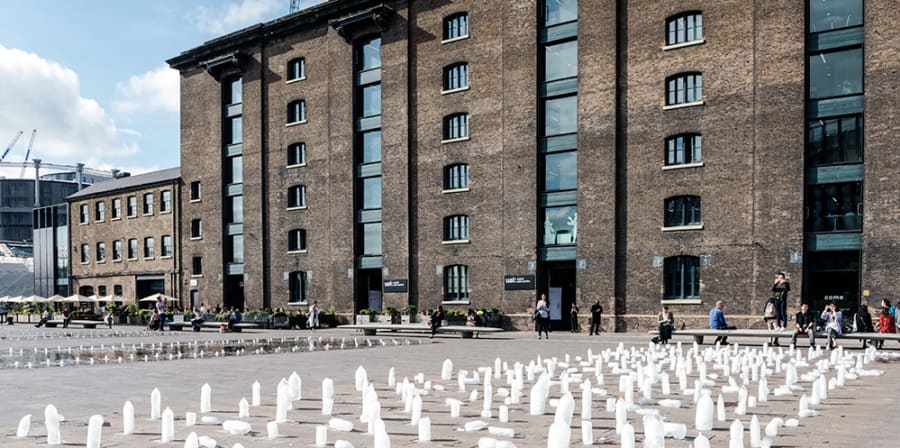 Scientists and NGOs will also play an important role in this project. How will the UAL team engage with them?
We have already invited scientists and NGOs to speak at the launch events, and in the early stages of the grant-writing, we got some vital pointers and priorities from the Plastic Soup Foundation in the Netherlands, which is an associate partner of the project.
The great thing about this topic is that it is inherently multidisciplinary: NGOs, geologists and chemists who are involved in it already know and understand the value and role that art and design can play in communicating the issues, changing behaviours and conceiving of the problem in different, unexpected ways. So there is a lot of mutual respect.
What can we expect from the work you'll be doing for Plastic Justice?
I think you can expect some surprising and inventive responses! These will take the form of an exhibition and interactive projects that convey our research findings and the urgent issues associated with micro-plastics.
You can also expect some creative and participatory approaches to teaching and learning around complex environmental problems, as part of the teacher's guide, which will be available to download from the repository at the end of the project.