Liana Ambrose-Murray (aka Ambrose) is an artist and Study Abroad Alumni. She studied Fine Art at Central Saint Martins, UAL. We chatted to Ambrose about her work as an artist and her time on the course.
Ambrose graduated from Yale College with a BA in African American studies. For her Study Abroad term, she joined the BA Fine Art programme, XD Pathway, at Central Saint Martins, UAL.
Studying at UAL offered me the freedom and independence I was craving to focus on creating artwork and building my arts practice.
Tell us a little about yourself – where are you from? Could you briefly describe what kind of work you do?
My name is Liana Ambrose-Murray, and I go by Ambrose. I'm from Western North Carolina in the U.S. The South is my cultural home...it's the region of the US known for being sweet, tangy and smokey all at once. I consider myself to be a southern artist first and foremost, but I am also mixed, black and queer. I use painting, sewing and other mixed media to piece together large-scale figurative stories. Many of them feel strange, mystical and powerful. When I create them, it feels like they slowly emerge out of the materials and they present themselves to me. Each figure has a story to tell, although I am not always sure what it is, or why they have picked me to be their messenger. It is my work as an artist to find out and do the telling.
Originally you studied a BA in African American studies at Yale College. When did you decide to become an artist?
I have been a creator/maker my whole life. As a child, I was always building and piecing together little worlds with cardboard, fabric and paper. I used to make my own clothes, paint and draw all the time. In college, I majored in African-American studies in order to deepen the ideas, thoughts and questions I wanted to explore through my artwork. The Af-Am major was truly an opportunity to learn about power and how it functions in our lives. We explored philosophical questions of what it means to be human, how our bodies are sites of power and politics, and for example, how art, nations/borders, religion, gender and race are all socioeconomic constructions. Questions of power, our existence and our relationship to our environments as well as the mystical are all themes I am interested in exploring as an artist.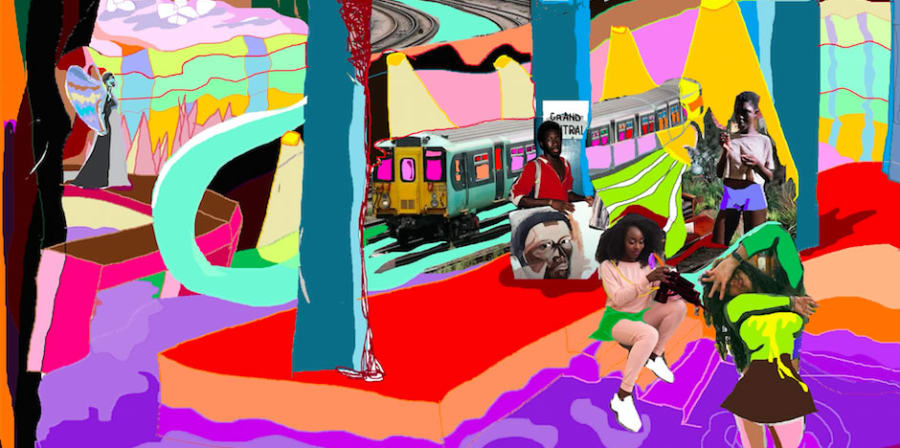 What course did you study at UAL and why?
I was in the Visual Art XD course for two trimesters in 2016 as a study abroad student. They must have placed me in XD because of the multi-media aspect of my work, as well as the social layers that are integral to my practice. Although I am still figuring out the ins and outs of my arts practice, I know that I want my art to both illuminate and shift the scales of power to benefit the people and communities who have been disempowered by the systems we live in. I still have to figure out how my work will function in that way. Studying at UAL offered me the freedom and independence I was craving to focus on creating artwork and building my arts practice.
What sort of work did you make whilst you were at UAL? Has your experience in London echoed in your work?
I began with painting and collage, my usual mediums at the time. But I also began to experiment with digital collage. It was a helpful exercise to have fun and take pressure off of creating a final product. It was quick and allowed me to experiment with colour, composition and imagery in new ways. In my current practice, I bring many of the elements I experimented with digitally into tangible material form, whilst building off of some of the work and inspiration I was exposed to in London.
What was it like to study in London, did you discover anything during your time here?
Whilst in London, I was exposed to so many contemporary artists and arts practices that I had never seen before. They really broadened my horizons around what is possible and expanded my understanding of what art can be.
Find out more about Ambrose and her work